Rustic-Luxe Retreat
06 Jun 2022
Modern sensibilities with a mountain view at this Cedar Hill charmer
By Dawn Liles
Photos by Matthew Turlington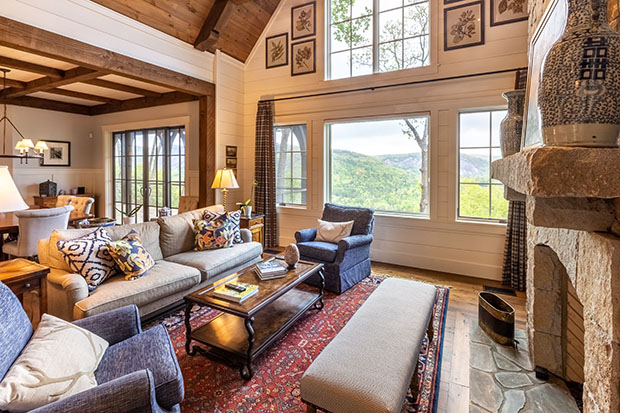 There's something to be said for plans that go awry, particularly when it comes to real estate. Just ask Clay and Debbie Jones, who are living in their dream home because the home they originally wanted went under contract before they were able to put in an offer.
Their mountain idyll is located in the Cedar Hill subdivision of Cashiers and was built by Lehotsky & Sons, who have been a fixture in the community since 2005.
The Jones's primary residence is in Naples, FL, and their love affair with the plateau began in 2018 when they rented a home in Highlands for three weeks at the urging of friends and colleagues familiar with the area.
They returned to the plateau in 2019, this time renting a place in Cashiers. The town's central location was appealing to the couple, and they began looking at homes to purchase. They were drawn to the gated Cedar Hill subdivision where property owners also have access to the Sapphire Valley Master Association amenities.
The Joneses now live eight months of the year in Naples, FL, where their two daughters, sons-in-law and grandchildren are located. They escape the Florida heat during the summer months when they head to Cashiers.
"We originally were trying to decide between two houses in Cedar Hill," explains Clay. "One was a resale, and one was a new build by John (Lehotsky and Sons), which was still under construction. My wife is a little better than I am, but I'm not enough of a visionary to know what a house under construction will look like when it's complete," jokes Clay. So, the couple decided to bid on the resale. However, as things often ensue in the variable world of real estate, another buyer already had their offer accepted.
Fortunately, by the time the resale home was sold, the Lehotsky spec house was finished, and the couple could see it was the perfect house for them.
"Daytime or nighttime, the views from the house are gorgeous," says Debbie. Their back porch, complete with an outdoor stone fireplace and built-in grill, provides the perfect viewing spot to take in the panorama of Bald Rock.
Another favorite part of the house is the great room.
"John just did a wonderful job designing that space," says Debbie. The great room features include floor-to-ceiling picture windows, sliding glass doors, built-in bookshelves and a stone fireplace. Shiplap boards painted white adds a crip look to the walls as well as part of the ceiling, which boasts dark-stained exposed wooden beams that beautifully contrast with the white shiplap.
Decisions, decisions
With a myriad of choices for a new build home, how does a builder decide which features should go into a new home?
"I partner with several other local people—real estate agents, interior designers and architects—for their input as to what their clients are looking for in a home," says John. For the Jones's four-bedroom, five-bath, 4,000 square foot home, John worked with real estate agent Jochen Lucke of Silver Creek Real Estate and architect Travis Mileti of Mountainworks.
Linda Maddox of Linda Maddox Kitchen + Bath created the home's interior. Her goal was to select the finishes that blended modern sensibilities with rustic charm.
"Buyers of luxury homes request that every room is just a little bit different," explains John. "They love the element of surprise and don't want to see the same fixture or the same design choice in every room."
Linda chose greys and browns to complement the home's mountain setting, and lighting and mirrors that create an open ambience.
Other sought-after features of the Jones's home include a free-standing bathtub in the primary bath, several wet bars, a wine bar, an outdoor kitchen, outdoor entertainment spaces and an open-concept great room. The kitchen boasts a Sub-Zero refrigerator with built-in panels, a Wolf range and a Bosch dishwasher.
According to John, the biggest challenge of the project was blasting rock to create the basement living area.
"The architect and I could have avoided it by building up," explains John, "but then the house would feel like a treehouse, so we created a downstairs space."
As much as the owners love their new home, they feel there is something equally as special to come from their partnership with John—a newfound friendship.
"John has been a delight to work with," says Clay. "We thought we were just buying a house, but we were buying a connection to the whole community that John has teamed with. We have been attended to by his team and couldn't be more pleased with his collegiality. He and his family are pillars in our community and getting to work with them and know them has been an unexpected treat."
The feeling from John and his team is mutual.
"Clay and Debbie have been awesome to work with and get to know. They have let us show the house to prospective clients many times and have even put out wine and cheese to welcome people!"
Family First for Lehotsky & Sons
According to the company website, John founded his eponymous company in 2005. He named his new company Lehotsky & Sons because, for John, family is the foundation for everything he does. It is the cornerstone of how he lives his life and how he runs his business. John thinks of everyone not as employees or clients, but as members of his extended family.
Lehotsky & Sons focuses on a wide range of projects. Whether you come to them with architectural drawings in hand or want to work with one of their partner firms to create your personal masterpiece, Lehotsky & Sons can bring your family's vision to life. From foundation to finishes, on projects large or small, clients will work with a team of expert builders, craftsman, suppliers and subcontractors that excel at guiding clients through the process of building or renovating everything from cozy cabins to luxury estate homes.
The company specializes in custom-built homes, whole or partial remodels, renovations and home additions. For more than 16 years, they have dedicated themselves to helping families craft the home of their dreams on the Highlands-Cashiers Plateau. They take a family approach to everything they do. Theirs is a tight-knit staff guided by the binding principles of honesty, integrity and quality. They treat all their clients like members of their extended family and every home as if it were their own, regardless of the size or scope of the project.
John is active in the Cashiers community, where has served as a member of the Summit Charter School Foundation and the Rotary Club of Cashiers Valley.
Lehotsky & Sons Custom Home Builders
John Lehotsky, Founder & Owner
87 Chestnut Square
Cashiers, NC 28717
828.743.5864
www.lehotskyandsons.com