Hike like a Local
06 Jun 2022
Locals' favorite area trails include panoramic views, waterfalls and sunrise spots
By Marianne Leek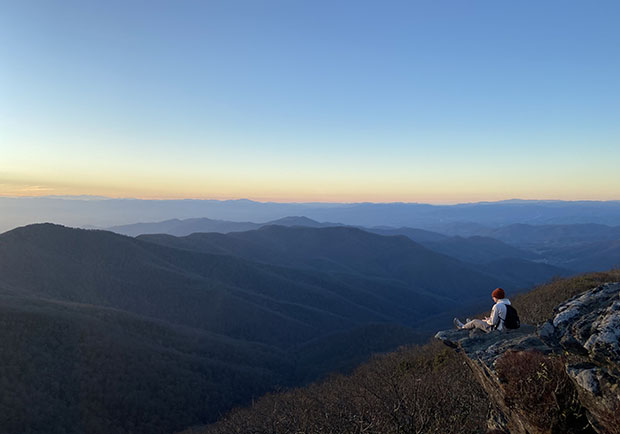 Diane McPhail is an artist, esteemed author of "The Abolitionist's Daughter" and "The Seamstress of New Orleans," and all-around Renaissance woman who resides right here in Highlands. She explained the transformative benefits of spending time in nature, "We live in a culture in which it is far too easy to get caught up in work, stress, and goals that occupy us completely. Those things focus on what we 'should be,' and divert our sensibilities from who we really are. Being in nature, in whatever way—hiking, swimming, climbing rocks, gardening, sitting on the earth or under the trees—seems to unite us with our authentic selves. In the wholeness of nature, we find the wholeness of ourselves in a unity far greater than we are alone. All the 'shoulds' fall away. We discover the authenticity of true being."
Hiking is quite simply good for the soul. There's an intricate connection between mind and body, and perhaps spending more time outdoors is one of the best decisions we can make for the overall health and well-being of both. Home to Smoky Mountain National Park, as well as sections of the Appalachian Trail and the Blue Ridge Parkway, Western North Carolina has some of the most picturesque trails, waterfalls, and scenic Byways in the South. We asked women who live, work and play in the region about their favorite trails and waterfalls to come up with a bucket list of area hikes to kick off your summer.
Blue Ridge Parkway Trails
Craggy Gardens Hiking Trails
~ 1.5-mile hike
Milepost 364.2 - Moderate
Catherine Campbell, an Asheville resident, recreational hiker and senior brand manager for East Fork Pottery, calls Craggy Gardens trail a family favorite: "I love how a person can experience three different environments in one short trail. From the soft ferns and boulders of the picnic area to the sunset views on the mountain fields to the damp rhododendron thickets, it's an especially good trail for families. It's one of the first ones where I brought my baby."
The Craggy Pinnacle is the shortest hike with the biggest payoff: In just a 20-minute walk, past gnarled, twisty trees, enjoy spectacular 360-degree views from the summit of Craggy Pinnacle.
Big Butt Trail
5-mile hike - Strenuous
Milepost 358.9
Located just a short drive north of Craggy Gardens, the Big Butt Trail is perfect for those looking for a workout. At almost five miles round trip, this difficult trail, "feels like a Stairmaster workout," said Campbell. "You'll want to bring some muscle rub along with a light picnic lunch, but the Big Butt Trail is a half-day exploration with a nice payoff. Hidden scenic views, lush forests and rarer birds are found on this quieter trail."
Mt. Pisgah
3-mile hike - Moderate/Strenuous
Milepost 407.6
Once part of the Biltmore Estate, this popular three-mile roundtrip hike begins rather mildly, but don't be deceived. The final part of the trail is steep and strenuous, but if you persevere to the summit, you can relax at an observation deck where you'll enjoy long-range views of the Pisgah National Forest and beyond. Fun fact: George Vanderbilt so loved Mt. Pisgah that he selected the site for the Biltmore Estate with Mt. Pisgah always in view.
Waterrock Knob
1.2-mile hike - Moderate/Strenuous
Milepost 451.2
One of the most visited areas on the parkway, this 1.2-mile roundtrip moderate trail is located close to the parkway's southernmost terminus of Cherokee, N.C. and just a short drive from the entrance of Smoky Mountain National Park. It has a large parking area with picnic tables, restrooms, and a visitor's center that is open seasonally. If you prefer not to hike the trail, you can still appreciate the views while enjoying a picnic lunch right off the parking lot. But if you're looking for a workout with an unmatched view from one of the highest vantage points on the parkway, do the moderate hike to the summit.
The Devil's Courthouse
Half-mile hike – Moderate/Strenuous
Milepost 422.4
This short but moderately strenuous hike leads to a million-dollar panoramic view on a clear day of North Carolina, South Carolina, Georgia and Tennessee. While the trail is steep, most of it is paved. The summit includes a marker that points out mountains in the distance. This hike can easily be done in conjunction with a lengthier hike on the parkway on the same day.
Frying Pan Fire Tower
1.5-mile hike – Moderate/Strenuous
Milepost 409.6
Located just off the Blue Ridge Parkway, this trail leads to 360-degree views of the surrounding mountains. A 70-foot fire tower, constructed in the 1940s as a lookout for land management agencies like the U.S. Forest Service, is open to the public. The stairs up to this particular tower are quite steep and can be slick, so be careful especially if you are hiking with children.
Albert Mountain Fire Tower
.5-mile hike - Moderate
Forest Service Road 67
Situated in Macon County along the Appalachian Trail, Albert Mountain fire tower is in close proximity to Pickens Nose and Laurel Falls, and this short trail can easily be done on the same day. The hike up to the tower is a moderately steep .5-mile walk, but the 360-degree panoramic view of the surrounding valley and mountains is unparalleled.
Wayah Bald Fire Tower
.25- mile hike - Easy
Wayah Bald turnoff, Forest Service Road 69
Just off the Appalachian Trail in Macon County, Wayah Bald fire tower is a favorite among locals for its long-range views. When you arrive at the gravel parking area, you'll find a few picnic tables and restrooms. The paved trail leads to the historic fire tower where you can enjoy some of the best views in Western North Carolina. If you can wake up before the sun on a cloudless morning, you'll be rewarded with arguably one of the best sunrises around. Even if the valley is covered in fog and clouds, the morning view from Wayah is usually stunning, with the sun rising brilliantly above the clouds. More adventurous hikers should consider hiking two long-distance trails, the Appalachain and Bartram Trails, that cross the bald at the tower.
Smoky Mountain National Park Trails
Alum Cave
4.4 mile hike - Moderate
Newfound Gap Road
The Alum Cave Trailhead is very popular and the two parking areas for this trail fill up quickly, particularly in peak season. Popular points of interest along this 4.4-mile moderately difficult hike include Arch Rock, Alum Cave and Inspiration Point.
Clingmans Dome
Half-mile hike
Clingmans Dome Road – moderate-strenuous
If you're looking for a gorgeous place to watch a sunrise or sunset over the Great Smoky Mountains, this moderately steep half-mile to the observation tower is a must-do hike in the Great Smoky Mountain National Park. On a clear day, visitors can expect to see seven states from the highest point in the park. However, due to its popularity, parking fills up quickly and it's not unusual to find cars lining the road up to the parking area. As you hike up to an observation tower, you might notice that the trail is intersected by the Appalachian Trail and this section also marks the highest point on the Appalachian Trail between Georgia and Maine.
Fire Mountain Trails
10.5-mile hike - Moderate
State Rd. 1361
Located in Cherokee, Fire Mountain Trails provides miles of well-maintained multi-purpose trails to hike, bike, or run. It is a favorite of Annette Saunooke Clapsaddle, a teacher at Swain High School and author of the highly acclaimed novel "Even as We Breathe."
"Hands down my favorite mountain biking trail is Fire Mountain Trails System in Cherokee. The tunnels of mountain laurel, fast, flowy trails and the community that has formed around it make every run a new experience," she said. "Hiking and mountain biking are so therapeutic because both allow me to fully immerse myself in the simplicity of nature. The woods are a force I am not expected to control or even react to in any prescribed way. I get to be a visitor and rest in my own natural self. I can think clearly and quietly in the natural rhythms, and on the best days, fall into that rhythm myself."
Pickens Nose
1.4-mile hike/Easy
Forest Service Road 83
While many may laugh at the name, Pickens Nose Trailhead, which is in close proximity to Standing Indian Campground, provides one of the most spectacular views of far western North Carolina. Hikers will meander through a thickly-covered rhododendron forest that opens up to a breathtaking view at the summit. Many take advantage of the photo opportunity on the large rock jutting out from the mountain, however, this is not recommended for small children. Hikers should proceed with caution.
Chasing Waterfalls
Locals' favorite waterfalls
Carla Beck is a native of western North Carlina who teaches at Hayesville High School and has made spending time enjoying the outdoors part of her daily life. She has passed along this love of nature to her students through an always highly-anticipated unit of study about the Appalachian Trail. Hiking has become such an integral part of who she is following her father's death nine years ago.
"Without a doubt, hiking helped heal my hurting heart. Whether I was trekking toward an overlook or wandering around a waterfall, I was breathing fresh air, pushing myself with purpose, and reminding myself our lives are lived one step, one moment at a time, and it's in those moments that we build a beautiful, meaningful life."
Beck shares some of her most-loved waterfall hikes in the region.
Silver Run Falls
.2-mile hike - Easy
NC 107, 4.1 miles south of Cashiers
Located in Cashiers, this short .2 mile out-and-back stroll comes with a big payoff.
"It leads to a gorgeous double waterfall with an easily-accessible pool that allows for a refreshing swim or dip on a hot summer day," said Beck. "One of my favorite aspects of this trail is the short, level terrain which allows people of all ages, children to the elderly, to enjoy a beautiful waterfall."
Graveyard Fields Loop
3.5-mile hike – Moderate
Milepost 418.8
This trail is remarkable for its simple beauty. Hikers will walk through meadows dotted with wildflowers and berries and have the opportunity to experience upper and lower falls. On any given day in the summer, lower falls is a popular swimming hole, attracting adventurers of all ages looking to cool down. Much of Graveyard Fields Loop is relatively easy—fairly level and includes boardwalks. The final leg of the trail is a bit rougher and steeper and leads to upper falls. "I am a huge fan of hikes that wind around water in all of its forms," Clapsaddle said. "Graveyard Fields does this. It is such a complex landscape with diverse vegetation and even provides the exhilarating trepidation that one might just encounter a bear in peak blueberry season."
Laurel Falls
1-mile hike - Moderate
Little River Road
This moderate hike is located close to Standing Indian Campground, and according to Beck, is the perfect afternoon pick-me-up. "This is perhaps my favorite waterfall hike because I can work a full day at school, come home, and be on the trail by late afternoon. Not far from the trailhead, a slender wooden bridge crosses the water where to both the left and the right you will find the perfect spot for hanging a hammock by the boulder-filled creek. Along the trail, there are multiple opportunities to step off the trail and enjoy moments of solitude among the lush rhododendrons. The shallow pool at the base of the waterfall provides a welcome transition from the dusty roots on the trail. Take time to wade into the water, stepping carefully among the slippery rocks, where you can snap those coveted photos of the two-tier falls."
Space is limited at the base of the waterfall, so it's best to plan your trip on less-popular days and times.
Crabtree Falls
2.7-mile hike – Moderate/Strenuous
Milepost 339.5
Beck describes what visitors can expect from this relaxing trail just off the Blue Ridge Parkway. "Beginning at Crabtree Falls Campground, this trail descends into the towering trees of the forest only to end at the base of one of the most magnificent falls in Western North Carolina," Beck said. "Along the trail, you'll find switchbacks, rocky steps and lush canopies of hardwoods. Once at the base of the 70-foot falls, the focal point is undoubtedly the tumbling waters of the falls; however, a close second might be the lone Birch tree rooted in place, providing the perfect place for a short rest from the trail. This waterfall is a photographer's dream, which is one of the reasons it made my list!"
Triple Falls & High Falls
4.5-mile hike – Moderate
DuPont State Recreational Forest
According to Beck, the unmatched beauty of DuPont State Forest hike is not to be missed. "Hikers will depart from the visitor's center and follow a wide gravel path, leading to High Falls overlook at .5 miles, with a scenic view of a covered wooden bridge atop the falls. Go a bit further to reach the base of the falls and enjoy a walk among rocks and shallow water. Use caution as the rocks along the base are tempting locations for pictures, but they are also dangerously slippery. Rejoin the trail to continue hiking toward Triple Falls, a series of three falls cascading into the pool below—accessible by a separate trail. Movie buffs will appreciate Triple Falls as having been featured in "The Last of the Mohicans" and "The Hunger Games."
Glen Falls
2.4-mile hike - Moderate
This trail near Highlands is a local favorite. Tracy Mendy, the owner of Sunny Daze Flower Co. and Highlands resident, described why she likes this particular trail. "One of my favorite hikes in the area by far! You start the hike walking downhill and can stop off at three different viewpoints of this cascading waterfall. Take it all in and enjoy it because the hike back up can be a bit strenuous if you are not used to the elevation, but the waterfall views are worth the extra effort! A 'must see' when you visit the Plateau," Mendy said.
Dry Falls
Short walk from parking lot - Easy
Mountain Scenic Byway, highway 64 between Franklin and Highlands
Unless the area is under an extreme drought, Dry Falls remains a misnomer, providing a stunning view of one of the most spectacular and easily-accessible falls in Western North Carolina. This falls hike is unique and offers a different perspective because hikers can actually venture on a paved trail behind the falls. This short walk is not really a trek, with visitors being able to view and access the 75-foot tall fall just a short walk from the parking lot.
Old Iron Bridge
2-mile hike - easy
Bull Pen Rd.
Located off Bull Pen Road in Cashiers, Old Iron Bridge offers picturesque photo opportunities and a tranquil setting. This underrated trail is one of local author Diane McPhail's favorites. "The area is extremely accessible and at the same time dramatically welcoming. It can be viewed by those who need the calming sound and sight of falling water without the hike. Its water is attainable close-up with only a short, but slightly steep scramble up and down the rocks. For those who desire more, there are loop trails that meander in and out along the river to explore. Just being there sitting on the rocks, wading in the rushing water—if you can handle the chill—bring with it the peace of being part of the natural world."