Mountain Contemporary
06 Jun 2022
A Highlands paradise imagined by J. Elliott Style
By Leah Rhyne
Photos by Ashley Blencoe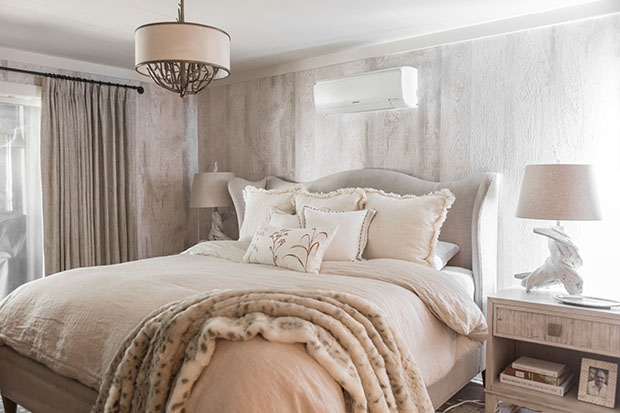 When the clients reached out to J. Elliott Style to remodel their two-bedroom mountainside condo, they had one request: please, for the love of all that is good and homey, lighten up the place!
Interior designer Jamie Elliott McPherson got to work, creating a design that would lighten, brighten, and open up the condo, building a true mountainside paradise.
This isn't his first rodeo, of course. McPherson has been in the business for over 20 years. He began as a kitchen designer working out of Atlanta, but even then, his style and perspective—his way of combining the luxurious and the bespoke utilitarian to create uniquely sumptuous spaces—shined. Today, he works out of a showroom in historic downtown Highlands, where you can find examples of his uniquely modern mountain perspective, every time you walk through the doors.
But back to this particular condo makeover. First, the living room, where 8-foot ceilings and dark-stained wood made the room feel small.
Undaunted by the challenge, McPherson added solid wood v-groove siding to all the walls and painted it Farrow & Ball Slipper Satin. Instead of relying on the deep reds and browns that typify mountain motifs, he kept every piece of furniture and décor light and airy. Forget oversized, coffee-colored leather sectionals; McPherson instead chose an au lait palate and slender, high-backed chairs to add open space between the pieces.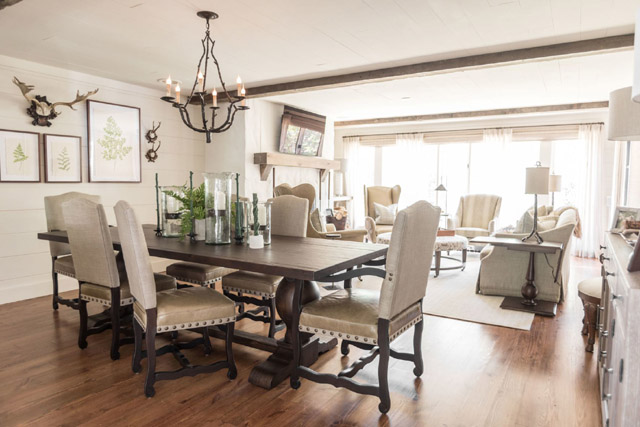 Light flows through a wall of floor-to-ceiling windows, and adding natural beams on the ceiling not only adds a stunning architectural touch, but additionally makes the room feel larger by widening the ceiling. But his favorite part of the room's makeover was the fireplace.
"The fireplace was old, dingy slate," says McPherson. "We smeared it with plaster to make it look more European, and then painted it the same as the walls to open up the room and remove the literal grey elephant in the room." The natural rustic wood mantle and hearth beg to be used as a resting place for red wine or warm cocoa.
Blending different fabrics and textures—from linens to leather to faux fur—added depth and texture to the living room without straying from the carefully curated color palate. Using upholstery provided by Lee Industries, McPherson ensured that no two pieces were exactly the same, but all shared different pieces of the same styles and fabrics.
A concrete unit for storing firewood by Elegant Earth sits beside the fireplace, adding a rustic feel to an otherwise modern space. Nature-inspired wall décor and a sumptuous faux-fur blanket add finishing touches to the bright, open room.
In the kitchen, there was a lot of work to be done. It was small and dark, closed off from the rest of the unit and full of aging appliances. Says McPherson, "We opened it up more to the dining area. Then we added all new white cabinetry, marble countertops and stainless appliances. It made the space feel a lot bigger."
With a white, subway tile backsplash, decorative lighting and a window opening to the rest of the house, the kitchen became a home chef's dream come true.
Similarly, the bathroom hadn't been renovated since the condo was built. With outdated plumbing fixtures and a tiny shower, there wasn't much to do besides gut the entire thing. The result is stunning.
"It's completely updated," McPherson says. "We put marble on all the surfaces and updated plumbing fixtures with Rohl polished nickel. The client's main request was to get as big a shower as they could in the space, and I feel like we did a good job of that." The whole look is sleek, spacious, modern and clean; the kind of bathroom you expect to find in a 5-star luxury hotel.
In the primary bedroom, you'll find off-white Thibaut wallpaper that looks and feels just like real distressed wood. It's a far cry from the wood paneling of the 1970s, however, giving the room an airy, natural feel.
"Shiplap has become very popular, very trendy," says McPherson. "For these clients, we wanted something different. In a mountain home, you don't want to have a ton of sheetrock walls. We wanted wood, just…updated." An upholstered headboard and luxurious bedding round out the room, a tiny Eden for the owners to enjoy every night.
Throughout the entire condo are more and more bright, inviting spaces. From the wet bar's tiny, elegant sink and open shelving, to the dining room's breezy, vined chandelier, the whole unit flows with airy lightness. There are common themes – J. Elliott Style trademarks, really: a mix of luxury with rustic, and a pop of color here and there, bringing the outside back in. Mixing contemporary pieces with found antiques is a signature of J. Elliott Style.
McPherson spends a good 50 percent of his time sourcing antiques from numerous locations. Whether he's looking online or traveling to Atlanta as often as possible, McPherson won't rest until he finds the perfect piece for a client's space or his own showroom. In this remodel, he used Currey & Company lighting fixtures throughout the condo to add additional, unique light sources to keep even the darkest corners bright. No matter where you look in this mountain paradise, you'll find something beautiful and interesting.
McPherson is thrilled with the way the project came together.
"It's been one of my favorite projects to date," he says. "I think it's really beautiful. It hit all the marks the client requested. And they were wonderful clients to work with. They had some great ideas of what they wanted the space to look like but let me take the reins. I think we were able to show you can do a mountain look without being so dark and gloomy."
If you're looking to remodel your smaller interior spaces, keep in mind these tips: neutral wall colors can make a small space feel light and fresh and a simple color palate with a single accent color helps make a small space feel larger and more open.
For more information, visit www.jelliottstyle.com.