Preparing for Winter's Worst
04 Dec 2021
A little preparation goes a long way to thriving during a winter blackout
By: Brittany Conley
Photos by April Rice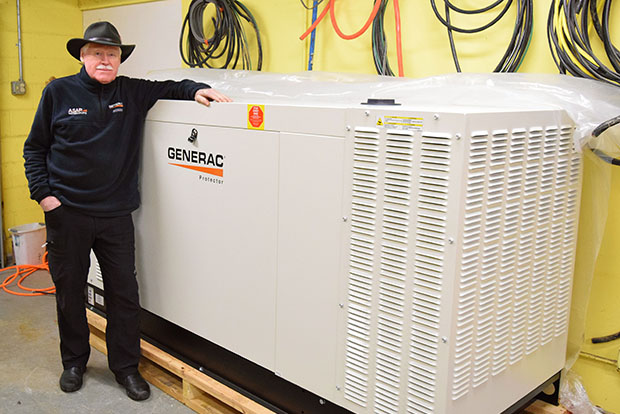 Winter is settling into the mountains once again. It starts with just a whisper of frost on pine needles, a soft gray sky and the urge to sip something warm while watching a favorite family holiday movie. There's a cheerfulness with that first crisp breeze and the twinkling lights decorating homes and shops alike. But there's also a warning—a subtle one, one that may sneak by until it is too late. Winter loses its luster in the blink of an eye when those once charming lights and the television go out, along with the heat we take for granted. Yes, losing electricity can ruin this otherwise joyful season. Luckily, there is a team of people nearby who specialize in keeping your home nice and toasty with top quality Generac generators and impeccable services, so you stay warm no matter what surprises and unpredictable weather winter has in store.
Phillip Rogers, owner of Cashiers, NC, based ASAP Generators, has called the Highlands-Cashiers Plateau home since the late 1990s. "I am a simple farm boy from the plains of Iowa, a state sandwiched between the Mississippi and the Missouri Rivers. "Lots of water but no mountains," says Rogers. In his youth, though, his fascination with mountains grew steadily. First traveling to the high country of the northwest, Rogers attended college in Oregon. While traveling through Idaho, his heart and mind were made up. "Coeur d'Alene Lake, surrounded by mountains, ignited a vision, a passion and a declaration which I would fulfill here on the Highlands-Cashiers Plateau..." says Rogers, his adoration for the area palpable.
Keen to make the plateau his home, Rogers and his wife, Miriam, started ASAP Generators in 1999 in the oversized garage of their Cashiers home. While some couples couldn't fathom working together, that isn't the case for Phillip and Miriam. The pair are perfectly suited to running a business together, lovingly relying on their individual strengths to keep things going smoothly. Rogers attributes the marriage of their unique skills to the success and family feel at the core of their business. "Miriam and I carry the nature of pioneers, dreamers, explorers and even world travelers," he says, adding they never stop learning and have built everything together. Pairing his vision with her attention to detail has allowed ASAP Generators to flourish on the plateau, growing from a garage operation into a welcomed addition to Cashiers' downtown district, where they've been able to breathe new life into a once dilapidated storefront.
Purchasing a generator for one's home is not an investment to be taken lightly. There are many nuances to consider. One thing that sets ASAP Generators apart from other retailers is Rogers doesn't just want to sell his customers any product; he takes the time to guide them through the entire process of determining their home's genuine needs, so they get the right generator the first time. Some customers may initially make the mistake of assuming that the size of their home determines the size of generator they should purchase. "If you definitely desire winter heat in your home, then understand the implications of which energy source produces your heat, gas or electric," Rogers says, further explaining that determining the electrical load required to satisfy the family's comfort and security needs is at the core of what he does.
Rogers' role in the process doesn't end there, however. Once he has determined a family's needs, Rogers designs all the electrical installations to ensure a quality job by his team. "Then we assist our clients with the essential maintenance services […] protecting their peace of mind that their investment is well able to deliver the backup power when they need it the most," says Rogers, whose philosophy is to build a client relationship on the basis of trust and to keep that relationship alive. No longer worrying about how to safely heat one's home or make dinner for the family when the power is out is priceless--especially knowing you have a company that stands behind their product and their service.
Extreme conditions are no stranger to our neck of the woods, and their presence can be both a blessing and a curse. Snow-flocked trees and icicles are undoubtedly beautiful parts of our winter landscape, making the Highlands-Cashiers Plateau a wonderland for adventurists and photographers who don't mind the cold. But that loveliness can sour for businesses and homeowners who are ill-prepared for power outages. If you don't want to be caught in an unexpected blackout and cold snap, now is the time to set up a consultation with ASAP Generators. They meet all North Carolina requirements for electrical licensing. Stop by at 334 US-64, Cashiers, NC, or call them at (828) 743-9991. You can also visit them online at www.asapgeneratorsnc.com.
Top Five Tips for Winter Blackout Preparedness
Winterize your home! Double-check your home's weatherstripping around doors and windows, add draft guards and make sure your pipes are well-insulated.
Keep exterior doors closed as much as possible and layer your clothing. This will help keep the heat inside your home as much as possible and layers allow you to regulate your own temperature.
Check your pantry. Make sure you have plenty of foods that are easily prepared in case of a power outage. Bottled water is also a good idea.
If you plan on using a fireplace, be sure to check your smoke and carbon monoxide detectors. Check they are in good working order and have fresh batteries.
Purchase a generator. If you are able to purchase a generator, they can be lifesavers during a winter storm. Make sure you get the right one for your home and that it is properly installed by hiring professionals like ASAP Generators.