Babes in Toyland
04 Dec 2021
The Bascom's "Re:Play" sets the stage for a whimsical winter reboot of Christmas morning with these plateau fashion finds.
"Regarding play... It starts out innocent enough (fun and games as they say) — infants with a rattler, toddlers with blocks, and things progress from there —tag-you're-it as children, strumming the guitar as kids, competing in sports as teens, performing in a theatrical play in high school— then on to playing quarters, getting played, being a player and finally — getting played out. From casual pursuits without fixed rules to more structured games, play can be elusive to define and explain exactly what it is and what it does. Far from just a human characteristic, we frequently observe animals at play, even interspecies romps. Often derided as not serious or a mere diversion, play remains the life blood of creativity and artistic pursuits. No wonder recreation and re-creation converge as words. The word 'play' is versatile if not playful itself. In addition to its numerous parts of speech, the word possesses a wide array of subtle twists in meaning - from straightforward to darker connotations. This exhibition, too, plays with 'play,' covering a multitude of interpretations through sculpture. Sculptors inherently play with materials. Meaning, durability, viewer response and inherent/perceived value are all affected by an object's composition. The physical properties of the material serves to help convey the concepts the artist is presenting. This exhibition includes works of marble and steel, but also foam rubber and AstroTurf. Repurposed and appropriated materials allow for altered and playful meanings to be presented - referencing both the material's source and a creative replay." - Gregor Turk, Curator
Photos by CHELSEA CRONKRITE
Models: Tiffany Gwendolyn Dorau, Christopher Rosensteel
Location: The Bascom: A Center for the Visual Arts

* Shot under the care of a Bascom employee to protect sculptures. Please do not touch exhibition pieces or risers.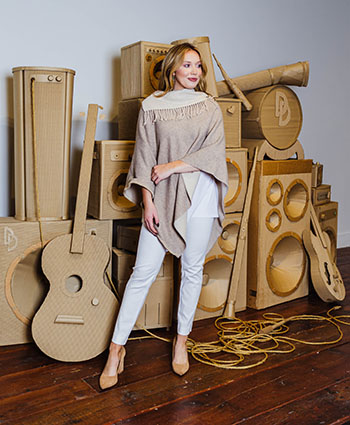 The Look - Cashiers, NC
Lands Downunder poncho, $168; Lior Paris "Sasha" denim pants, $124; Alisha.D essential tunic, $75; Sea Lily piano wire earrings, $28; all at The Look Boutique.
Sculpture: David Baerwalde, "Untitled"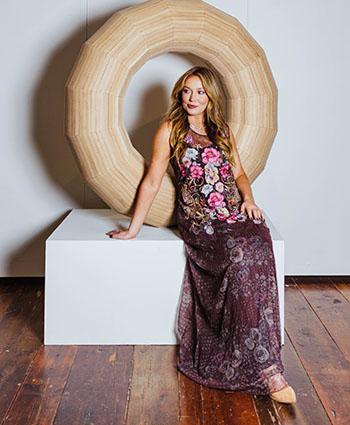 A Jones - Cashiers, NC
Johnny Was "Stella" mesh dress, $368; all at A Jones Company.
Sculpture: Eli Blasko, "Enso"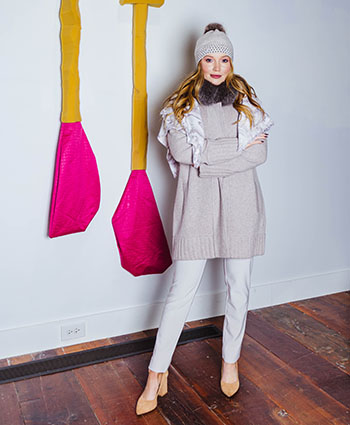 Wit's End - Highlands, NC
Kinross Cashmere sweater coat in doe, $660; Kinross Cashmere cardigan in suede/multi, $296; Kinross Cashmere fringe scarf, $338; Krazy Larry pant in steel, $130; Kinross Cashmere fur pom cap in fawn, $150; all at Wit's End.
Sculpture: Jamie Bull, "Pink Paddles"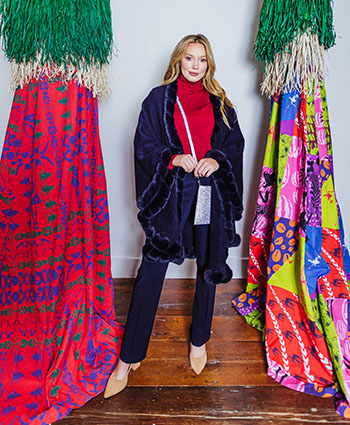 Spoiled Rotten - Highlands, NC
Jacqueline Kent cell phone satchel, $45; Joseph Ribkoff fur cape in navy, $285; Sunday turtleneck sweater in chili, $89; Joseph Ribkoff "Show Your Shoe" pant in midnight, $155; all at Spoiled Rotten.
Sculpture: Shanequa Gay, "Sculptural Devouts"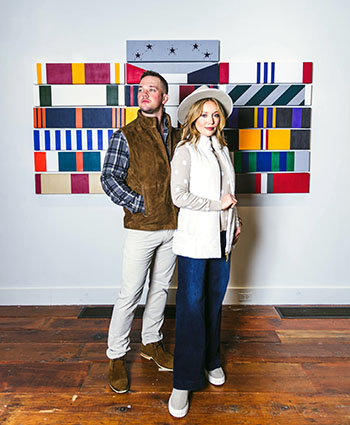 TJ Bailey - Cashiers, NC
ON HIM: Peter Millar Collection "Traverse Japanese" flannel shirt, $248; Peter Millar Collection lamb suede "Excursionist Flex Ridge Vest," $1498; Mac Jeans "Arne Pipe" micro cord, $225; Martin Dingman "Ernest Kudu Safari" suede chukka boot, $399; all at TJ Bailey's.
ON HER: Mac Jeans "Dream" wide jeans, $249; J. Society cotton polka dot sweatshirt, $169; Diomi nylon vest with mink trim, $450; Brackish Jules quail feather earrings, $145; Voile Blanche "Beth" suede boots $249; Van Palma "Abbie Hat," $239; all at TJ Bailey's.
Sculpture Dave Armistead, "Winning Isn't Everything, It's the Only Thing"