Making Spaces Special
05 Apr 2023
Local interior designers offer their expertise for projects of all sizes and styles
By JUDY ROYAL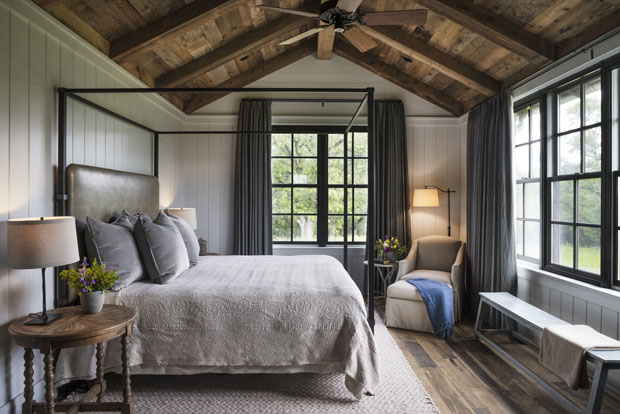 Whether you're seeking a room refresh or a whole-house overhaul, local interior designers are available to offer their expertise when you need some help bringing your dream look to life. Interior designers make indoor areas functional, safe and beautiful by determining space requirements and selecting essential and decorative items. When you're ready to make your space special, these businesses can help.
ACP Home Interiors
1990 Dillard Road, Highlands
www.acphomeinteriors.com
ACP Home Interiors showcases furniture, bedding and accessories in industrial, farmhouse, transitional and mountain chic designs. A family-owned business, Bernard Molyneux founded the company in Florida in 1983 and ran it with his wife Stephanie for many years. Their daughter Kerri Adkins left a second shop in Atlanta and launched the Highlands showroom in 2018 to continue the legacy.
"We enjoy being part of the community and look forward to people stopping in to just say hello," Stephanie Molyneux said. "We also work hard to keep the store interesting with new shipments arriving weekly, so there's always something new and exciting to see."
ACP also offers home lighting – including lamps and chandeliers – buying, selling and restoring Louis Vuitton trunks and hard cases, European pine antiques and artwork from London's Trowbridge Gallery. In addition, the staff is available to offer in-store decorating advice for those who just want a little guidance.
"Not everybody needs full service," Adkins said. "A lot of homes here are purchased with furniture already in them. Many of our customers are trying to see what our ideas are to incorporate existing elements and make the design current. If people come in and bring plans or photos, we can help with placement. We can help with getting the right size furniture for them and leading them to the right thing they're looking for to help with their vision. We also consider what they will use it for, whether it's their own home or a rental, and help with picking the right piece that's going to last."
Getting to know people is the best part of ACP, she said.
"We have so many fun and interesting customers, and it's great working with them and helping them put their room together and bring to life what they're trying to make," Adkins said.
Dutchmans Casual Living
342 Main St., Highlands
www.dutchmanscasualliving.com
Dutchmans Casual Living started in Highlands 23 years ago and now has six retail locations in North Carolina and Georgia. The Highlands location, situated in the bustling heart of town, is a two-story building that houses a colorful selection of all things home. Striving to provide a wide variety of products that will appeal to anyone's taste, Dutchmans offers custom wood and upholstered furniture, lighting, rugs, bedding, accessories and other home goods to help customers adorn their dwellings.
"I was encouraged by a friend who had a furniture store in Highlands for many years on 4th Street that I should have a store," said Stephanie Nieuwendijk-Bramble, founder, owner and creative director of Dutchmans. "So I found a space behind Highlands Fine Art and Estate Jewelry, renovated it with the $500 I had and slowly but surely people found me. I love that I can creatively change the store seasonally to be able to inspire anyone who walks through the doors. I think that we offer such a wide selection of products, so many items can be custom to each client's personal style, and the store continually changes and evolves as have I over the years."
In addition to retail, Dutchmans offers custom draperies and design services for private homes, clubhouses and hotels. It's important to find the right employees who love what Dutchmans does and have the knowledge to help clients bring their vision to life, Nieuwendijk-Bramble said. The company's team of eight designers, including one based in the Highlands store, has collective experience spanning decades. They are available to consult with clients in-person or via video or phone, and they work on projects as small as one to two rooms, the "Starter" package. There is also an "Essential" package for three to four rooms and the "All Inclusive" service that tackles a project from the ground up.
Platt Home
214 S. Broad St., Brevard
www.platthome.us
Platt Architecture has been designing custom homes in the area for more than 40 years. During that time, it has evolved to offer an integrated suite of services, including interior design since 2016.
Katie Jackson, design director and part owner of Platt Home, works mainly with Platt Architecture clients on full-service residential interiors, often second or third homes. She and her team can purchase all furnishings, rugs, draperies, art and accessories and even stock refrigerators, so clients have a move-in ready home.
"When designing a home for the client, we research them and the way they live," Jackson said. "We really get to know our clients and create a home based on their needs and desires. We fully customize a home to their personality and style."
It's important to consider how clients will use their home, she said.
"Because we do second homes, it's a different sort of love that people put into these homes," Jackson said. "It's where they go to relax and unwind and connect with nature. Creating a communal space is my favorite thing to do for them."
Platt Home's team of eight, which includes two designer project managers in addition to Jackson, is well-rounded and strives to be intuitive and responsive, she said.
"We are just highly in tune with creating for our customers," Jackson said. "Our favorite compliment is when someone comes over and says, 'It's just like you.' That means we've done our job well. A lot of interior designers have a look or style that they stick with. Our strength is listening to our clients and creating for them."
In addition to full-service projects, Platt Home also takes a select number of clients who simply need limited assistance out of the Brevard showroom. Jackson encourages people to stop by to see what is in stock and find out more about how the team can help with smaller projects.
Rhonda Lanier Interiors
25 Old Cashiers Square, Cashiers
www.rhondalanierinteriors.com
Rhonda Lanier has been in the interior design business since 1996, previously in Charleston, SC, but for the past five years she's proud to be located in the heart of downtown Cashiers. Rhonda Lanier Interiors is a full-service firm that works with a project's architect and builder to help plan all interior and exterior design elements and selections. The typical customer is someone building or purchasing a new home, and clients can visit the boutique retail showroom to visit, sit, touch and feel products, Lanier said.
"My favorite thing about owning the business is being exposed to so many amazing and different things," Lanier said. "Whether it be furniture, rugs, art, lighting, accessories, antiques, it is all so fun to me. It is like sensory overload, and I thrive with that. I love the colors, the textures, the fabrics, the materials, the diverse styles. I love what I get to create every day."
Practicing feng shui interior design, which focuses on the art of placement, Lanier said she uses nature as her inspiration and brings the outside in with the goal of creating a sense of being grounded within your space.
"I recently had a client tell me he could actually feel a peacefulness come over him when he enters his home," she said. "This is a perfect example of why I love what I do, and it is very personal to me."
While the area has many interior design businesses and retail shops for buying home furnishings and décor, each has its own niche and there is enough demand for everyone to flourish, Lanier said.
"There is plenty of work for all of us, and we each attract different styles," she said. "If we all work together as a community and support each other, we become stronger in our business and personally."
Rusticks
32 Canoe Point, Cashiers
www.rusticks.com
When Don and Pam Gottwald purchased Rusticks from its original owners in 2021, they planned to continue the legacy the original owners started in 1992 when they launched the furniture and home accessories store. There are many facets of the business that have remain unchanged, but recent trends have led Rusticks to expand its offerings.
Stacie Platt, a previous Rusticks manager for several years, returned to the staff in 2021 with the goal of meeting local demand for interior design services. She has been in the industry in the Cashiers area since 1999 and helps clients with selecting furniture, accessories, rugs, lighting, window coverings, artwork and anything else they need to make their homes complete.
"We made it our focus at Rusticks to really amp up our ability to complete interior design jobs," Platt said. "I love helping people transform homes into what they envision. We can help with one room or take on projects from the ground up. We do the whole spectrum."
Because Rusticks has been around so long, its team has full knowledge of the area and the ability to take a client's wishes and turn them into an enduring design, she said.
"I love going back into homes years later and the interior design that we did years ago is still fresh and relevant today," Platt said. "We like to do the classic mountain chic look with a modern twist that can withstand the times."
Don Gottwald credited his staff with the continued success of Rusticks and its ability to evolve.
"We have an amazing team right now and are always adding to it as our business grows," he said. "We have a high expectation of customer service, so that takes finding the right teammates. We feel fortunate to have a recognizable brand and a growing business."
The Summer House
2089 Dillard Road, Highlands
www.summerhousehighlands.com
The Summer House has been a fixture in Highlands since 1996, when Paula and Barry Jones moved their small storefront in Scaly Mountain to 35 acres of an old apple orchard to create a complete home-furnishings complex. The business is a whole-house concept that features a variety of showrooms decorated into vignettes that can transfer directly into customers' own spaces.
In addition to the retail business, The Summer House offers a full array of interior design services for projects of all sizes and budgets, whether it's just a few accessories or working with architects and builders from the ground up – and anything in between. The goal is to provide a one-stop shop offering high-quality products as well as professional services for those who need some help personalizing a home or even a commercial space.
Lisa Hodge is the in-house interior designer for the Summer House, and she prides herself on having both the education and the eye for helping clients bring their ideas to life. She has a degree in interior design and has been working in the industry for 30 years.
"I really listen to my clients and pay attention to what they are envisioning, and I take my expertise and lead them into a direction, so they trust me fully," Hodge said. "I'm working on a third house for some of my clients. They become friends. That's an added bonus. We become a community, and that makes me happy."
Hodge, who is a third-generation interior designer, said she's happy to do both traditional and contemporary themes and relies heavily on referrals from satisfied customers. Praise from clients is the best reward, she added.
"When I get that affirmation that I really did my job well and made people happy, that fulfills me more than anything," Hodge said. "It feeds my soul."