Wildflowers & Waterfalls
05 Apr 2023
The best spring waterfall hikes on and near the plateau
Story and photos by Brendon Voelker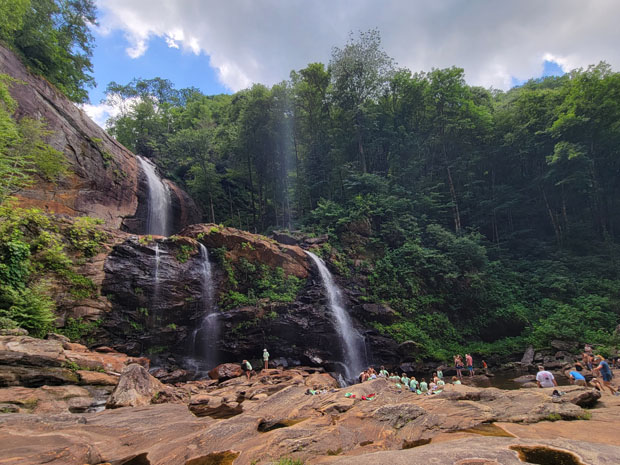 There are few, if any, other places in the world that boast as many waterfalls as the southern Appalachian Mountains in North Carolina. Considered the oldest mountains in the world and nicknamed the "Land of Waterfalls," one would be hard-pressed to find them all in a lifetime. Whether you're a long-time local or visiting for your first time, here are a handful of the best waterfalls to explore as the spring wildflowers emerge.
Most of these waterfalls can be found on Google Maps or by purchasing a local waterfall guidebook available at most outdoor outfitters. Professionally guided hikes are also available through White Dot Adventures.
High Falls (Cullowhee Falls)
Glenville, NC
High Falls is one of the most spectacular waterfalls to visit if you're staying in Cashiers, Tuckaseegee or Lake Glenville. Except for controlled releases during the summer, a steady stream of water plunges steeply over rocky cliffs to the base of the falls. Endless swimming holes fill the landscape, and it's an excellent place to swim on a warm afternoon. At 3.5 miles round-trip, it is a great hike for those with dogs or younger children, though be sure to wear sturdy hiking shoes as the path tends to be muddy following rain. High Falls has also been described by Dr. Gary Wein of the Highlands-Cashiers Land Trust as one of the most biologically diverse hikes around, so expect to see an abundance of spring wildflowers.
Secret Falls
Highlands, NC
Though it's not much of a secret anymore, this beautiful waterfall near Highlands can be seen by way of a short, yet moderately difficult hike. Secret Falls hosts a deep plunge pool at the base of the waterfall popular for swimming and wading, and fly fisherman frequent the spot due to the trout population. Large dead hemlocks and birch trees frame most of the waterfall and the variety of flora and fauna you can find along the way is spectacular.
Pinky Falls
Highlands, NC
While it may be the shortest falls to make the list, Pinky Falls is a favorite with locals and just a quick drive from downtown Highlands. Nestled in a quiet bend in the river above Randall Lake, the water cascades over a series of small rock steps before settling in a tranquil pool of water. Protected by the Highlands-Cashiers Land Trust, a small bench was installed allowing visitors the opportunity to meditate, read, birdwatch, or simply relax to the sound of the water. As spring turns to summer, expect to see plenty of rhododendron and mountain laurel blooms along the way.
Minnehaha Falls
Lake Rabun, GA
Minnehaha Falls is one of the most unique waterfalls to make the list, though it's located in Rabun County, Georgia, just over an hour away from Highlands. What makes this waterfall spectacular is its tiered, stairstep form that differs from most waterfalls along the plateau. The area has also been prioritized for the treatment of the hemlock woody adelgid, an invasive pest that attacks one of our key evergreens. To determine if a tree has received treatment, look for a painted blue dot or metal placard along the base of the tree. Come spring, you'll also catch an abundance of spring blooms around these massive trees. On your way home, plan a stop in the quaint town of Clayton, Georgia before heading back up the mountain.
Bird Rock Falls (Living Waters)
Balsam Grove, NC
This hike visits four waterfalls located along a half-mile stretch of river in Balsam Grove. While the hike is on private property, signage notes that the waterfalls are open for the public to explore. Walking downstream on an improved trail, the path visits three cascades before arriving at Bird Rock, a stunning waterfall framed by a sheer rock overhang some 100-feet high. There are multiple drops on the falls and a diverse assortment of rocks to be found along the sandy beaches.
Dry Falls + Bridal Veil Falls
Highlands, NC
No feature on waterfalls would be complete without the mention of Dry Falls and Bridal Veil Falls near Highlands. While you could once drive under Bridal Veil, a small, barricaded pull-off allows you to park and walk behind the falls. Just seconds downhill from Bridal Veil lies Dry Falls, a waterfall named for the shelter it offers in the cavern behind the falls. Today, it may be the most visited waterfall in the greater-Highlands area and an accessible overlook ensures everyone can have a view of the falls. For those up to a short walk, walk down the flight of stone steps and venture behind the waterfall for a unique perspective. As spring arrives, keep an eye out for Arisaema triphyllum (Jack in the Pulpit), as the area is a hot spot for this stunning perennial.