Celebration Central
02 Apr 2021
A place to gather in Mountaintop
By Christine Hennessey
Photos Aaron Hogsed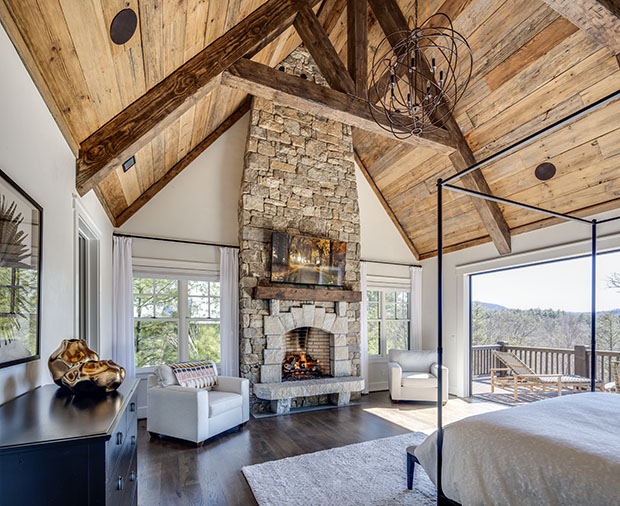 When Chris Esposito, a native New Yorker, sold his business and retired, he moved to Florida. There, he met Helen. Originally from Toronto, she'd lived in the Sunshine State for over thirty years. The two fell in love, and the rest was history.
"We love our life in Florida," says Helen, "but we also love the mountains, especially at Christmas. We don't experience much cool weather in Florida."
A few years ago, the Espositos were visiting a friend who lived in Cashiers' Mountaintop Golf & Lake Club, an exclusive community that provides an exceptional mountain experience, traditional and playable golf, luxurious lake recreation and plenty of outdoor activities. Set against the Carolina Blue Ridge Mountains, it's an ideal location for outdoor adventures and beautiful views. During their visit, Chris and Helen took in the club, the friendliness of the residents, and the beauty of the area and decided to make a commitment and purchase a property.
"We love to hike, we love the outdoors," Chris says. "We wanted property close to the clubhouse so we could walk there and something with a view, and we were able to get both."
Once they secured the perfect location, their next step was finding an architect and a builder to create their mountain retreat. Travis Mileti of Mountainworks signed on as architect, which led them to Ben Harris of Harris Custom Builders. "We interviewed a few builders and were very impressed with Ben," Chris says. "He showed us some of his projects and they were unbelievably beautiful."
Harris Custom Builders
Harris Custom Builders has been building homes in the Cashiers-Highlands area for over 19 years. The firm was founded by Ben Harris, a second-generation homebuilder who learned the art of building houses while working alongside his father in Alaska. He moved to North Carolina after graduating from college, started his own company at the age of 24, and has been growing it ever since.
A boutique company, Harris Custom Builders completes between eight and ten custom homes a year. "From a business standpoint, it's been a wildly productive year," Ben says. "This time last year, when the pandemic was first beginning, we had no idea what would happen. But then it became apparent that there would be a ton of demand." Despite the increase in demand for new construction, Ben has no plans to change the way he operates his business. "We're comfortable with where we're at," he says. "At the end of the day, we want to provide our clients a high-quality product and guarantee them a great building experience, and our current model lets us do that."
During most builds, Ben and his project managers are on the job site daily, managing the day-to-day operations and keeping up communications with the client. For the Espositos' home, his participation started even earlier. "I was involved with consulting as they went through the design process with Travis," he says. "And then we spearheaded the project once construction began."
Craftsmanship and Communication
"We chose Ben because of his craftsmanship, but also for his communication skills," says Helen. This was important since the Espositos were in Florida while their home was being built. Ben was able to keep them up-to-date and involved by sending photos and videos of the progress and calling them to discuss things as they popped up. "We have friends who have built houses and thought it was an absolute nightmare," Helen says. "But for us, instead of being a headache, it was a pleasure."
Part of this was because everyone shared a vision for the home. "Ben gave us many options and of course we were the ones who made the final decision, but this was our first mountain home," Helen says. "It was a little more complicated with the foundation and some other things. Ben was excellent at explaining everything to us so we could build a sound home."
"They were looking for a summer home, a place where they could entertain family and friends," Ben says. "They wanted most of the house to be on one level, so it has a pretty large footprint with five bedrooms on the main level and large, grand common spaces. That really drove the design philosophy."
Above all else, the Espositos wanted their mountain retreat to have a timeless look. "That was definitely delivered," Helen says. "In ten years, the house still will be a little rustic, a little contemporary, but timeless. It all just ties together."
"Like many homes in the Cashiers area, the house is inspired by the mountains," Ben says. "It uses a lot of natural materials from the local environment, mostly wood and stone, and has a truly timeless design, something Travis really excels at. Often people get very trendy with their designs, and that's fine, but when houses are this well-constructed, they're going to be around for a long time. You want a design that will age well."
No matter how detailed a plan may be, there are almost always a few surprises during the build process. The Espositos' home was no different. "The house kind of grew as we got into the project," Ben says. "Because of the topography, it's a steep lot, and an unfinished lower level was originally designed into the house. Once we got it framed out, the Espositos saw how great the volume was down there and they decided to finish that out, too." This is fairly common, Ben explains. When most clients hear "lower level," they think "dark basement." When they actually see the space—which, in this case, included twelve-foot ceilings and windows on three sides—they start to think "another beautiful room."
"We ended up creating an open and airy family room downstairs, as well as a big exercise room," Ben says. "In the end, the house turned out quite a bit bigger than they anticipated, but it flows nicely and it's very functional."
Ready to Celebrate
When the Espositos walked into their finished home for the first time, they were blown away. "We couldn't believe it," Chris says. "I kept saying, 'Do we really live here? Do we really own this?'"
From the antiquated look of the beams with just the right patina, to the timeless finishes, to the furniture and finishing touches coordinated by interior designer Cheryl Benitez, the house is breathtaking and exactly what the Espositos envisioned while sitting on a Florida beach, dreaming about a mountain retreat. "It's just beautiful, very sunny and bright."
When you walk in, you're greeted by a huge vaulted great room with large pocketing doors at the far end that completely open. The 20 foot by 12-foot-tall opening that connects the great room to the porch creates a wonderful space for entertaining family and friends. The effect this detail gives is one of living outdoors, but with modern comforts such as a wood-burning fireplace, a covered porch, an eating area that seats twelve and a full bar.
"It's definitely a party home," Chris says. "Helen's daughter and husband love the home; they've already visited from Atlanta many times."
"They're up there more than we are!" Helen adds, laughing.
Between the two of them, the Espositos have four children who already love to spend time at the house, whether or not Chris and Helen are there. The couple is happy to host, even from afar. "The location is perfect," Helen says. "Close to Highlands and Cashiers, a little bit of shopping and some nice restaurants. Everything is very easy to get to." The layout of the house also makes hosting a breeze. Every bedroom has its own fireplace and ensuite bathroom, and downstairs a second master suite boasts its own bar and living room. "We can entertain and have family members stay with us, but everyone still has their own space," Helen says.
As for the lower level they decided, during the process, to finish out? It's now a personal gym and spa, which the couple spent all winter enjoying. "It's a huge room, 20 by 35 feet, with all kinds of exercise equipment," Chris says. "And we still get terrific views, even from that level."
The biggest issue with their home, the couple jokes, is getting visitors to leave once their stay is over.
Looking Ahead
Because the Espositos moved in during COVID-19, their mountain adventures thus far have been a bit limited. "We're outdoor enthusiasts," says Chris, "so we've found every hike they offered, every mountain, some great waterfalls."
"We haven't really gotten to get the full club feeling yet, but everyone keeps telling us to hang in there, that next year will be better," Helen says. "The people that we've met are so nice and I'm looking forward to meeting more of them next season and enjoying the amenities at the club even more. I'm just glad we had a beautiful home to hang out in in the meantime."
They are also looking forward to welcoming more guests to their new home and have already been fielding requests from friends and family eager to travel once the pandemic is over. "We're going to need to create a schedule," Chris jokes, but it's clear he's looking forward to sharing their home with loved ones—and hosting some great parties.
Resources
Home Builder: Harris Custom Builders,
828-547-0777
harriscustombuildersnc.com
Home Design: Mountainworks
828-743-9677
mtnworks.com