Seeds of Generosity
02 Apr 2021
Plant for the Plateau gives local businesses a chance to dig in and help feed the community
By Judy Royal
Photos Chelsea Cronkite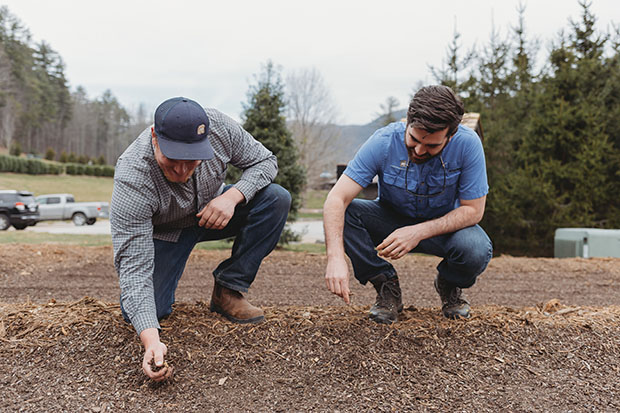 The COVID-19 pandemic brought about many changes to our world, some positive and some negative. Among the positive, many people sought new hobbies and activities to keep themselves busy while staying at home and social distancing. As a result, gardening experienced a surge in popularity, not only for the aforementioned reasons but also as a means of reducing trips to the store for the grocery items necessary to prepare more meals at home.
At the same time, hunger became an issue for many more Americans due to pandemic-related loss of income. In communities across the country, the lines at food pantries have grown longer with no clear end in sight. Before the pandemic, the number of families experiencing food insecurity, defined as a lack of consistent access to a healthy supply of food, had been steadily falling. But due to the health crisis and resulting economic instability, food insecurity is on the rise almost everywhere, with some estimates pointing to as many as 23 percent of U.S. households being affected. Families with children were among the hardest hit by the problem as access to school meals was disrupted. And things will take time to recover. Feeding America projects that 42 million people (1 in 8), including 13 million children (1 in 6), may experience food insecurity in 2021.
Locally, the plateau region is not immune to the issue of hunger. An interactive map from Feeding America projects the food insecurity rate due to COVID-19 to be 14.5 percent in Macon County and 14.4 percent in Jackson County.
Last year, an effort to pair the popularity of gardening with helping the hungry took root in our area. Highlands Food Pantry and Fishes & Loaves Food Pantry in Cashiers invited members of the Highlands-Cashiers community to Plant for the Plateau last summer. Participants pledged to grow tomatoes, squash, peppers, corn, onions, potatoes, carrots and beans and harvest them to donate to the food pantries to supplement the typical canned and boxed offerings. The effort was a success and allowed the charitable organizations to stretch their resources further.
This year, as spring looms on the horizon, the community is preparing to Plant for the Plateau for another season of giving. Local businesses are literally digging in and making plans to continue or increase their involvement in a cause that has become more than just another project for them.
"I really like to do this to give me an extra way to connect with the community," said Kirk Moore, owner of Oakleaf Flower & Garden and Oakleaf Home Farm. "I'm involved with a lot of organizations, but Plant for the Plateau is dear to my heart. There are so many little kiddos who go to bed hungry every night, and it worries me and makes me sad. It's my love to be able to figure out a way to help."
Moore, a landscape architect and garden historian, helped out with Plant for the Plateau last year but is taking his participation a step further in 2021 by starting a designated garden for children who want to learn more about growing fresh food, including preparation techniques. He said this idea was born out of concern that the families receiving fresh donations might not always know how to use them at home.
"Being a gardener, I like to put my hands in the soil," Moore said. "It's nice to be able to help people in such a wonderful way and create healthy lifestyles for these young kids. This is a very exciting project for me. I hope to be able to inspire young people about the importance of growing their own vegetables and not depending on things being shipped from across the country. Maybe a lot of these kids will want to do a garden at home."
The Lonesome Valley community is also looking at ways to get more involved with Plant for the Plateau after residents asked to be part of the effort last year. Andrew Renfro, resident services and activities director, said the project was very appealing, especially for members of the garden club.
"We've always had an active and busy group, and they saw the call to action at the beginning of the pandemic regarding food insecurity in the plateau, so really everything just kind of fit perfectly and they said we really want to do this," he said. "They wanted to give back, and the initiative was a great way for us to give residents a sense of community and connection to the greater Cashiers community."
It was eye opening to learn how much need is right here in the area, Renfro said.
"You never expect for a region like this to qualify as a food desert, but it does just in terms of access," he said. "To be able to participate in a project like Plant for the Plateau, it really does help paint that complete picture of why it is important to grow food. It really has helped connect our residents to the plateau and a lot of the need many families face up here. We're excited to continue running with the program."
Lonesome Valley has a community garden with row beds for residents' use and is expanding that area to produce more for the needy in 2021, Renfro said. While COVID-19 guidelines made programming challenging during most of last year, the community hopes to hold "plant days" every Saturday morning during the upcoming growing season and get even more people on board, he said.
"Involvement is good, and it's continuing to grow," Renfro said. "As we see more and more people spend time here in the shoulder season, we're also seeing more community buy-in. It's nice to be connected in this way to an initiative that affects a lot of people here on the plateau and to be able to get your hands dirty in the most basic form of giving back. A lot of folks are used to being on boards, so this is a new way for them to help."
Doug Lanning, Lonesome Valley's certified horticulturist, said he is looking forward to another great year of producing food for Plant for the Plateau.
"I think people are going to be more inclined to come to the garden workdays and gather with others because they haven't been able to do so for so long now," he said. "I think that now it's going to be kind of a mainstay of our community garden that we always find space to grow things for donation purposes."
Organizers of Plant for the Plateau, a grassroots awareness campaign, hope Lonesome Valley's efforts will serve as a model to encourage other communities to launch similar projects, but increasing involvement even down to the individual level is beneficial. Steps for participants are as follows:
Pledge and plant needed crops.

Email plantfortheplateau@gmail.com with a list of the vegetables you pledge to grow, date planted and expected harvest date. Volunteers will update food pantries so they can consider projected inventory when budgeting.

Harvest and deliver your crops.
The Plant for the Plateau Facebook group (www.facebook.com/groups/1584133295090004) connects local farmers and gardeners so they can share tips and tricks. In addition, both food pantries are always seeking donations of time and/or money. More information is available at the following websites:
www.internationalfriendshipcenter.org/foodpantry

www.fishesandloavescashiers.org
For those looking to give back through gardening, spring is the perfect time to make a plan, Lanning said.
"Now is the time to have your garden prepared, and once the warmer weather is here to stay then you can go about planting," he said. "Don't overcomplicate it. Try to simplify the process as much as possible."
Lanning suggests determining what you can grow well and then picking two or three commonly used vegetables so you can plant quantities large enough to donate rather than growing small amounts of a wider variety of things.
Moore said it's usually best to start planting after Mother's Day, so he cautioned gardeners to resist the urge to start too soon. He also recommended figuring out ways to use gardening space efficiently and relying on a tried-and-true guide: an almanac.
"That will tell you all kinds of great tips, like what to plant with what for how to protect your crops," Moore said. "It also helps with timing of planting. To every month there is a time to plant. Never plant on a waning moon. It's not an old wives' tale. It really is important. Old advice is always the best advice."