Hello Muddah, Hello Fadduh
02 Apr 2021
Camp is very edutaining…
By Kat Ford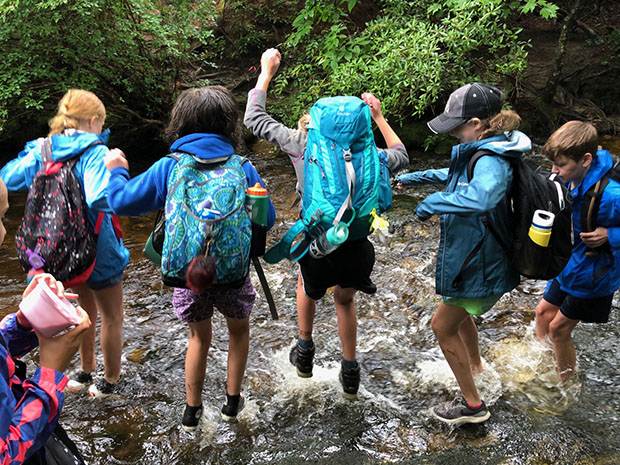 Ah, summer camp, the place of nostalgia and memories. Here, friendships are forged, fears conquered, skills learned, marshmallows melted and macaroni glued. In a picturesque setting like Western North Carolina, it should come as no surprise that there are countless sleepaway camps for parents to choose. This encompasses all-boy camps, all-girl camps, religious camps and co-ed camps, each with a wide variety of activities, including backpacking, rock climbing, kayaking and more.
Alas, two weeks in sleepaway summer camp paradise does not a summer make. That's why we've scoured the internet for day camps to fill the void and offer a serious dose of medicine for a bad case of 'I'm bored.' With options ranging from treasured local nonprofits to regional rock-and-roll or space camps, these gems of edutainment are guaranteed to ignite creativity, spark interest and sneak in the kind of STEAM learning that points to bright futures.
Local Camps
Many of the plateau's nonprofits offer summer activities for children. Unfortunately, due to COVID-19 restrictions, some have been postponed and cancelled, while others will wait until later in the year to confirm specifics. Make sure to check for updates with your camper's favorite nonprofit for 2021 activities.
The Bascom: A Center for the Visual Arts
828.526.4949
www.thebascom.org
For years, children of the plateau have enjoyed exploring creativity during summer offerings at The Bascom: A Center for The Visual Arts. Due to possible COVID-19 restrictions, The Bascom will wait until later in the summer to make decisions on 2021 offerings. Check for updates on their website and enjoy creative opportunities through private lessons.
Highlands Biological Foundation
828.526.2221
www.highlandsbiological.org
Get to know your nature neighbors through a series of age-appropriate themed camps at the Highlands Biological Foundation. Camps will be limited to eight campers each and allow attendees to catch insects, investigate where and how animals live, traverse local trails and make crafts with natural materials.
Cashiers-Highlands Humane Society
828.743.5752
www.chhumanesociety.org
The CHHS Critter Camp offers campers interactive experiences with animals, humane education programs, and guest presentations by wildlife biologists, law enforcement K9's and animal welfare experts. Due to possible COVID-19 restrictions, CHHS will wait until later in the spring to make decisions on 2021 offerings. Check for updates on their website and consider adopting a furry friend for countless summer memories.
Regional Camps
There are plenty of learning opportunities on and near the plateau. These regional camps are located less than two hours from Highlands and Cashiers and offer exciting warm-weather educational quests, including jamming in a band and coding your own video game.
The Music Academy of Asheville
828.252.1888
www.musicacademyasheville.com
Is there anything more epically youthful than starting a band over the summer? This six-day camp allows aspiring young musicians to dive into rock-and-roll and pop music while in a band setting and under the supervision of a staff of professional musicians. Industry-related skills taught include music theory, recording, composition and, of course, performing. Is your camper a little less Jagger and a little more Bach or Krauss? The Music Academy also offers camps for string ensembles and folky acoustic jams.
The North Carolina Arboretum
828.665.2492
www.ncarboretum.org
The North Carolina Arboretum in Asheville invites rising second through seventh graders to become real wilderness explorers through their series of day camps. Camp offerings are within age brackets where campers learn essential outdoor and survival skills, including stewardship, investigation and observation. Examine creeks, identify wildlife, make shelters and more.
PARI
828.862.5554
www.pari.edu
Is your camper destined for the stars? PARI in Rosman is on a mission to empower people to reach the next frontier. With an offering ranging from residential summer camps for kids from ages 11 to 17 with tailored STEM and/or single day space camps for families and groups, this experience allows for hands-on learning in astronomy, astrobiology and astrophysics, robotics, cryptography, planetary geography and 3D printing. Humanity may be waiting to make it to Mars in person, but your camper can get there by simulating their own mission this summer.
Camp Muddy Sneakers
828.862.5560
www.muddysneakers.org
Located at the REEB Ranch adjacent to DuPont State Recreational Forest, Camp Muddy Sneakers in Brevard encourages kids to follow their imagination and curiosity as they adventure through the forests and streams of Western North Carolina. Camps offer weekly sessions within three age brackets. Each session only allows 15 campers to delve into both nature and creativity, so sign your camper up today.
Zaniac Asheville
828.575.0355
www.zaniaclearning.com
Learning doesn't have to stop during the summer, and STEAM learning gives the gift of exploring future vocations. Grouped into three age brackets by grade, this camp roster calls all coders, engineers, scientists and designers. With options including 3D printing, fashion design, kitchen chemistry, robotics and game-based learning using Minecraft™, Chess and classic arcade games, your camper will never look at science, math and art homework the same.
Online Camps
Need camp to be a little closer while you work remotely? As close as your living room? These online activities and kits will give your camper something to write home about- even if that means sending a text from the kitchen. If these don't offer what you are looking for to keep your home campers edutained, fear not. Thanks to last year's shutdowns, the answer to your unique online camp need is just a Google search away.
Camp Kinda
www.kindaguide.org/camp-kinda
Developed by EdNavigator and available in English and Spanish, Camp Kinda keeps children in kindergarten through eighth grade engaged with hours of activities, including making graphic novels, unlocking the mysteries of history, traveling to rainforests and the art of moviemaking. It's a little bit like MasterClass, for kids.
National Inventors Hall of Fame
www.invent.org/kits
The mission of the National Inventors Hall of Fame is to recognize inventors and invention, promoting creativity and advancing the spirit of innovation and entrepreneurship. Its Camp Invention program is a STEM summer program for kindergarten through sixth grade, providing a complete curriculum for educators. Luckily for parents, Camp Invention has created a set of Innovation Exploration Kits available to purchase in a range of subjects. Each kit is packed with an exclusive robot, hands-on materials and step-by-step activities for hours of creative fun. Young innovators will explore robotics and think like a veterinarian, investigating dog anatomy and performing surgery in Robotic Pet Vet; travel a step-by-step process of entrepreneurship, from sketching ideas to marketing products, in Design Thinking Project; or customize a flight simulation robot while experimenting with the principles of flight in Camp Invention Flight Lab.