A Man Before his Time
04 Oct 2023
The legacy of architect James "Jim" Howard Fox endures and inspires
Story by CARLA BECK
Photos by RYAN KARCHER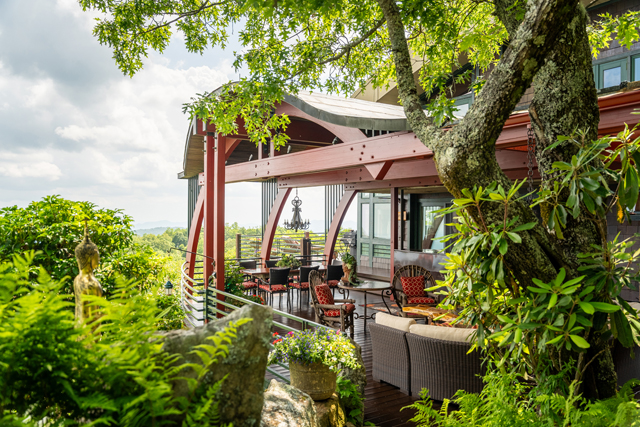 Modern homeowners seek multi-functional spaces that embrace flexibility, encourage both indoor and outdoor transitional living, and incorporate energy-efficient best practices. Architects, interior design professionals, and builders must collaborate to create custom homes that meet the challenging needs of their clients. In the end, it is the people behind the design process that will make the difference between what is just a residential building and what is truly a home. According to North Georgia designer Holli Phillips of Veronica Ann's by Phillips Design Group, "Trends come and go, but good design fits the family that occupies the space." Long-time resident and architect of Highlands, James "Jim" Howard Fox left a legacy of exactly that, as he believed every building should look different and reflect the person (client), place (landscape), and time (context) in which it was designed and built.
Fox's modernist designs leaned into the style of organic architecture, which ultimately mirrors the surrounding landscape rather than infringing upon it. According to his grandson Joey Stiles, he would often be found on-site, sketchbook in hand, as he searched for creative solutions to what others might deem impossible problems with a building site. Stiles said his grandfather would meet multiple times with clients to ensure his vision fully represented their needs. A current student at his grandfather's alma mater, Oklahoma University, Stiles aspires to complete his Bachelor of Architecture and further his study of organic architecture.
Reflecting on his grandfather's advice, Stiles mused that Fox encouraged him and every architect to "keep a sketchbook by your nightstand so if you have an idea, you can sketch it." After touring some of the homes designed by Frank Lloyd Wright, Stiles mentioned that his grandfather gifted him the book Frank Lloyd Wright Selected Houses Vol. 4: Falling Water. Perhaps more important than the book itself is his grandfather's inscription on the inside cover: "So glad you went to visit FLW's work, the best architecture in the world. Flip through this book, remember the home, then design your own."
Although Fox's designs do reflect the influences of other well-known architects, such as Frank Lloyd Wright, his work specifically highlights his own unique instinct. Western North Carolina architect Steve Arnaudin considers Jim Fox's work "the best combination of Wright, Goff, and a healthy measure of Jim Fox's own imagination." Living and working in the Cashiers-Highlands Plateau provided Fox with an endless playground for his imagination. Majestic mountain views, cascading waterfalls, and rocky hillsides formed the backdrop for the majority of Fox's designs. Fox then took those elements, and as is the case with modernist architects, rejected the rules, experimented with the possibilities, and created structures that lived in harmony with nature. He built glass walls and, at times, glass floors. He framed with natural rock and wood while also incorporating the stability of steel to form homes that would withstand the unpredictability of western North Carolina's weather but still showcase its unparalleled beauty.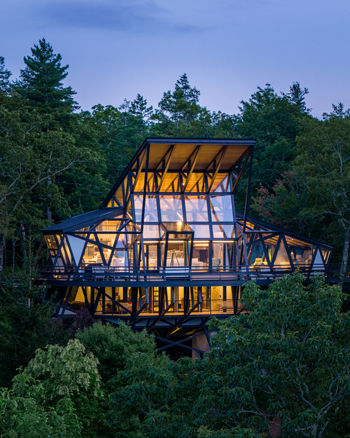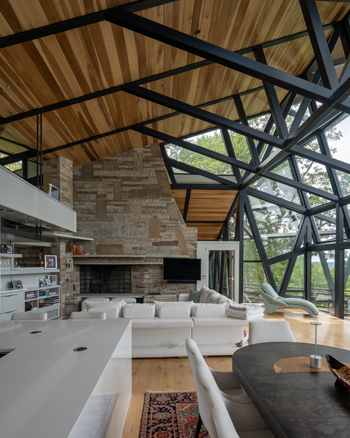 A Jim Howard Fox home includes more than practical conveniences; it speaks emphatically of that which it surrounds. Homeowner Stephanie Edwards of Cashiers shares that when she and her husband Bill purchased their Fox home 7 years ago, they desired "to restore [the] home to Jim's and the original owner's vision." Their 1974-era home needed both restoring and updating to create a more functional environment for the couple. Fox met with them to discuss their ideas and offer his assistance in their restoration process: "We enjoyed hearing his personal recollections and getting his endorsement of minor changes we planned to enhance his stunning architecture. He enlightened us to a couple of features we may have never fully appreciated without his explanation (such as a stained-glass entry door Jim was commissioned to create for our home's second owner. A true artist, his design, which appears abstract, was actually a blueprint of the house)." This hidden "treasure" represents a key component of a Fox design—it didn't stop with the completion of the blueprint. Fox regularly added custom-designed furnishings and expressive elements to his homes, leaving the owners with more than a residence but instead a work of art. This presents the building contractor in charge of such restorations with a daunting task. Brett Murphy, owner of Arrowood Construction in Macon County, NC, shares that in his extensive career, he has never encountered a home quite like the Fox-designed home his firm began restoring in 2020. Murphy points out that the three-year process has been "a unique experience that was both exciting and challenging."
Fox began his own design firm in Highlands in 1969, finding an avid audience and devoted following of those who admired his skill and talent. Macon County, NC photographer Ryan Karcher, also one of Fox's grandsons, chronicles his grandfather's legacy by capturing with his lens what his grandfather brought to life with his pen and paper. Karcher and his cousin Joey Stiles sometimes go on what they term "Fox Trots" where they visit their grandfather's homes and even speak with the owners: "Every Fox-Design owner I've met seems to be extremely happy, not only with the house but also just in general. Joey and I discussed that it has to be because the homes themselves are flooded with natural light with all the windows everywhere in the house, and the houses reflect the site that they are built on. Each one has its own personality. Whether a site with a mountain view or one overlooking a creek, the houses reflect it. And since people are happier in nature, the owners are happier because the houses are as close as they can get to living outside while being protected from the elements." Karcher emphasizes that his grandfather wanted to build homes "in tune with the mountains" and that desire led him to create magnificent homes that could only be designed by a "master craftsman."
Although Fox-designed homes are rarely on the market for purchase, there are several available for short-term rentals. In Highlands, North Carolina, "The Butterfly House," which sits beside a waterfall, offers stunning mountain views of Blue Valley. Another Highlands rental, "The Kite House," promises views of the Blue Ridge Mountains from every room in the house. "The Waterfall House" in nearby South Carolina offers visitors a natural retreat with direct access to a waterfall. Additionally, Wildcat Cliffs Country Club preserves Fox's talent in his designs of the clubhouse, fitness center, and woodland cottages. Architectural enthusiasts might also explore www.ncmodernist.org for a more detailed discussion of Fox's design legacy.
Designer Holli Phillips concludes that "in order to truly feel at home, one must love their surroundings. The colors and textures and the way they are arranged weave a backdrop for the memories and cherished moments together." Fox's own family home, affectionately nicknamed the "Fox Den," accentuated his love of nature and showcased his creative personality. He originally purchased a gable-roofed cabin where he and his family lived while he built a new house around the first structure. Once Fox completed construction of his new home, he had the cabin demolished. An artistic masterpiece of natural wood, steel, and concrete, the "Fox Den" provided the architect with an office balcony appropriately overlooking the creek where he could "always have the door open" to hear the singing birds he loved.