Listening to Moments
04 Oct 2023
Carl Turner leans on life to express universal truths
By LISA GRAY YOUNGBLOOD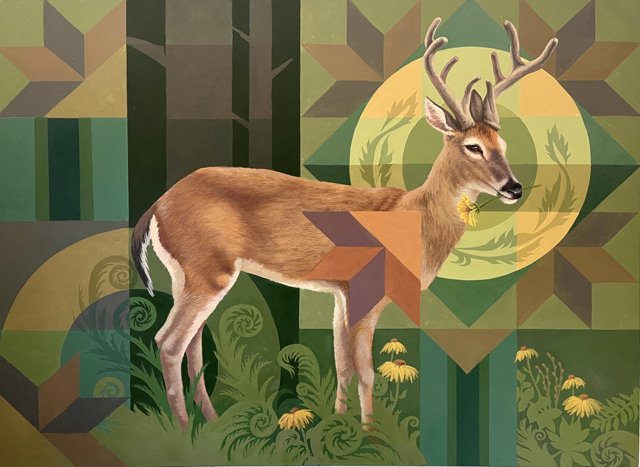 For Carl Turner, life unfolds in a series of moments, and he has learned to listen. He believes in the value of experience.
"It's all Ms. O'Shields' fault," he jokes of his first-grade teacher. One afternoon, Ms. O'Shields asked the class to draw their favorite character from The Three Little Bears. "I drew Poppa Bear and turned it in and thought little of it. To my way of thinking, everyone could draw." His artistic mother had encouraged creativity in her son, both as an activity and as a way of being.
Fast forward six years. Carl was in seventh grade, heading out of the cafeteria, when he saw Ms. O'Shields with her gaggle of squirming first graders. When she saw him, she stopped abruptly and pointed. "This is the boy who drew the Poppa Bear I keep above the blackboard!" she exclaimed. The first graders oohed and ahhed and seemed almost star-struck, at which point an idea sprouted: maybe he had a gift worth exploring. And so, the journey began.
Carl came up with a life plan, so easy to do when you are young and unaware of the hard edges and abrupt pivots of adulthood. He would go to art school. Upon graduating from high school, he took a one-year course in graphic design at Dekalb Tech and then entered The Atlanta School of Art, now known as the Savanah College of Art and Design-Atlanta. "This ended up being a great visual arts education not just because of the hands-on classes and excellent instructors, but also the location. The High Museum of Art, which offered ever-changing top-notch exhibits, was downstairs. I attended every exhibit and was influenced and inspired by too many artists to name."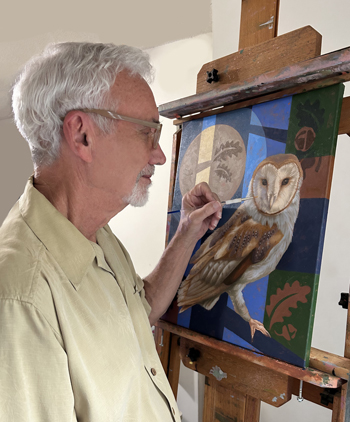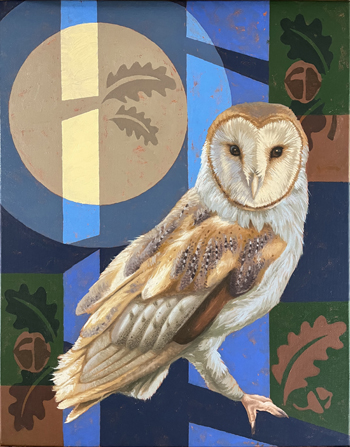 There was, however, one experience that stood out above the rest. The museum was featuring an exhibit of the Hudson River School artists, the first recognized group of "American" artists. Up until then, all artists had to go to Europe to be trained, which influenced how and what they painted. But the Hudson River artists were painting uniquely American scenes, many of which people had never seen. "I sat on a bench in front of Frederic Church's famous painting of Niagara Falls. As I studied the colors, the brushstrokes, the masterful rendering of water, I suddenly realized I was hearing the roar of the waterfall. I could feel the spray of water on my arms. I was there. I had not realized the full power of art until that moment. Every artist leaves something of his own life energy embedded on the canvas. A painting is a living thing. It has to be experienced in person."
But life, as it tends to do, threw Carl a curve ball. When financial pressures demanded attention, he left art school to find work. "An ad in the paper for a position at a private zoo on the outskirts of Atlanta caught my eye, and I applied. Although I had no qualifications, I was hired and began a career that ultimately led me to Zoo Atlanta where I became Willie B's caretaker."
Willie B was the legendary African Lowland gorilla who stole the hearts of the city and sparked the transformation from glassed-in enclosures to outdoor landscapes resembling natural jungle conditions. He was also known for his engaging personality. "To become his personal keeper, you had to pass a test, a private interview conducted by Willie B himself. As he studied you from head to toe, you had to stand before him and offer food in a particular order. If he didn't like you, he would reject the food, throw something-that-shall-not-be-named at you, and that would be that. If he did like you, he would offer you a bite."
Willie B did like Carl, and he offered Carl a carrot. Understanding the health risks, Carl thought to outwit the 400+pound giant and only pretend to take a bite. "Willie B wasn't buying it. He showed his displeasure by circling the room, banging the walls with his massive arms, and beating his chest. He then calmly lay on his belly, propped up on one elbow, looked me intensely in the eyes and offered me a second chance." Carl flipped the carrot and took a bite. Willie B gave a grunt of approval, and Carl got the job. Experiencing Willie B's intelligence and playfulness in such a close, intimate way gave Carl a deep respect for all the animals he encountered and cared for at the zoo.
But at heart, Carl is an artist, and no matter how far he strayed or how much he loved the animals, art always pulled him back. He returned to the art world as a graphic designer, illustrator and Art Director and enjoyed a long and highly successful career working with SCETV (South Carolina Education Television), Blue Cross Blue Shield, NationsBank (now Bank of America), and many other large corporations, non-profits, and small businesses. "These jobs suited me well because every project was completely different. I built a career being flexible and working in a multitude of styles, finding creative solutions to complex problems, which is what I became known for. It is also how I learned." And then, of course, that desire to create his own art came calling again.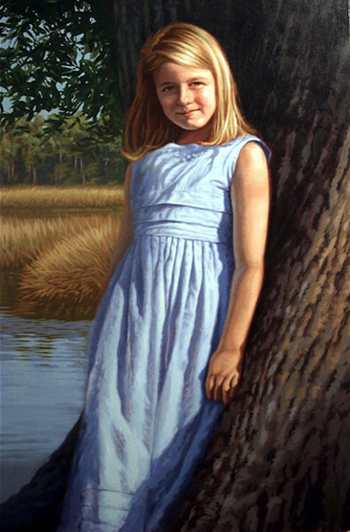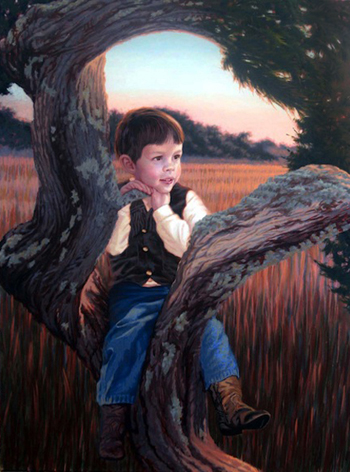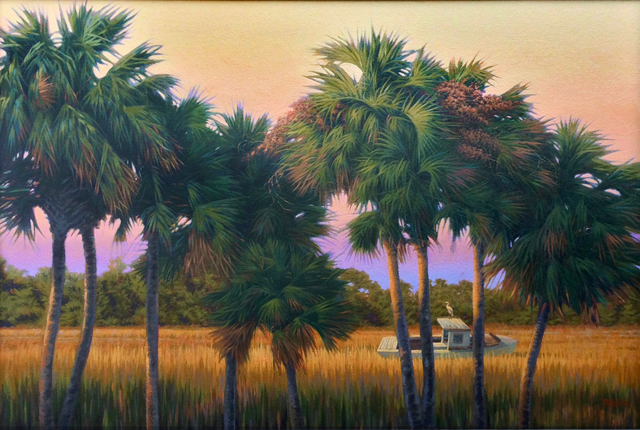 While pursuing his commercial career, Carl had attended workshops in New York with nationally acclaimed artist Daniel Green, a realist painter and an excellent teacher. Carl leaned into realism, going back to his roots. "I learned how to paint in a classic style at a time when art circles looked down on realism. I have a broad appreciation for the many ways of making art, but I wanted to return to a more traditional form and work exclusively in oil."
Carl also attended night classes taught by Sam Adoquei at the New York Academy of Arts. "His work began with a solid structure of strong draftsmanship underneath, but then he applied the paint in a new and interesting way, opening it up. I had an instantaneous shift in my thinking. I saw new possibilities for my own work."
It was around this time that Carl took a tour of the late Frederic Church's home on the Hudson River. An easel held an unfinished painting that felt to Carl like a call to action. At the age of 50, Church had suffered terrible arthritis in his right hand and had to start painting with his left. "I knew then, about to turn 50 myself, I needed to pursue my dream of being a full-time fine artist. We are not promised tomorrow."
Carl packed up and moved to Charleston, South Carolina. He quickly became a regular contributor to Piccolo Spoleto, where he won a Governor's Award and was juried into the annual artist's exhibit during Spoleto at the prestigious City Gallery two years in a row. "Charleston has a lot of artists competing for gallery space, but I was able to establish myself as a member of the city's thriving art community for over 20 years." Carl taught himself to paint landscapes, focusing on marsh scenes and beaches. He also accepted many commissions for his fine art portraits, which he paints exclusively in oils.
And guess what began to sneak into his paintings? Remember that connection to Willie B? Well, the animals came knocking. It began with pelicans and egrets, the quieter creatures of the lowcountry. "The paintings sold well, but for a long time, I resisted being a wildlife painter. I just did not want to be pigeonholed. But I found myself increasingly drawn to animals, and after an extended stay in Brevard, this draw became a fascination with the creatures of the North Carolina Mountains."
This is what you will find in his new and evolving series. The focus is our mountain wildlife, presented in a realistic style but with a graphic background similar to quilting. In this series, Carl expresses his own feelings about these creatures and our interconnectedness.
This chapter of Carl's artistic journey is informed by all the earlier chapters and each moment of profound impact—the kind words of a teacher, the realism he learned from early mentors, the study of modern artists, the quilting and layering of designs honed in a commercial career, a love and deep respect for animals and a lifetime of spiritual exploration. It is the whole of Carl—of a human life—that lives in his new work, a visual expression of one man's evolution.
You can contact Carl to discuss portrait commissions or to inquire about purchasing exhisting paintings at: carl.turner@icloud.com
And you can visit his website to see more paintings at: www.carlturnerart.com