The Brevard Music Scene
04 Oct 2023
Transylvania County's love affair with music
By F. B. ROBINSON
Brevard, North Carolina has an enduring love affair with live music. Long before Brevard Music Center opened its campus in 1944, the sounds of mostly-stringed instruments echoed from surrounding hillsides and across the valley floor. The music brought people together and provided joy and solace. The tunes have evolved, but the essence of the live performance has not. If you haven't experienced this lively scene, I highly recommend putting it on your list of must-do's.
Recently, I sat down with four local musicians who represent a combined eight decades of playing live gigs. I asked each about their experiences and what motivates them to keep showing up. Their answers will give you insights into what makes this music so magic.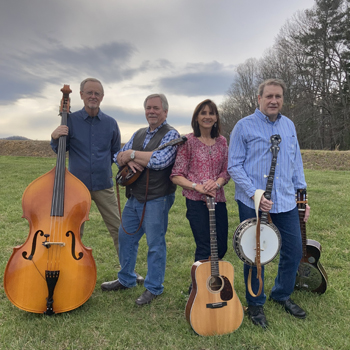 Lynn Goldsmith & The Jeter Mountain Band
I caught up with Lynn Goldsmith, along with her good friend and sound engineer, Donna White, at the Black Bear Coffee shop in Hendersonville, NC. Lynn and her group, The Jeter Mountain Band, had just played for about one hundred residents at the Mills River Life Enrichment Center. Lynn can trace her musicianship back at least three generations. Lynn remembered, as a small child, watching The Arthur Smith Show with her parents and told me of a picture of her grandfather standing on the beach in Charleston, SC with his banjo after playing a show there with his brothers. Music has always been part of her life.
Lynn began playing solo in 2008 at The Wickwire Gallery in Hendersonville. After a few years, and brief stints with a couple of bands, she was approached to front The Jeter Mountain Band. The band's original members have moved on, but the current lineup has stayed consistent for the last eleven years. Ask any experienced musician, and they will tell you that is an impressive achievement. Even more impressive, after a decade of playing concerts and street dances, Lynn Goldsmith and The Jeter Mountain Band have earned such a reputation that they no longer actively market themselves to stay busy. "People have either seen us or heard about us, and they reach out to me," Lynn told me.
Today, Lynn's influences range from bluegrass to James Taylor, from Credence Clearwater Revival to Adele. Lynn also composes original music for herself and the band. When I asked what keeps her motivated to play, her response was quick and concise. "I love the music. I love to play—and I love seeing people having a good time."
If you would like to get in touch with Lynn, see the band's upcoming schedule, or find out about their newest CD, follow them on Facebook, or go to her website at www.lgoldsmithjmb.com.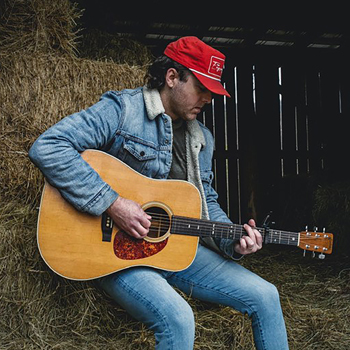 Cody Siniard
I sat down with Cody Siniard at Sunrise Café in Brevard. Cody is a singer/songwriter who performs as Cody Hale, Hale being a tribute to his late grandfather. On that particular morning, as folks chatted at cozy tables and numbers for breakfast orders were being shouted, Cody was eager to talk about his new CD, 100 miles to Nashville, a collection comprised exclusively of his original songs. The album was scheduled to drop July 28, and Cody told me it was doing well in the pre-order market.
Cody began performing solo in the area in 2012, and three years later formed the band, Cody and Dem Boys. The group hustled for any and all gigs, playing tiny venues all the way to Harrah's Cherokee Casino. As is often the case, life began pulling band members in different directions, and Cody returned to solo performances. He also began to give more focus to the songwriting aspect of his career.
"You can tell the difference between someone who is just up there to perform and a singer/songwriter who gets lost in their song. That's why I do it. I have something to say, and I want people to hear it."
Along the way, there are always dues to pay. Cody reminisced about earlier shows where he was discouraged from playing his original material. He chuckled and said, "When I wanted to sneak in one I wrote, I would just tell the crowd 'Here's an old Bob Dylan tune I thought you might like.'" I asked about his worst gig. "I played a place near Lake Toxaway. I was told to set up in a loft. I couldn't see anyone, and no one could see me. I spent the whole time staring at a little triangle of wall. Weirdest gig I ever played." On another occasion he described driving to Morganton. It was a new establishment, and they hadn't advertised the show. Cody and his wife, Jonlyn, played three hours to the bartender.
Cody Hale now plays about seventy-five shows a year. He told me that there is a lot of talent in the area, and when he plays, he tries to impress the musicians in the crowd. While his ultimate dream is to play the Grand Old Opry, his primary focus is to be the best songwriter he can be. You can find out more about Cody, and his latest album at www.codyhalemusic.com .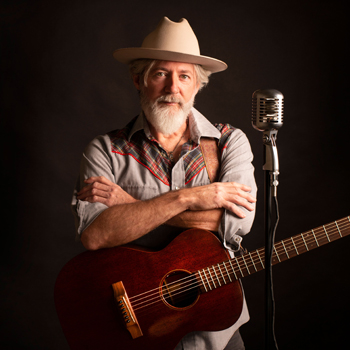 Scott Stetson & Stetson's Stinkbug Bourbon Band
Scott Stetson's music career spans thirty-plus years going back to his high school days in Rochester, New York in the late 1980s. I caught up with Scott during his lunch hour at the Transylvania Habitat for Humanity ReStore, which he manages. Scott told me his first band, of which he was the youngest member, played mostly glam and punk rock. They once played a New Year's Eve party where their slot was 5 to 7 a.m. It was the only bar in the area allowed to serve alcohol until 7 a.m. Scott told me the place was packed.
After moving to the Asheville area about fifteen years ago, Scott became part of a group called The Dirty Badgers, which he described as Appalachian Punk. Scott fondly recalled the night they opened for Cracker in downtown Asheville and performed to a crowd of about five thousand people. It was a good night.
Today, Scott focuses on writing original music. He stays busy as a solo act and with his new group Stetson's Stinkbug Bourbon Band, which includes drums, a bass, and a steel pedal guitar. Scott lamented that marketing his music remains a challenge. "That's the hard part. Getting your music out there." Scott went on to say his songs were getting air play on WNCW radio, and recently, a station from Gainesville, Florida had emailed to let him know that one of his tunes had made it onto their Top 10 Listener List.
When asked what keeps him coming back, Scott replied, "If one person comes up after a performance and says your song touched them, that makes it worthwhile." He said it is important for him to get his songs in front of people. Even if it means playing for fewer people, he would rather play his own music than cover tunes.
Scott hopes to get into the studio along with Stetson's Stinkbug Bourbon Band to cut a couple of songs this fall. Touring would be nice at some point, but Scott acknowledges, "It's a tough dream." To find out where Scott or Stetson's Stinkbug Bourbon Band is playing, go to www.scottstetson.com or follow him on Facebook.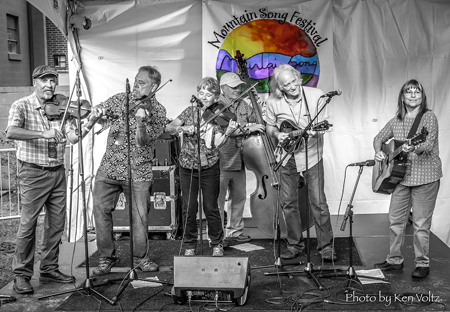 Gary Wells & The Outside Dogs
I've known Gary Wells for over thirty years. We got together at Quotations Coffee on Main Street in Brevard to talk music. Gary was one of the founding members of the Hogtown Squealers, a ubiquitous local favorite that played traditional mountain music from 1983-2019. I asked Gary what keeps him coming out to play year after year. "It's the social aspect," he said. "Playing music you like with people you like. It's a bonus when people come out to enjoy what you're doing." He went on to say that it was not unusual for friends and acquaintances to join in during Monday rehearsals. Some come to listen and others to join in. It is a fact to which I can personally attest.
Gary explained that traditional mountain music gets its roots from Irish, Scotch, and German heritage. An accomplished player, Gary has won various contests for his talent on the mandolin/banjolin, including the Asheville Song and Dance Festival, which is the oldest in the state.
When asked about his most memorable show, Gary recounted a fiddle convention where the Hogtown Squealers were scheduled to play. The timeline became extended, and as the band was about to go on stage, they were informed that their time was already reserved for the great Doc Watson. Unflummoxed, the band went back into the audience to listen to Doc. However, at some point, they collectively realized they would be following the legend. Pressure grew, and as the five-piece Squealers began their first number, they launched into three different songs. Years later at the Porter Center, The Squealers had the opportunity to open for Doc. Music and life had taken them full circle. After The Hogtown Squealers disbanded, Gary began playing with The Outside Dogs. "It's the same music just with a few different players," he explained with a smile.
The consistent message I gleaned from each interview is that there has never been a better time to enjoy live music in Brevard and Transylvania County. There are performances or jams nearly every day of the week, and the talent has never been better or more plentiful. You won't want to miss the musical delights that await just around the corner.