Women in Business
09 Jun 2021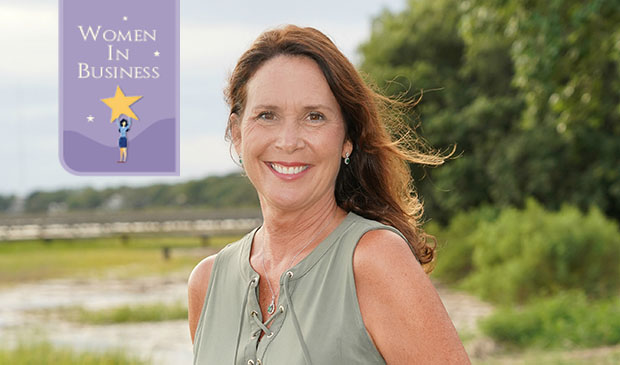 Our executive director of operations, Emily Sweeney, asked these female entrepreneurs six questions to learn more about how their professional acumen, experience and talents inspire the plateau.
1: Best Business Advice I/We Ever Received?
2. Words of Wisdom to Other Women?
3. Why I/We Chose This Career?
4. One Thing I've Learned The Hard Way?
5. You'd Never Guess That?
6. Why I/We Love Doing Business In Highlands-Cashiers?
The Molly Grace
Stephanie McCall
828.526.8390
The Molly Grace was named after my mom and two daughters.
1. Always have a positive happy attitude, treat everyone with the same respect.
2. Always be that girl that fixes another girl's crown and never let the world see it was crooked. Don't compete with anyone but yourself; always strive to be a better you. Better company. Better person. Just to improve yourself.
3. I have had many careers, but it was something I wanted to try. It just presented itself as an opportunity, and I went with it.
4. Do not overcommit yourself to a client. Better to overachieve than come up short on your promise.
5. You would never guess that I also own a construction company, Allyson builders.
6. We love doing business in Highlands because this is home. We have the best community anywhere in the world, our customers become our friends, and our friends become our customers. We love where we live and work. Quality of life in Highlands is priceless.
The Ugly Dog Public House, Cashiers
Ramsey Ashburn
828.743.3000
1. Do things the right way the first time, even if it takes a little longer. Cutting corners only wastes time in the end.
2. Do not let the standards of society determine what you do and how you do it. Go after what you want without fear and surround yourself with people who truly believe in you.
3. I started working in the service industry when I was 13. I have always worked in a restaurant in some capacity since then, and I truly love it.
4. The early bird really does get the worm.
5. I am a Type 1 diabetic based on the amount of candy I eat.
6. The diversity of the people I meet. They come from every walk of life, with so many different stories and experiences. There is never a dull moment at the pub.
The Chocolate Heaven Company and Cake Bar
Krysti Henderson
828.421.2042
Chocolate Heaven is celebrating its 20th birthday! Made on a whim for a friend, this decadent dessert quickly became the church supper/family gathering/hey-can-I-pay-you-to-make-me-one kind of thing - and then some! Since 2014 (and over a dozen equally delicious products later), The Chocolate Heaven Company is still keeping it real - using real butter, brown sugar, eggs and all the good stuff to over 70 boutique retailers across the Southeast. The Cake Bar is the more creative and social side, an opportunity to bring our passion for desserts we love (or don't offer wholesale) to life. Throw in some live jazz and wine, and you've got the recipe for perfect nightcap.
1. Never pre-judge your customer.
2. You are your only limitation. Be teachable, be flexible, stay humble. Women are not a minority, don't buy into it.
3. It chose me. What started out as a side hustle for extra money now pays the mortgage and employees. There's a saying, "Make God laugh, tell Him your plans." That pretty much sums it up. I wanted to be a travel agent out of high school. Instead, I attended the University of Life, still working on my master's, lol. I had always had a knack for sales/hospitality; I was always cooking or hosting an event of some nature. I was never really a baker, though. That said, when the Chocolate Heaven business started looking like it could actually be a thing, I jumped in, and the rest is, well, you know.
4. Be flexible - there is always room for change. (Coming from a recovering Type A personality, this is very hard to learn.)
5. I don't actually eat Chocolate Heaven. (Never really a chocolate person). I'd rather have pizza.
6. I moved here in '85, so it's definitely home base. While the 1/3/5-year plan includes an "office" someplace a little, sunnier, saltier and sandier, Highlands will always be HQ.
TJ Bailey's
(Main Street men's clothing store since 1985)
Anita Lupoli
828-526-2262
1. Don't do it, the retail clothing business, but if you do, remember it's not about the money because you won't make any for a few years. It's about the people you will meet on the journey, the traveling you will get to do, the relationships you will make, and most of all, the customers that you will get to see year after year.
2. Be strong, consistent and confident in everything you do. Believe in yourself and your gifts and go use them wisely, helping and teaching others along the way. Being in business for yourself is a wonderful journey, and the folks you choose to join that journey with you truly make all the difference in the world. They become your family too.
3. I was 22, working as a secretary, selling real estate and waiting tables. It was time for a change. When I opened in 1985, there were no men's clothing stores in town. Highlands was attracting new summer residents and young retirees with Highlands Falls re-doing their course and Cullasaja Club opening, it was time to party and the guys needed a place to shop! Cocktail attire, brightly colored sport coats and ties, were the standard, and I had a knack for dressing the men in my life.
4. How to manage a seasonal business and inventory levels.
5. I had a Sarasota location as well! First, in 1986, at The Main Plaza downtown and then later moved to Gulf Gate Mall where I carried both men's and women's clothing.
6. First of all, this is home. My family moved here in 1965, and I have loved this town, the community, the locals, the seasonal locals and the visitors ever since. It is just the best feeling when you see customers return for the season or another weekend visit in this glorious place. TJ Bailey's has had the privilege of touching many lives over the years, and I am so thankful for the professional staff I work with and the customers we all take care of.
The Look Boutique
Wendy King
828.200.9573
We offer our clientele an exciting and extensive curated collection of designer apparel, jewelry and accessories from around the world. We strive to provide a unique and welcoming experience which has made The Look a destination boutique. Look for the white cottage with the picket fence in the heart of Cashiers.
1. There are two things that have continued to echo their voice over time. One, leave your ego at the door. It has kept me open to suggestions and new ideas from others. Second and probably most important, stay customer centric. That is a core ingredient of any successful business.
2. Know your skills and follow your heart. Don't let others define you. Love what you do or move on down the road and find something you do love. Life is simply too short to not get pleasure out of what you do each day.
3. I didn't choose it; it chose me! After early retirement and moving to Cashiers, I found myself a bit bored. I agreed to join The Look part time and found I loved working in apparel and with the clients. So, I did the next obvious thing; I bought the business!
4. Expect the unexpected. Going through the COVID pandemic operating a retail business has been a walk of faith and perseverance.
5. I was a registered nurse, spent over a decade as a telecom executive and even did a stint at a hedge fund. I had no past retail experience but found this business a natural fit. I just dug in and have never looked back. I love it!
6. I am so blessed to live in such a beautiful and peaceful place where there is an incredible sense of community and giving. I feel privileged to be part of that story.

A Jones Company
Amy Jones
828.743.1111
I am the owner of a boutique called A Jones Company and a treat boutique called Cashiers Candy Shoppe. We specialize in providing "Provisions for Fun Living." We offer women's clothing and accessories, hand-crafted jewelry, April Cornell linens, picnic goodies, barware and gifts for any occasion. Cashiers Candy Shoppe offers small-batch, hand-crafted confections gathered from all over the United States. Selections change seasonally.
1. The best advice I received was from my mother. She said to go for the dreams that you have and don't look back.
2. I would advise all women to pursue their dreams and not be held back by fear, doubt, judgement or negativity.
3. I chose to open the boutique and candy shop because I wanted to offer a happy and fun place for our residents and visitors alike to visit while they are spending time on the plateau. To see and hear the excitement that my customers experience while shopping here makes me so happy! There is so much hardship and suffering in the world and to have an escape from that for just a little bit is a gift.
4. One thing that I have learned the hard way is to always follow my instincts. It has been when I have not listened to that inner voice that I have run into difficulties.
5. You may have never guessed that I have five wonderful children!
6. I love doing business in Cashiers for many reasons! The beauty of the landscape always amazes me. The small-town heart that this area has comforts me; we are always looking out for one another. The visitors that I get to meet are truly a blessing. I have formed many close friendships by meeting them in the shop. I am beyond blessed to be living my dream in Cashiers!
Wit's End Shop
Susie Young
828.526.3160
Wit's End is a family-owned business that was founded in 1940 by Margaret S. Young. Originally a gift shop, the store began carrying women's clothing in the 1970s and continues to this day. I represent the third generation (my husband David was Margaret's grandson) and have been operating the business since 2005 after the death of Mary Lu Young and later Earle Young (second generation) in 2008.
1. Earle Young once told me, "The customer may not always be right but must always be satisfied." By creating a satisfied and happy customer experience, Wit's End has been a viable business for 80+ seasons.
2. I raised our four children over the course of my 30 years at Wit's End, and I could not have done it without the help of so many. It took a team to keep the shop running when my children were babies. It takes a devoted husband to help with all the tasks and activities during those busy school years. Without the support, I could not have managed to do both, and for that, I am extremely grateful.
3. This career chose me. I have a Master's in business administration and started my career as a corporate banking officer in south Florida. In 1988, I married David Young, and we made the decision to move to Highlands to help out with the family businesses, and I stepped in to help Mary Lu Young at the shop. The year was 1989, and I have been a retailer ever since.
4. Trust your instinct and always go with your first pick.
5. Wit's End has been in business for 81 years in its present location and is operated by the same family. We are the oldest business in Highlands.
6. Who wouldn't want to work and live here? It's a mountain paradise, and our customers are so happy to be here. Happy customers equal a happy shop.
Lisa Harrell Interiors
(Residential and Commercial Design)
Lisa Harrell
704-661-9203
1. On your journey to achieving success, there is no room for excuses. "An excuse is a skin of reason stuffed with a lie," Billy Sunday. Be intentional, accountable and honest in your career and, most importantly, in your life!
2. Making a mistake is a huge opportunity for growth. Not only do you learn from them what not to do, with the right attitude, you can also turn them into an opportunity to broaden your horizons. Often, some of my most creative finishes come from missteps.
3. Honestly, this career chose me. My design career was a gradual process over time that blossomed into a wonderful creative outlet. It was a long winding road of vision and creativity combined with experiences of trial and error over a decade.
4. You are not the right fit for everyone. Design work is a collaboration, and your vision and the clients must inevitably meld together to fit like a puzzle. There are many different shapes and colors of the pieces, but ultimately they must all fit together to complete the bigger picture.
5. I'm a science nerd! I began my career in dental research. I have a Bachelor of Science in zoology and obtained degrees from huge ACC university rivals, NC State and UNC-Chapel Hill.
6. It's so cliche, but the people and the natural beauty of the environment. The moment I ascend the mountain from the big city of Charlotte, I can fill my lungs fully with the fresh mountain air and calm my mind with the relaxed, slower-paced vibe. Collaborating with the beautiful and talented people of the mountains feeds the soul!
Cullasaja Club
828.526.3531
Amy Fine, Membership Director
1. The only thing you have complete control over is your attitude.
2. As a woman in business, there will always be challenges to your success, but to overcome these challenges, you have to feel empowered by believing in yourself and focusing on the things you can control, and silencing the voice in your head that tells you that you can't do it.
3. I love people – my job gives me the opportunity to meet amazing people and form relationships every day.
4. You WILL make mistakes and lots of them. The key is acknowledging them and learning from them.
5. I would find my dream job in my 50's.
6. The people. I have lived in resort areas for most of my life, but I have never lived anywhere that the people are so friendly and engaging. You meet people and instantly feel a connection to them.
Marie Jandera, Executive Chef
1. Do not ever change who you are. Do not take shortcuts, listen to gossip or judge people. If you get a complaint from someone, do not complain about it; take it as constructive criticism.
2. You can do anything you set your mind to. Don't ever let anyone tell you that you cannot do something, especially any man.
3. I love to cook, to create menus and use my creativity with dishes, and I LOVE to stay busy.
4. When I started working, I wanted to do everything by myself. Soon, I learned that I could not do everything. I learned to surround myself with good, hardworking people, who were trustworthy; who have always supported me and helped me succeed.
5. I have been with Cullasaja Club for 25 years.
6. I love being in the mountains, the people and the friendliness of Highlands.
Beth Carpenter, Buyer/Merchandiser and LPGA Teaching Professional
1. If you are passionate, you can accomplish all your dreams! Be authentic, approachable and learn to lead with grace and integrity to create a positive team culture. Time is a precious commodity; it matters how you spend it. Develop confidence in your ability to balance work and family.
2. Be gentle on yourself, avoid comparisons, surround yourself with kind, quality people. Be quick to compliment and be a good listener.
3. My degree taught me purchasing strategies, merchandising skills and consumer trends. Golf has kept our family very close, that inspires me to share the game through teaching.
4. God's plans are far better than my own.
5. I have a commercial driver's license.
6. While spending many summers escaping south Florida, we found warm hearts and friendly faces here. The quaintness of the area enticed us to stay permanently.
Spoiled Rotten
(Ladies Boutique)
Jonna L. McDowell
828.526.3608
1. I have been in business for 33 years, and I think the best advice that was given to me was to never give up your dream.
2. Trust your own instincts and never let anyone tell you that you can't do something.
3. I enjoy dressing ladies and making them feel good about themselves. At the end of the day, it makes me happy too.
4. That having your own business is like having a baby and watching it grow. It takes a lot of nurturing and care. That is not always easy; there are many times when it is sick and needs lots of care. Night and day. Also, you worry about it when times are tough.
5. I actually have a degree in education and psychology and taught school before I started my business.
6. Because it is my hometown and I enjoy meeting so many people from all over the world in my shop. I am very proud of my town, and I feel that I am a good ambassador of Highlands and want people to feel embraced by our kindness and helpfulness, so they want to come back again and again.
Peak Experience
Victoria Ingate
828.526.0229
Peak Experience is an American handcrafts and antique gift shop. Some of our most popular items are jewelry, estate jewelry and pottery. This will be our 22nd year in business.
1. The best business advice I have ever received is from Martha Stewart. Her motto is, "When you're through changing, you're through." You must be willing to adapt and change with your customer and with the times. I think 2020 showed that to all of us!
2. My words of wisdom would be, be sure you enjoy what you're doing. If you dislike what you are doing, you will not do it well. If you like what you were doing, you will be your best at it. I would probably be working in retail even if I did not own the business.
3. I enjoy the creativity of retail. Choosing things that I think our customers will like and enjoy in their homes, setting up and changing displays, and coming up with uses for an everyday item that someone may not have thought of before.
4. One thing I have learned the hard way is to have tough skin. You can't please everyone all the time.
5. My father was in the military, and I lived in Germany for nine years until I was 16. Highlands reminds me of the town I lived in growing up.
6. I love doing business in Highlands because I love the community feel of the town. It is a beautiful place to live, and I enjoy seeing our customers that are seasonal residents every year plus meeting new people all the time.
Laura Moser Art
Laura Moser
480.414.525
I am an artist and have a gallery adjacent to Josephine's Emporium in Cashiers.
1. Be yourself. Always try new things. Remember that 1/3 of the people will be positive about the work, 1/3 will be indifferent, and 1/3 will be negative. And, best of all, everything will be ok.
2. Do what you love. Move forward even if you are afraid.
3. Luckily, I am doing what I love.
4. Do not rush a painting; if it doesn't feel complete, just give it a day. Thinking about things is 90% of the work.
5. I would really like to be able to paint like a five-year-old!
6. People are so nice, and the pace is slower. I love it when people come in just to chat!
Country Conveniences Inc.
(Town and Country General Store and Deli)
Valerie Walker
828.547.1300
1. Never take no for an answer. Don't give up.
2. Don't underestimate the value of your team.
4. You're only ever one decision away from a totally different life.
5. A pandemic would have such a long-lasting effect on so many people and businesses.
6. I love doing business here because most all my customers are here to have a good time and to have an experience.
Ashley E. Harllee
CK Swan
828.526.2083
We carry curated home goods, art, gifts, jewelry, garden and kids' products that span locales, eras and styles.
1. Diversify product range. I once asked two of my customers, who were buyers for Saks Fifth Avenue and Target, if they had any advice on what I should be doing differently to better satisfy my customer base.
2. Embrace perseverance and change.
3. This retail model is extremely rewarding creatively. In finding success, it is important to enjoy what you do.
4. Trust your gut instinct and take some risks.
5. That I have been in business here for 32 years!
6. Our Highlands-Cashiers community is unique in that it is supported by people with very different interests but with one common goal of enjoying and preserving this piece of mountain paradise. The joy that people find by either living or visiting here is contagious!
Jannie Bean Fine Custom Jewelry
Jannie Bean
828.526.5858
I provide jewelry manufacturing, re-designing, full-service repair and appraisal services.
1. Be quick to listen and slow to speak.
2. Don't give up, work hard, listen to your customers.
3. I was an art/design major in college. I started apprenticing at my bench at the age of 19 (for a jewelry manufacturing shop) while I finished my college degree. I saw it was a good fit with my skills and job opportunity.
4. I've had too much fun to worry about the hard lessons.
5. It's a secret.
6. This area draws people from all over the country. Lots of opportunities to create unique and beautiful jewelry items that my customers wouldn't find elsewhere.
MANtiques
(Masculine Antiques and Collectibles)
Cheryl Littlefield
352.467.0322
1. "Go for it!"
2. It's ok to learn as you grow and stay positive!
3. My husband and I shared a love for collecting and decorating with vintage collectibles and antiques.
4. You don't always have all the right answers. Stay flexible and listen to others.
5. MANtiques is owned by a woman!
6. The opportunities for making new friends and contributing to the community.
Rusticks
Ann Sherrill, Nancy Albers, Stacie Platt and Jean Railey
828.743.3172 x201
1. The customer always comes first.
2. Never underestimate yourself.
3. I've always had a passion for design.
4. Predicting supply and demand.
5. Rusticks has successfully been in business for more than 30 years.
6. A great hometown feel, and the people are very friendly.
Bella Cotn Boutique
(Ladies' Apparel Boutique)
Diane Brady
941.544.8687
1. It's okay to step outside of your comfort zone. That's when the most amazing and unexpected things can happen.
2. Always listen to your gut.
3. I feel like this career chose me. I started a small handbag business and loved it so much that I evolved over the years into a full-scale boutique.
4. Taking time for myself and my family is so important. It's okay to take a day off guilt-free!
5. I was a registered nurse for 20 years before starting my own business.
6. I love the small-town feel and the people.