The Spirit of Summit
08 Jun 2021
Celebrating 25 years on the plateau
By Susan E. Gregory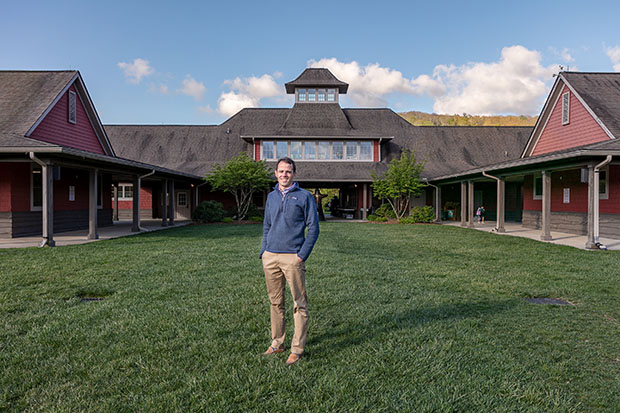 An African proverb reminds us it takes a village to raise a child, and here on the plateau, we have such a village. In 1997, parents and community members founded the Summit Charter School as a tuition-free, kindergarten through eighth-grade school on its original campus at The Village Green, intending to provide families in the community with another choice in their children's education.
By design, community involvement has played an integral role in helping to create Summit's primary learning strategy. An experiential learning process known as place-based learning. Place-based learning is a student-centered approach to instruction that immerses students in a non-classroom environment—such as a park, museum, outdoor landscape or local business—and uses the experience as the foundation for lessons. Here, the community becomes the classroom, and students learn to solve community problems with global application.
Summit's dedicated teachers, staff, families and community supporters connect students to both the economy and environment through hands-on learning experiences at local haunts such as Panthertown, the Cashiers Historical Society and local nursing homes. Such learning teaches essential skills through inquiry and problem-solving. It encourages students to reach personal summits while reminding them that the world outside of their own exists and teaches them critical thinking skills while having meaningful conversations as community members and future stewards of their communities and the world.
Five years ago, the school and stakeholders decided to expand the Summit Family to K-12 by adding one grade level each year at its current location on Mitten Lane in Cashiers. Three years ago, Summit introduced ninth grade, two years ago tenth grade, and eleventh grade last year. The 2021-2022 school year will see the twelfth grade added, allowing the original ninth-grade class to graduate during Summit's 25th Anniversary.
In 2019, Kurt Pusch arrived as Summit's new head of school. Pusch relocated with his wife and four children from Denver, and their three oldest children attend Summit. In Denver, Pusch taught at a charter school beginning when that school was in its early years. He eventually became the school's principal and guided its expansion to include a high school. From there, Pusch helped open other charter schools in Denver. He oversaw the opening of multiple charter schools in the surrounding area before coming to Cashiers to share his expertise and make it his job to steer the Summit expansion.
Like most worthy endeavors, the Summit expansion has been a success but not without its challenges, especially during the global pandemic. With Pusch at the helm, Summit has maintained its focus by leveraging its dedicated families and community partners. Summit successfully held in-school learning from August 2020 forward while offering a remote education to families who preferred learning from home.
When asked about the best and the worst parts associated with teaching during the on-going pandemic, Pusch noted that on-campus learning required many changes due to health protocols. Teachers had to learn new skill sets to support remote learners quickly, and those involved faced many technical challenges. In no time, teachers, students and families were coping with novel difficulties. Still, with no best practice guidelines to follow, it proved challenging to keep the students engaged socially and emotionally when separated from peers, whether learning on or off-campus, like so many other schools across North Carolina and the rest of the world.
During this unprecedented time, Summit adopted and encouraged a "One Summit Family" theme. Together with the faculty, staff, students, their families and community partners, they responded to the pandemic by maintaining a sense of community. The qualities required to maintain "One Summit Family" have always been part of Summit. Still, now the Summit Family could see the importance of their priorities evolve into a new level of significance, creating an even stronger core culture. Pusch pointed out that the teachers' commitment to delivering a high level of education has been outstanding. Their striving for excellence allowed them and their students to succeed. Pusch acknowledged, "I am proud of our faculty, students and families for building on and leaning into their strengths. I give them credit that they had the strength to carry us through."
According to Pusch, as we all hopefully begin to transition beyond the pandemic, Summit plans to remain disciplined to find solutions to maintain a long-term focus of its mission while continuing to strengthen its education programs, not in crisis mode. Pusch was very much looking forward to the coming school year and said, "We cannot assume everything is 'back to normal' but in a different position, with more opportunities to focus on teaching the kids and growing with them. Summit is planning for a successful year ahead and planning to have all kids on campus and to graduate our first senior class!"
As a public charter school, Summit is fortunate to receive state and county funds where students reside but faces a smaller percentage of funding than a traditional public school. Pusch explained, "to provide the quality education our students deserve; we rely on the support of our community members, local foundations and foundations off the mountain with a focus on supporting education. Summit is appreciative of the community's support and always eager to host new families or anyone in the community wanting a tour to learn more about Summit."
Pusch described the 2021-2022 school year as a year of reconnection by emphasizing the spirit of Summit as the sense of community and family that exists between the students, teachers, families and larger community. Summit is excited to celebrate its 25th Anniversary with all of the families and alumni who have made it a success.
Anyone wishing to support Summit can contact Melissa Hudson, development director for community relationships and supporters, at mhudson@summitschool.org.
Bio
Kurt Pusch, Head of School
Birthplace: Chicago, IL
Family: Wife, M.C., and four children- Briggs, Kate, McKinley and Henry
Education: Colgate University (B.A.), National Louis University (M.Ed.), Northwestern University (M.B.A.)
Hobbies: hiking, fishing, skiing, playing and coaching sports, and spending time with my family