Singular Sensations
04 Aug 2021
Insect friendly dahlias
By Kirk Moore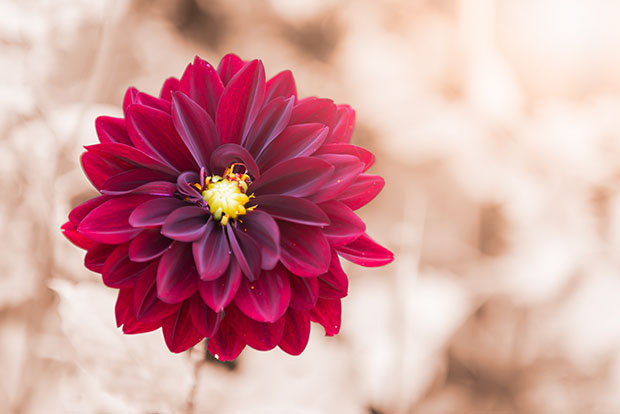 Garden glamour days are upon us on the plateau! Dahlias are walking the catwalk in full razzmatazz glory. Bodacious and blousy blooms add exclamation along garden paths until frost. Dinner plate, peony and pompom varieties with endless tutu petals are showy, but for the thoughtful gardener, these dazzlers are somewhat soulless with no visible stamens and anthers.
Almost alien, the showy varieties offer nothing for the bee or butterfly to feed on - just a soft puffy landing pad and rest stop while in search for a sweet reward elsewhere.
But wait! The single dahlia varieties literally glow with golden nectar on a summer's day. Their pollen beckons our precious and glorious pollinators.
A bed of single dahlias can play the same role as a wildflower meadow at a time when pollinators need exotic elixir the most. Rampant with buds, singles generally are the first to open here on the plateau. I usually have them in June, and they are prolific until the dewy dawns of fall, providing sweet refreshment.
An added bonus, many single dahlias have showy and exotic leaves and stems colored in an artful shellacked black and burgundy.
As with any dahlia variety, I find using a seaweed-based, water-soluble plant food most rewarding for tough stems and bountiful blooms. A weak solution watered in weekly will show best results.
Remember my article a few months ago about botanicals being used to feed plants? With dahlias, here is your chance to try it out. Submerge comfrey leaves in water for a month to make a beneficial albeit stinky stew for your dahlias. When diluted, the benefits outweigh the stench!
Start single dahlias early to achieve beneficial early summer feeding stations for pollinators when food is scarce on the mountain.
To protect early plants from dastardly slugs, I take oyster shells retrieved doggie-bag style from my favorite plateau restaurants, place them in an old pillowcase and turn them into grit with a mallet! Ironically enough, this exercise occurs around April 15th each year!
Circle mulch the grit around the base of your plants for a deadly, slime-cutting surprise for slugs.
I hesitate to name favorite single varieties as I frankly can't pick a favorite. They are like my nieces and nephews - all colorfully wonderful, but in different ways!
Just remember in the snowy winter when ordering new tubers to not be mesmerized by all the pages of pastel poufs, but to save some garden space for a few single varieties for our plateau pollinators to keep our magic mountains in check with nature.
For Kirk's botanical brew recipe, read "Dishing the Dirt: The right botanical brew will get your garden off to a healthy start," in the April/May 2020 issue of Plateau Magazine or on www.theplateaumag.com.