Cultivating Good Vibes
04 Aug 2021
Sunflowers grown with love + intention
By Kat Ford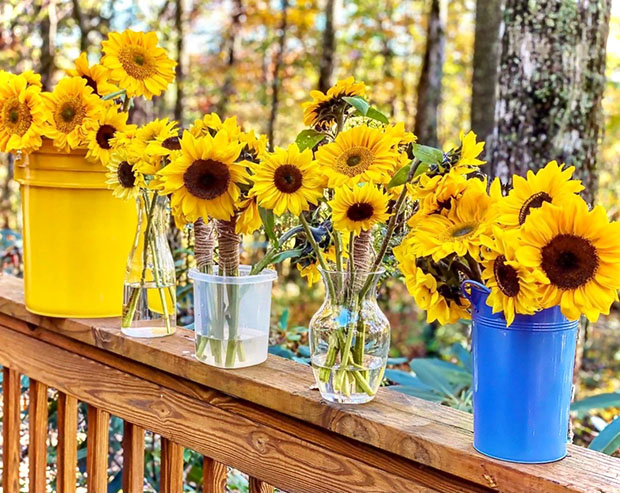 Experience through the eyes or lens of a loved one is empathy inducing. There are few more profound ways to understand what others are going through, short of navigating the moments yourself. It was such an instant that brought Tracy Mendy to the gates of her future sunflower garden. "Prior to my mom passing away in 2019, she was in a nursing home. When I would visit, I would always bring fresh flowers to add some positive vibes to her room. I noticed that the days I brought sunflowers, everyone would stop and comment on how beautiful they were and how lucky my mom was to be receiving them. I remember wishing at that point that I had enough to give to all of the residents and staff, just to make them smile," says Mendy.
In early March of 2020, attempting to escape the city and socially distance, Tracy and her husband John Grove-Scelzo, owner of boutique branding and advertising company Zing!, re-routed and eventually re-rooted in Highlands. "The longer we stayed, the thought of going back to the city, with an abundance of people, heat, traffic and high-rises was no longer appealing. Not only did we fall in love with Highlands itself, and the wonderful people we've met, but how we feel living here! What started as an extended vacation turned into a new lifestyle change," Mendy beams.
The idea planted during her experience with her mother's nursing home suddenly had room to grow. "I knew I wanted to utilize my gifted time in the mountains and do something new, especially outdoors, breathing fresh air and enjoying the scenery. I wanted to plant sunflowers! From their big, bright, sunny faces to their vibrant tall stems, you pretty much can't look at this happy flower without smiling! They are hands down my favorite, and now I have the opportunity of growing them, sharing them and making others smile."
Creating and sharing are something she does well. With 20 years of experience as a fashion photographer and entrepreneur in south Florida, Tracy Mendy is known for her keen eye in discovering and developing fresh new faces who, with her guidance and direction, have perfected their presence in front of the camera and can now be seen throughout the industry doing print, runway, catalog and commercial work. "I got my start on the other side of the camera as a model and eventually found my passion working with aspiring talent. As owner of The Mendy House boutique modeling agency, I have a knack for connecting with my models and helping them bring out their inner beauty and confidence." Anyone lucky enough to sit in front of Tracy's camera will agree. Her ability to coach even the camera-shy has led her headshots to become a coveted asset for plateau professionals.
"My love for cultivating beautiful things transpired into growing sunflowers, the process of preparing and planting the seed, nurturing them and encouraging them with kind words," says Mendy. Her entrepreneurial spirit has no doubt assisted in this new venture as well, especially when her plan hatched last August, late in the growing season. "Everything I was reading and everyone who I was meeting suggested that I research, organize and prepare for next year. Since 'next year' was so far away, I figured I did not have anything to lose, I ordered 500 seeds and planted. I really did not have any expectations and was over the moon when my first little patch overflowed abundantly. I was able to share with new neighbors and friends! Word got out about my flowers, and I already have so many people contacting me asking when and where my sunnies will be available!"
Armed with a dream and a field of flowers, Mendy started pruning her abstract concept, and Sunny Daze Flower Co. began to take shape. "I hope that Sunny Daze Flower Co. continues to grow as a feel-good, inspirational brand, where I can inspire and encourage other women out there to discover their talents and passions so that they too can enjoy a life doing what they love! I will always keep my distribution local; a flower truck is for sure in the near future. I love the thought of attending farmers markets and collaborating with local venues to provide the plateau with easy access to fresh-cut, locally grown sunflowers," says Mendy.
Those very first seeds of a desire to spread happiness are also part of the Sunny Daze Flower Co. business model through the Sharing Sunshine Project. "We will distribute our locally grown sunflowers with the help of volunteers to those in need of sunshine," says Mendy. Tracy Mendy is also hoping to partner with businesses and nonprofits, local parks and public areas to create pop-up sunflower experiences to help beautify surroundings, connect local communities and bring joy and love to the plateau. These pop-up patches will be a place for residents and visitors to stop and soak in the emotional warmth and pose for a memorable creative selfie, of course. Those interested in volunteering with the Sharing Sunshine Project or with space for a future community pop-up patch can contact Mendy through the Sunny Daze Flower Co. website. The first pop-up Sharing Sunshine Project experience will be on the Cashiers Historical Society's grounds during the Cashiers Designer Showhouse.
For Tracy Mendy, the Sunny Daze Flower Co. experience has been spiritual in many ways, "I've really enjoyed spending time in the field by myself, it is extremely grounding, and it is during that time that I am constantly reminded how grateful I am that I manifested a life where I am growing a field full of happiness. I am grateful to be a resident contributing to my new community, and I look forward to making the plateau a brighter place one flower at a time!" Her encouraging nature continues to inspire others through her Sunny Daze Flower Co. Instagram account. "If you have a wish to try something new, don't overthink it. You can figure it all out along the way; all you have to do is plant the first seed! There is an amazing community of resources out there to learn everything your heart desires. I have made some wonderful connections with other aspiring flower farmers on Instagram, and we are all 'rooting' for each other and watching each other 'grow.' Surround yourself with people who feel like sunshine and go after what you want, or you will never have it."
Instagram: @sunnydazeflowerco
Web: Sunnydazeflowerco.com