Seeing is Believing
04 Aug 2021
Exploring the Walnut Cove Idea Home
By Christine Hennessey
Photos by Rebecca Lehde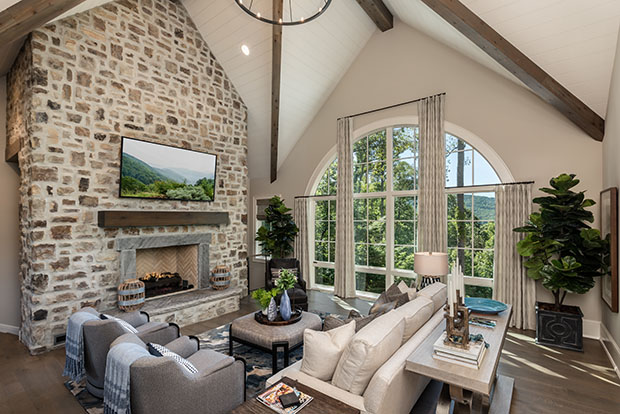 Building a home can be intimidating. For the average client, it can be difficult to visualize exactly what the finished product will look like. They must make countless decisions they'll have to live with for the rest of their lives, based on little more than bewildering blueprints and their builder's word. From the size of closets to the placement of electric outlets, to fixtures and furnishings, it requires the imagination to do some heavy lifting, and not everyone has the time, energy or talent to do it justice. While many professionals get around this problem in a variety of creative ways, the team at Dillard-Jones has pioneered a simple yet elegant solution: the Idea Home.
Exquisite Homes, Exceptional Communities
Dillard-Jones is the leading design-builder of high-performance custom homes in upstate South Carolina and western North Carolina and focuses on building homes in premier communities around Lake Keowee, Greenville, Asheville, Cashiers, Highlands and the mountains of South Carolina. They have offices in Asheville, Cashiers and Greenville, which allows their team to be near their different sites.
A turnkey builder, they specialize in what Chance Craven, director of marketing, calls "a design-build-dwell experience." This means the Dillard-Jones team takes care of every single detail, from the moment clients approach them with an empty lot, through designing and building their dream home, to interior furnishings once it's finished.
"The 'dwell' aspect is one of the things that makes us unique," Craven says. "We don't just build you a house and say goodbye. We help you integrate into the community, give you advice about who can help take care of your lawn and where to buy wine for your cellar. We also offer a full concierge service for those who are using their homes as a vacation getaway—we can even make sure the fridge is stocked before you arrive. With a lot of builders, the clients move into an empty house. Our clients walk into a home that has dishes in the kitchen cabinets, towels in the bathroom and two sets of linens in every bedroom, thanks to our direct relationship with Tribus Interior Design. All they have to bring is their suitcase and a toothbrush."
How does the team at Dillard-Jones get from an idea in their clients' minds to literally setting the kitchen table? It starts with an in-depth conversation.
"When a client approaches Dillard-Jones, the first meeting they have is with the entire team that will be with them throughout their experience. From day one, the folks building and designing the home are at the same table," Craven explains. Early discussions are focused on how the client will use the home, how it needs to function and what kind of lifestyle they are interested in pursuing. The details can get granular, right down to where to best place an electric outlet in the living room so it can be reached while lounging on the couch. These conversations and advanced planning result in a home that is one hundred percent intentional.
When it comes to the types of clients that work with Dillard-Jones, it's all about relationships. "We're fortunate to work with some incredible people," Craven says. "Sometimes, we are working with people ready to build their dream home and spend the rest of their lives at the lake. Others are building a retreat where they'll spend a few months a year escaping the summer from other climates, other states." No matter who the client is or what they're looking for, they can dream it and build it with the help of Dillard-Jones.
The Idea Home Concept
Because their clients live all over the country, Dillard-Jones is always looking for ways to integrate new technology and methods into their process to create a seamless experience. Sometimes that means a virtual site walk and video meetings, other times it can include a live drone fly-over, and often it involves one of the team's favorite strategies—a walk through one of their Idea Homes.
Dillard-Jones built their first Idea Home in Lake Keowee, SC, and used it as a tool for prospective clients. John Warrington, vice president of design services, describes the Idea Home concept in more detail. "Our goal with these homes is to physically walk our clients through them to show what we can build. Sometimes people walk through an Idea Home and they love everything, but we never want to reproduce the house exactly as it is. It's really about using the house as inspiration and then customizing it to fit the clients' needs."
Having a physical home to show clients has been incredibly helpful—both for the Dillard-Jones team and for the families they work with. "A lot of times, people have trouble explaining what they want or visualizing what we can do," Warrington explains. "We do everything we can to ensure there are no surprises—sketching it out on paper, creating a 3D model, even staking out the lot and building a platform to convey as much information as possible. But nothing compares to walking through a finished house that's move-in ready with plates on the table, linens on the bed, toilet paper in the bathroom. And that's what the Idea Homes do."
Craven agrees. "We want to show people what luxury actually looks like," he says. "It can be hard to visualize finishes and textures, and a lot of staged homes are sort of thrown together. They don't feel like a real home. Our Idea Homes are a way to show our unique offering. They're intentional and put together with thoughtful design. When you walk into one, you feel like you're home."
Because Idea Homes are meant to help clients visualize what is possible, they're designed to be inspirational. "We design our Idea Homes in a way that make people feel like they could live there," Warrington says. "Whether someone is single, newly married, has several children at home or just became empty nesters, each Idea Home has subtle details that inspire everyone who walks through them."
Ready to Dwell
From vaulted ceilings to huge windows to a spacious kitchen perfect for entertaining, there's a lot to love about the Walnut Cove Idea Home. Warrington's favorite feature, however, is the wine cellar. "It's designed to be the showpiece of the rec room," he says. "There's a bar area with a glass back that looks into the wine cellar, then a glass pivot door to one side."
As for the upper level, Warrington and his team kept the focus on the view. "When people move to this area, they're spending money on the amazing mountain views, so we want to take advantage of that view from every room in the house. In the Walnut Cove Idea Home, the great room has a large window that looks out over the view, the master bedroom also looks out over mountains and trees, and the dining room has bi-fold doors that open the whole wall directly to the screened-in porch."
The Walnut Cove Idea Home also takes into account some new trends that have emerged over the last few years. "Outdoor living is really important to people," Warrington says. "The longer I'm at this job, the more important it seems to become. People don't want to just sit by the fire—they want to play games, do puzzles with the family, entertain. Outdoor spaces have gotten larger to accommodate that, and we try to make sure they're as comfortable as possible."
Warrington has also noticed an increased interest in home offices and home gyms—likely a result of the pandemic. "Because we take the time to listen to each client's desires, we understand the market, our customers and what people truly want," Warrington says. "Our designs are driven by the desire to build something people are proud of."
In Walnut Cove and beyond, that means unique designs, luxurious quality, amazing views and well-stocked wine cellars. As far as ideas go, this one looks like a winner.
Builder & Designer
Dillard-Jones
www.dillardjones.com
828.318.8338