A girlfriends' guide to healthier skin
By Mandy Murry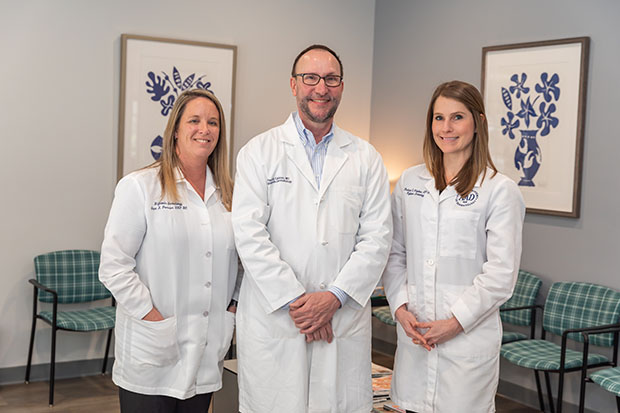 Spoiler alert, the secret to healthier skin does not lie in one product or routine. More, it relies on overall daily nutritional habits and skincare practices. As your body's largest organ, taking care of your skin is vital. Feeling more beautiful, confident and comfortable in our bodies is why we seek advice and products that work with our skin as we age.
I had the opportunity to interview four professionals on the plateau who live and breathe all things beauty and skincare, sharing their favorite tips and ideas with me as we discuss beauty from the inside out.
Our skin is designed to protect us from environmental ailments such as the sun and keep us safe from harmful infections. It also makes up our physical being. Skincare begins at a cellular level and is why Adriana Zurita (of The Skin Lab), "the skin whisperer," as she calls herself, treats the skin from the inside out. "You need to set your intention on good skincare. You need to commit to it. Whether it makes you feel good or look better, whatever the reason for good healthy skin, set your intention. What you eat, what exercise you do, what you are doing with your body inside, and what you are doing with your mind all play a role in the health of your skin." Adriana tailors her facials based on the state of the skin at the moment of treatment, combining energy work with dermaplaning, micro-needling, lymphatic drainage and traditional European facial practices.
Most would agree, hydration plays a crucial role in skin health. Our bodies are made up of mostly water, so it is vital to stay hydrated. As we age, our skin changes. By the age of forty, our bodies have slowed down the production of human growth hormone, making fine lines, wrinkles and the appearance of cellulite become more visible. Water and antioxidants have an essential role in maintaining healthy skin—vitamin E is a vital antioxidant in the skin, protecting against damage from free radicals and inflammation. Tarah Grillo of Tarah's Beauty Bar recommends implementing a vitamin C serum to combat anti-aging, sun spots and pigmentation. Vitamin C is used by the skin to create collagen and to help protect the skin from oxidative damage. Tarah's apple analogy is an excellent way to understand vitamin C, "Think of an apple with vitamin C. If you cut an apple in half and put lemon juice on one half, notice that half doesn't brown. It's the same with our skin. It works as a protective barrier to shield our skin from external factors that cause aging and skin damage! Essentially the vitamin C is taking on the role of lemon juice (do not use lemon juice, you need a stabilized vitamin C serum for the benefits), acting as a protective barrier."
Vitamins and antioxidants can come in the form of the foods we eat as well. Nature provides a synergistic effect with these two vitamins as they work better together than individually. Colorful fruits and veggies such as muscadine grapes, pomegranates and carrots, are good examples, as are grains high in antioxidants such as wheat germ. Avocados are an excellent source of vitamin E and vitamin C.
Also, we certainly need an adequate supply of high-quality proteins such as soy, fish and fowl. Notice, red meat was not mentioned as a quality protein. A good rule to follow is to consume less red meat and enjoy leafier green vegetables. This practice of more antioxidants and quality proteins can help reduce inflammation and help fight autoimmune conditions that affect your skin. Fatty fish, such as salmon and mackerel, contain rich sources of omega-3 fatty acids, which improve the skin's resilience, add bounce and elasticity, and help in keeping the skin thick, supple and moisturized. A deficiency in omega -3 can cause dry skin. Salmon is also a great source of vitamin E. Other sources of these vitamins are walnuts, sunflower seeds, sweet potatoes (beta-carotene which imparts color to the skin), red/yellow peppers, broccoli and tomatoes.
Now that you're thinking about your next lunch date out let's talk about some beauty essentials. Linda Silber started Woo Skincare Cosmetics in Atlanta to help women feel better about themselves. She believes in quality products such as Trish McEvoy's makeup planner- an easy, carry with you, portable cosmetic bag filled with the things you need to touch up or apply anywhere. (Linda has partnered with the Cashiers Designer Showhouse for an August 25 event and will be showcasing Trish McEvoy's planner.) "I am a huge believer in exfoliation. Skin is always designed to have three layers of surface skin. The top layer is always in some stage of falling off, otherwise known as our dead skin cells. As they fall off or buckle up, light hits them, creating that dull skin appearance. With exfoliation, the idea is to take the top layer off, creating a smooth, clean layer that has good light reflection - or healthy bright looking skin. It also allows your products to penetrate where they need to be rather than skin that is about to fall off."
After speaking with Tarah, Linda, Kelly and Adrianna, it is apparent that beauty begins with nourishing the skin, from the food we eat to the products we use. Discovering what works for us individually is equally important, as our skin microbiome is unique to each of us. With that said, we all agree, a must is the use of sunscreen. Kelly J. Tandy of Highlands Dermatology suggests, "proper skincare and protection from UVA/UVB rays through the use of a broad-spectrum sunscreen, UPF clothing and hats and avoiding the most harmful sun rays between 10 a.m. and 4 p.m. when the sun's rays are strongest." When used correctly with other protective measures, sunscreen decreases the risk of skin cancer and early skin aging caused by the sun.
Let's get to the juicy, closed-door beauty conversations we all want to have but don't often discuss in public, only secretly with the friends we know we can trust.
Fillers. Are they a yes or no? The answer - it depends. Fillers are designed to combat age-related volume loss in the face. Injectable fillers are formulated to treat specific areas such as deep wrinkles and lines, cheek and chin contouring and lip fullness. Fillers are made from a modified form of hyaluronic acid, which occurs naturally in the body. These nonsurgical treatments provide instant, natural-looking results that can last one to two years. What you need to know, fillers will require maintenance at some point.
Eyelashes. All-natural, Latisse or extensions? Latisse is an eyelash growth solution and is available at Highlands Dermatology. It is an FDA-approved topical treatment that can help natural lashes grow fuller, longer and darker with regular use. Most patients experience noticeable lash growth after eight weeks of daily use, with best results after 16 weeks. Results can last indefinitely with everyday use, which makes Latisse a great option. Eyelash extensions are made from natural and synthetic fibers held on the lash line using a medical-grade adhesive. If you do choose to do extensions, the application should be with a specially trained makeup professional. Maintenance and upkeep will be anywhere from one to three weeks, depending on the adhesive and your activity levels. While this is a beauty enhancer, the drawback is what no one prepares you for - the damage that can occur with your natural lashes.
You deserve to indulge in your skincare routine. Healthy skin is about what is best for you and what works for you, no matter your age. Let your brilliance shine from the inside out.


More about our plateau friends:
Kelly J. Tandy Office Manager
Highlands Dermatology
Tarah Grillo
Tarah's Beauty Bar
Adriana Zurita
The Skin Lab
Linda Silber
CHS Designer Showhouse event
Woo Skincare and Cosmetics