The final installment of our three-part series invites your inner child to play at this year's CHS Designer Showhouse
By KAT FORD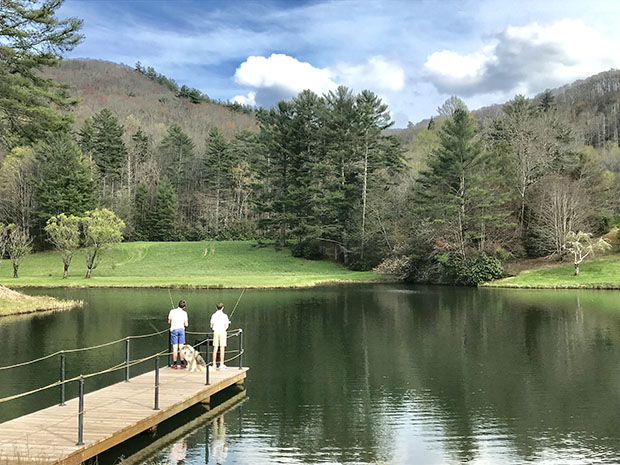 When touring Silver Run Reserve with Liz Harris, an observant onlooker might notice the twinkle that dances across her eye or the grin that manifests in the corner of her lips. On first speaking with her, one may assume that those refined expressions of excitement are from her appreciation of showing a property she loves. That would not be wrong. Liz learned from her mentor, A. William McKee, that the key to real estate success is falling in love with the properties you represent. But this particular twinkle is one that would require the observer to share a common thread. If you talk to Elizabeth long enough, you will find it. The eureka moment. That glimmer- that very special twinkle, is one of a childhood that knew the joy of running free.
Liz Harris grew up on a ranch in Canada, surrounded by gardens, animals and fields. It should come as no surprise that Liz fell in love with Silver Run Reserve. It represents the youth she cherished, the one she chose for her children, the one she knows is promised at Silver Run. Liz is now one of the owners of McKee Properties, the place where A. William McKee first took her under his wing. It is no wonder why she is passionate about all that Cashiers has to offer, great schools, vibrant local businesses and a promise of the American Dream- she's experienced it firsthand.
Jay Hurt, the principal owner and developer of Silver Run Reserve, has been coming to Cashiers from his home in Texas for the past 12 summers. Jay was a friend of A. William McKee and shared his love for an active outdoor lifestyle. Jay learned from McKee's pioneering vision of Cashiers, highlighting the importance of responsible development and being true to the land. Preserving the natural, understated casual luxury that Cashiers is known for is paramount. This is found in the master planning at Silver Run, thanks to Beau Welling Design. On the very same property that allows a child to run free in rolling hills and fish in lakes, a family can enjoy fine dining and sipping cocktails by the pool. The effortless feeling of nature blending with leisurely modern conveniences echoes in landscapes crafted by Reed Hilderbrand. To get an insider's look from Silver Run's team, don't miss the Opening Day Insiders' Tour from 9 am - Noon. The team includes developer Jay Hurt, developer and builder Ben Harris, land planner Beau Welling, architect Myer Greeson Paullin Benson, head of marketing and sales Liz Harris, design director Michael Fernandes, lead spec designer June Chamberlain, and community consultant Sam Lupas.
Nonprofits like the Cashiers Historical Society are also a part of that uniquely understated Cashiers equation. Jay understands the importance of philanthropic work and, as a developer, is committed to continuing them through efforts like the showhouse. McKee Properties has teamed with the CHS Designer Showhouse on numerous occasions. Selling the showhouse is a big deal for CHS, they receive a portion of the commission of the sale which helps pay for programming. This year, McKee Properties is upping the ante and contributing a portion of the commission of any Silver Run Reserve sale made during the showhouse.
With August quickly approaching, the event schedule for the 2020 Designer Showhouse is shaping up. The Opening Night Party will be hosted by Flavia Harton and Epting Events. Workshops include cocktail gardening with landscape architect Mary Palmer Dargan, outdoor yoga with Cashiers Valley Fusion, baking with Valley Bakery, cooking with James Beard Award-Winning Chef Nathalie Dupree, children's fly-fishing with former ESPN host Chad Foster, hiking with the Knoxville Hiking Club, floral demonstrations, live painting, designer panels, vendor showcases, and much more. Designer Showhouse Chair, Melissa Warren Hudson and her team are most certainly putting Silver Run Reserve's offering of outdoor and recreational activities to full use. The Silver Run development team is excited for attendees to experience the property's unique active lifestyle offerings.
With over 125-acres of enhanced communal parkland surrounded by 70 residences on 300 breathtaking acres, the intent of Silver Run Reserve has always been to build a responsible development that maintains native beauty without creating too much density. Homes built in a mountain modern style continue the effort to preserve a serene natural environment in an exciting and current way. Inside, big windows capitalize on views while high ceilings and light floors create a bright and open comfort. Fourteen regional designers have been tasked with taking a blank slate and making it a home within the style guidelines of Michael Fernandes, Director of Design.
Lynn Monday of Cashiers based Lynn Monday Home has been partnering with the CHS Designer Showhouse for years. Monday often works with an architect, rethinking spaces and creating desirable flow. She excels at starting with the bare bones, creating connecting points that effortlessly navigate a space from room to room. But in the showhouse, each designer is only responsible for one living space. Monday loves a challenge. Artists are often credited for thinking outside of the box, but design work requires a level of abstract thought that can juggle logistics and aesthetics, both the big picture and small details. If Monday excels in starting from the bottom, she transcends in breaking out of the box. With a personal aesthetic of mixing modern, antique, and industrial, she offers this teaser for what to expect from the Great Room: a mixture of French and Italian antiques mixed with cottage florals and contemporary accessories.
Ann Sherrill of Rusticks Furniture in Cashiers has been curating mountain chic furniture for plateau homeowners for decades. When hinting at her creative plans for the patio of the showhouse she reveals in an enchanting chuckle, "All Southern cottages should have a swing." It's a knowing statement that implies a setting for future lemonade afternoons and cocktail evenings. Many a family memory was made on a front porch swing.
The Cashiers Historical Society's 2020 Designer Showhouse kicks off with an Opening Night Preview Party on August 21st and will be open through September 5th. Tickets are on sale now, www.cashiershistoricalsociety.org lists the showhouse's full and updated calendar of events with dates and times. With a such a strong lineup, this summer celebration will not be one to miss.
2020 CHS Designer Showhouse Lineup:
Ann Sherrill- Rusticks Furniture- Front Porch, Cashiers
Holly Laughridge- Old Edwards Inn, Foyer, Highlands
Kerry Howard- Tribus Interior Design/Dillard Jones, Master Bedroom, Cashiers/Greenville
Lisa Wester- Lisa Wester Interiors, Master Bath, Birmingham
Stuart Pliner- Stuart Pliner Design, Main Floor Powder, Cashiers/Atlanta
Cathy Rhodes- Cathy Rhodes Interiors, Second Master/Bath, Atlanta
Lynn Monday- Lynn Monday Home, Great Room, Cashiers
Tori Alexander- Alexander Interiors, Dining Room, Nashville
June Chamberlain, June Chamberlain Interiors, Kitchen, Atlanta
Elly Poston, Elly Poston Interiors, Mud Room/Laundry Room, Richmond
Francie Hargrove, Francie Hargrove Interior Design, Screened Porch, Cashiers
Douglas Hilton, DWH Interiors, Second Floor Landing, Atlanta
Doug Weiss, Douglas Weiss Interiors, Bedroom 3, Highlands/Atlanta
Zeb Grant, Zeb Grant Design, Bedroom 4, Madison/Atlanta