Striking a Balance
03 Jun 2020
Peak Experience carries a mix of old and new to delight an evolving customer base
By JUDY ROYAL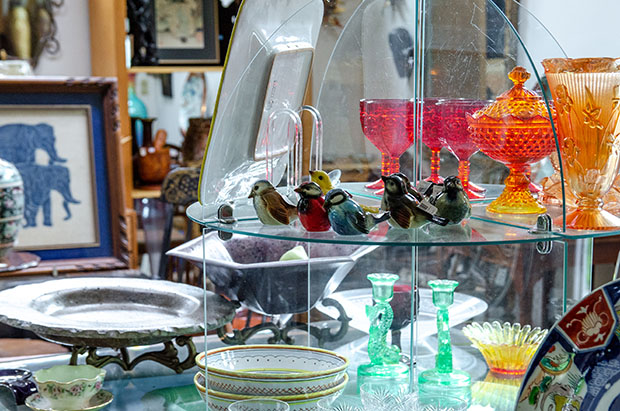 A store that's been around for over two decades has to work to keep things exciting for regular customers, but that's no problem for Victoria and Matthew Ingate. Since opening Peak Experience in Highlands, NC, 22 years ago, they've been paying close attention to what people want and adjusting accordingly.
"We had all antiques in 1998, and that was a good market," Victoria said. "Over the years our customers' age range expanded, so we started doing American handcrafts because we just noticed antiques were not being asked for as much. It ended up becoming a mix of the two, and people really seem to like that mix and finding unique things either old or new. Pottery is a top seller in handcrafts. We also have estate jewelry, and our prices are so good that a lot of people come for that."
She admits that keeping inventory fresh can be a challenge, but it's necessary when you have lots of return visits.
"We carry things that people look forward to seeing each year, but you also need to have new things for people who come in," Victoria said. "We have a very eclectic mix of different things. We look for things that you're going to enjoy for years to come, not the hot thing of the moment but something you're going to enjoy over time."
The result is a variety of products that appeal to a wide variety of customers, she added.
"People tell us we're one of their favorite stores in the area because we always have different things, and it's such a mix of stuff that they never know what to expect," Victoria said. "We try to keep it interesting but try to have reasonably priced things that people will enjoy. We have a little something for everyone."
Like many other small businesses, Peak Experience has had to adapt over the past few months to changes necessitated by the COVID-19 pandemic. In addition to increased sanitation at the store, the Ingates have been using social media more and trying to establish a larger online presence. They also have been offering shopping by appointment, curbside pickup, delivery, and shipping. Victoria said they will continue these practices even after restrictions ease up, if that's what makes their customers comfortable. There is also Apple Pay for contactless payment at the store, and they will be limiting how many customers are inside at once to allow for social distancing, she said.
Peak Experience is truly a family affair. In addition to Victoria and Matthew, Matthew's mother Rosemarie Ingate often helps out at the store. Victoria said one of the most surprising things about being a longtime business owner is the amount of people they all get to meet and how much they enjoy getting to know those who return.
"You do become close with your customers," she said. "You sort of think of retail as like, hi, how are you, pay, go, but you actually do get to know them very well and get to know their family situation as well. We also get to meet different artists and become friends with them."
Anne Penn, who lives in Highlands, NC, has been shopping at Peak Experience for the past four years. She said the unique selection and reasonable prices keep her coming back.
"They have things that nobody else in Highlands has," Anne said. "I know that if I need a special gift for somebody, I can go in there and find it. It's not like I'm giving the same gift over and over again. And her items are not expensive, so it makes my gift giving easier because I can get something really nice for somebody, and I'm not overdoing it."
She said she also appreciates the fact that the Ingates travel to seek out the best products and develop relationships with the artists they feature.
"Little things like that really make the difference," Anne said. "You can ask her about something she has in there, and she'll know the artist, and she's gone to look at how they make things. I really appreciate somebody that goes to that extra effort to do that."
Editor's Note, the below is provided as text or sidebar information
More about Peak Experience
Owners: Victoria and Matthew Ingate
Products: American handcrafts featuring local and regional artists, antiques, and estate jewelry
Location: 2820 Dillard Road, Highlands, NC
Phone: 828-526-0229
Email: peakexp1@gmail.com
Facebook: www.facebook.com/peakexp