Naturally Modern
04 Oct 2020
Embracing the great outdoors at Silver Run Reserve
By: CHRISTINE HENNESSEY
Photos By: LESLEE MITCHELL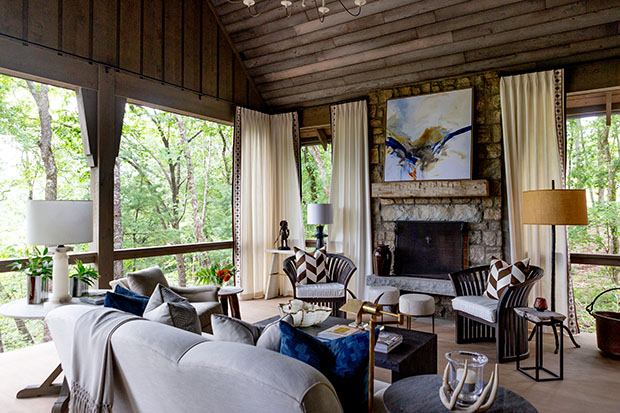 When Jay Hurt purchased the property that would become Silver Run Reserve, a vibrant, outdoorsy community in the southern corridor of Cashiers, he made a commitment to the land and to those who would one day live there—he would not overdevelop it. "A private and beautiful setting," he says, "that's what we're very much about."
And that's exactly what Silver Run Reserve has become. Hurt secured the land, which is flanked by Nantahala National Forests and a Nature Conservancy, at the end of 2018 and proceeded to spend the better part of 2019 doing development work. Although the community officially opened for business in October of 2019, there was still a fair amount of development activity going on at the end of the year. "We weren't ready to begin sales in earnest until early spring and focused on 2020 being our first year of operations," Hurt says. By the beginning of 2020, several amenities had been completed, including The Lodge and the Chimney Garden, and several houses were under construction. At that point, Silver Run Reserve was well on its way to being community-ready. "Sales this year have been indicative of that," Hurt says, "and people are warmly embracing what we're doing here."
And what is Silver Run Reserve doing, exactly? A whole lot and nothing at all, depending on what you're looking for. "We provide a laid back, fun, casual outdoor environment—that's really the feel of the place. Having said that, we are also very service-oriented," Hurt explains. "We have a director of community experiences who can do everything from making dinner reservations to arranging hikes and fly-fishing expeditions, to organizing arts and crafts for the kids." This level of service, combined with the relaxed vibe of the community, offers a unique experience to those who long to relax in a beautiful, unpretentious setting, but still want to feel taken care of in regard to amenities and services.
Most of the amenities are nature-focused, including an extensive trail system for hiking, designated riding trails, three lakes that provide ample fishing and boating, and the beautiful Silver Run Creek that cuts through the property. There are also a plethora of year-round community events for residents, such as chef dinners, food trucks, open-air concerts, guest speakers and more.
"We are essentially an outdoor pursuits community in a beautiful setting," Hurt says, and this is what makes Silver Run Reserve truly unique in the Cashiers/Highlands area. "We offer outdoor experiences that other communities can't or aren't interested in providing."
One of the reasons Silver Run Reserve is able to offer so many outdoor experiences is due to the low density of the community, a part of Hurt's promise to eschew overdevelopment. "We'll have 70 families on 300 acres," Hurt says. "It's entirely private. There's no public hotel, no public accommodations, no public golf course. For the 70 families that choose to be in Silver Run Reserve, they'll have those 300 acres to share between themselves. It's not better or worse than other high-end communities—it's just different."
From Mountains to Meadows
Of the 70 homesites in Silver Run Reserve, there are a variety of options in regard to square footage, lot size and views. Mountain Cottages are located on half-acre lots, close to the center of the community. Meadow Estates are located on two to three acres and front over 125 acres of unspoiled valley meadow. Ridge Top Estates sit on two to three acres and offer stunning elevated views. Mountain Estates are located on four to five acres and boast exceptional panoramic mountain views. Finally, Farm Estates are less like homes and more like mini farms, built atop eight to twelve acres and offering maximum privacy.
The Mountain Cottage home in particular has already garnered quite a bit of attention, in part because it was featured as the 2020 Cashiers Designer Showhouse, an annual event that benefits the Cashiers Historical Society and helps raise vital funds to support its mission and cultural programming. The 3,000-square-foot house, custom-designed by the Meyer Greeson Paullin Benson firm and built by Harris Custom Builders, is a stunning home that can be viewed via a 3D tour as part of the Showhouse's virtual format, which is new this year.
Not only is the Mountain Cottage a beautiful choice for interested families but building and moving into one is also a relaxed process that sets the tone for life at Silver Run Reserve. "The Mountain Cottages are really for the buyer who would prefer us to do everything for them," Hurt says. "Building, designing and furnishing a home for those who want to punch the easy button and not have to worry about hiring an architect and a builder."
A Balance of Modern and Mountain
The Mountain Cottage is emblematic of the Silver Run Reserve community. "At its core, we define it as a 'modern mountain cottage,'" Hurt says. "We wanted to push the envelope of the traditional mountain home and give it a little more current look and design." At first blush, the home looks like a traditional cottage, but when you examine it more closely, you begin to see significant differences that set it apart.
The home was built by Harris Custom Builders, which has been building homes in the Cashiers/Highlands area for over 19 years. Ben Harris, a second-generation homebuilder who learned the art of building houses while working alongside his father in Alaska, founded the firm. He moved to North Carolina after graduating from college, started his own company at the age of twenty-four, and has been growing it ever since.
"We actually began building this house not knowing it was going be the Designer Showhouse," Harris says. "We started the build in December, and houses in this area typically take about twelve months to complete." When it was decided the home would indeed be the 2020 Designer Showhouse, the schedule was, in Harris's words, "dramatically abbreviated."
"We had a deadline to turn the house over to the interior designer by the end of July," he says—just seven months after they'd broken ground. "Fortunately, we have a good team and good systems in place. We sat down with everyone and said, 'We have to go faster than normal.' So, we carefully scheduled the whole build process and were just fortunate to have a great cast of characters who stepped up to the plate and went above and beyond on time and everything else."
To achieve the modern mountain aesthetic that Hurt prized, Harris prioritized what he calls "openness and lightness."
He focused first on natural light, which he says is an important consideration for today's homebuyer. This was achieved by adding large-than-usual steel windows throughout the home, especially in the great room, where they reach from the floor to the ceiling. The house is also oriented to take full advantage of the sun, which streams into the home during the daylight hours.
Openness comes from soaring 11-foot tall ceilings, which make the rooms feel large and airy, transforming the 3,000-square-foot home into a comfortable space with plenty of breathing room. Another choice Harris made to build more openness into the home was opting to put the outside deck on the side of the house, rather than directly off the back. This small shift makes a big difference when it comes to enjoying a pure and unobstructed view of the trees and mountains that surround Silver Run Reserve.
The interior design choices also have modern touches, from the countertops to the kitchen cabinets to the light fixtures. These are subtle but powerful, less like walking into an Apple store, and more like a refreshing space where you can truly kick back and relax. "It's a simple, clean design," Harris says, "both inside and out."
The room that most exemplifies the modern mountain cottage aesthetic is the kitchen. "It was designed remarkably well by June Chamberlain and represents what the rest of the house looks like," Hurt says. "Most people who walk through the house wouldn't describe it as a modern home, but they can tell there's something different about it. All the light, the big windows—they pick up on things, even if they can't pinpoint exactly what's different. That tells me we've hit the mark."
Harris agrees with Hurt's assessment, perhaps because the experience of building the home was successful from the start. "It's a unique experience doing something that has so many people involved," he says. "For the most part, it was a fun, cordial and enjoyable process."
When Hurt considers the perfect family for this modern mountain cottage, he says it's less about demographics and more about lifestyle. "What our buyers so far have in common is a desire to be active," he says. "They want to be in a place where the kids can go outside and just be kids, where adults can get out in nature, where everyone can be active and have fun in a casual environment without worrying about having your shirttails tucked in."
For the family searching for a beautiful home in a unique community, where children, dogs, and even adults can run free, Silver Run Reserve is certainly the place to be.