Gathering Among Gardens
08 Jun 2021
Finding peace in dreamy outdoor spaces
By Marianne Leek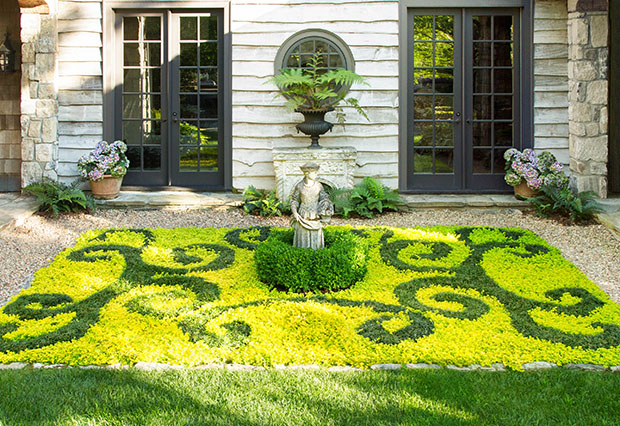 It might be the time of year or it might be that we're ready to reconnect with friends and family, but either way, we are eager to celebrate this summer season in outdoor spaces that look and feel like home. We found some of the prettiest backyard havens on the plateau - outdoor kitchens, porches and patios landscaped to perfection to create the perfect tranquil spaces to unwind, entertain, relax and recharge. Last year taught us to invest in ourselves and to make our homes an extension of our overall well-being. Jeremy Smearman of Planters Inc. explains, "Certainly coming off a year like 2020, complete with all its turmoil and the pandemic, finding refuge in our homes and the spaces surrounding them has not only been a priority but really a necessity."
So, whether you need a space to practice yoga, share a meal, stretch a hammock or read a good book, when the outdoors become an extension of our homes we inevitably find peace. It's time to gather with the ones we love best and who love us best and there's no better place than your own private outdoor oasis to do so.
I asked some of the most respected architects, builders, landscapers and designers on the plateau about current outdoor living trends, some of their favorite exterior projects, and what makes an outdoor space beautiful, functional and unique.
Porches and Patios
There is something quite Southern about sitting a spell on the front or back porch while catching up with neighbors or sharing our day with family. In fact, porch sittin' might just be part of a Southerner's DNA. Sam Edgens and Sarah Herzog, of Edgens Herzog Architects, are in the business of designing porches and exterior living areas that maximize the familial need for us to gather, "The porch and patio spaces are the places our clients most want to be when they are living here during the summers and weekends. Even in the summer, it is often cool enough in the evenings to warrant building a fire in an outdoor fireplace. Outdoor living spaces are a truly ubiquitous feature with most homes in the mountains."
Edgens describes one such porch space he and Herzog designed for a couple in Lonesome Valley who wanted a "covered, outdoor living space that felt integrated with the home's interior as well as with the surrounding landscape. It was important to them that this space was well-positioned to take advantage of the view and capture summer breezes." This stunning space includes a large porch area with a dining space and sitting area that appears to be "nestled in the middle of the surrounding landscape." Edgens particularly likes this space because of "the connection from the kitchen, keeping room and bar to the porch area by means of 9ft high doors that are 14ft wide when they are completely opened." He adds, "Whether you're in the keeping room, standing near the bar or cooking in the kitchen, it really feels like you're outside."
Outdoor Kitchens
The heart of any home is the kitchen. It's where families come together to share so much more than just a meal. An outdoor kitchen just makes sense and is perhaps the most practical and versatile addition to any outdoor living space. Scott Westendorf of Chinquapin Builders describes a recent outdoor kitchen project that combines functionality with stunning mountain vistas, "This home focused on clean, modern lines to accentuate the massive views off the back porch of the house. With no distractions, your eyes are drawn to the unobstructed views of Whiteside Mountain, Chimney Top and the valley below. The outdoor living space flows directly off the living room with a huge NanaWall door that opens up to create one connected space flowing directly off the living room between the indoor and outdoor living area. The stainless steel cable railings with the Ipe top cap and decking continue the clean lines of this project."
Not so Secret Gardens
In an essay written in 1625, Francis Bacon described God as the first gardener, adding that gardening, "Indeed, it is the purest of human pleasures." Planting and cultivating a beautiful garden space leaves us fulfilled and gives us a sense of peace and purpose, while adding exquisite color, texture and charm to our surroundings. Renee Byrd, the owner of Byrd Landscape Design, discussed the solace that can be found in the act of gardening, "There is a great sense of satisfaction from tending to a garden, watching it grow and learning from challenges that may arise."
Byrd has seen an increase in clients educated in conservationism, self-sufficiency and sustainability. She explained, "Home gardens and sustainable gardening practices are becoming increasingly desirable. Kitchen gardens of all scales are being incorporated more frequently into home landscapes. Raised planting beds, groups of containers, or integrating fruits, vegetables and herbs into the landscape can provide a variety of food sources for many months of the year. Along with more opportunities for self-sufficient gardening, many homeowners are requesting plant material to provide food for birds and attract pollinators to the garden, 'rewilding' once barren lawns with a plethora of inviting flowers and seed sources. Incorporating a variety of well-suited native plants is recommended to support wildlife in the landscape."
But sometimes our thumbs are less than green and let's face it, we might need a little help from the experts. Rick Haight of Four Seasons Landscape appreciates that their clients usually come with a vision in mind and are knowledgeable about gardening, plants and landscaping, whether they've seen photographs or remember somewhere they've visited, most clients tend to be educated, creative and innovative about their vision for their outdoor living projects.
Haight attributes the upsurge in contracting services for landscaping and outdoor living areas that oftentimes include patios, fireplaces and firepits to both the super surge in real estate as well as people working from home. He adds, "Throw in a pandemic, and now we are seeing one of the largest migrations from densely populated cities to rural, small-town areas. Kind of the 'perfect storm.'"
Alex Smith of Alex Smith Garden Designs agrees, "During this pandemic, people had a real reconnection with nature and the outdoor world. Many people were able to slow down a bit and realized how important it is to have a beautiful garden or landscape to enjoy time with close friends and family."
Smith clearly has an eye for creating beautiful spaces. "Thistlewaite," located near downtown Highlands and one of his favorite commissions to date, is a Norman Askins design that he describes as "totally charming inside and out." Smith explains what made this particular garden area unique and inspiring, "The house itself is well sited on a beautiful piece of property that includes a natural rock outcropping that continually seeps with water and a beautiful stream. The courtyard gardens offer complete privacy, and the garden is divided into multiple rooms and experiences. The clients are avid garden ornament and antique collectors and have a discerning eye for detail. We took advantage of the ideal climate of Highlands to showcase varied plant material that provides year-round interest and accentuates their collection of garden ornaments."
Renee Byrd chose to feature one of her favorite recent outdoor projects at a residence located in Highlands. She describes the clients' vision which, "focused on providing creative, unique and fun opportunities to bring family members and guests together, with seamless transitions between the home and outdoor spaces around the property, in addition to providing a space for gardening, pollinator plants for bees and a variety of blooms throughout the year. The area surrounding the home and guest house was strongly influenced by an English cottage garden theme, blended with local mountain style."
Jeremy Smearman of Planters Inc. describes the attention to detail it takes to harmoniously merge interior and exterior spaces, "It is such fun to leverage the natural attributes of any given site to the opportunities good architecture provides and create spaces that are truly meaningful to clients, particularly when they are using these spaces for entertaining and family events. The spaces we create have to be more than just functional, they have to have a unique, almost magical quality to them." He continues, "Connecting people to the outdoors when the outdoors is a place as beautiful as Lonesome Valley underpins why most people build homes here."
Sam Edgen sums up what it takes to create the perfect outdoor living area and what that means to both the client and those involved in seeing that space come to fruition, "Our most successful projects are ones in which the outdoor spaces and indoor spaces are connected and visually communicating with one another. An outdoor space needs anchoring. It needs to be near elements that give the space a sense of scale and proportion. When those moments are deftly created, there is an indescribable warmth about the spaces. What I love most is when I see our clients entertaining their friends in these spaces, often with a spectacular view as a backdrop, and that feeling of warmth, comfort and coziness is there as a sensory anchor to the experience. We can't get enough of that."
Alex Smith Garden Designs
www.alexsmithgardendesign.com
Byrd Landscape Design
www.byrdlandscapedesign.com
Chinquapin Builders
www.chinquapinbuilders.com
Edgens Herzog Architects
www.edgensherzog.com
Four Seasons Landscape
www.fourseasonslandscape-highlands.com
Planters Inc.
www.plantersgarden.com