Part one in a three-part series exploring viticulture and wine
By: Kristin E. Landfield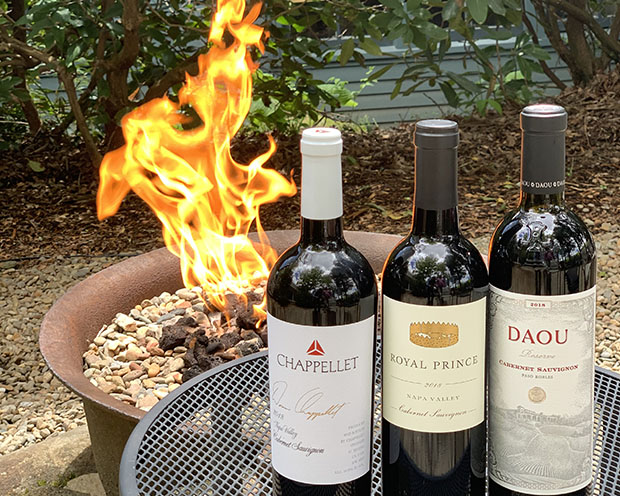 On any clear afternoon in Highlands, people are gathered around bistro tables in front of Highlands Wine Shoppe. The mood is one of ease and enjoyment as patrons take in the wine, the breeze and the view of Main Street. Known for its first-rate selection, Highlands Wine Shoppe is housed in a historic home that was converted to this vibrant wine market. Its blonde wood and stacked boxes, its tasting station and wine by the glass, and its inviting staff all lend a bright and casual feel to the sophisticated experience it offers. This relaxed impression is one way in which Highlands Wine Shoppe communicates its hospitality and accessibility to both the connoisseur and the callow wine-taster. This unaffected hospitality reflects the personal warmth and buoyance of its owner Davis Picklesimer.
Davis and I sat down to talk about viticulture and soil science; immediately, the conversation turned to people—to his expressed belief that his wine business is, in fact, a people business. For Davis, love of wine is an intimate experience—unique to each person. Exploration of one's distinct palate and tastes is the best entre into the wine world. He eschews overcomplicating a conversation about wine or a tasting with technicalities of soil science. Not because he doesn't recognize the value or impact of the science, but because he has observed that detailed discussion of chemistry and technicality may be an impediment to learning about wine in a meaningful, more personal way. For the neophyte, dense science can reinforce their intimidation; for others, technical detail may be a cerebral obstacle blocking their full physical enjoyment in a tasting. Instead, Davis does quick detective work to discern clues that lead him towards specific offerings. He avers there is an innate relationship between each person's biology and upbringing to their subsequent enjoyment of a particular wine, so he's curious about their personal preferences for other foods and experiences. These clues tell him which portal into the universe of wine-loving he may want to open for them. Remember, Davis is in the people business; he wants to get to know the person so he can share his love for wine in a way that speaks directly to them. Certainly, this is a valuable tool for a wine novice, but I can see how it may guide the veteran wine-lover toward new and refined flavors. Davis encourages, "when considering food and wine pairings, let's not forget your palate is the most important part of the equation."
Nevertheless, Davis can go deep into the world of viticulture and soil science. For those with highly developed wine sensibilities and knowledge of regional provenance, conversations about soil pH, soil consistency and moisture content, and local water minerality may have more meaning and enhance one's taste for a given wine. As with music, the more sophisticated the palate, the more gratifying the experience—access to the sound increases with familiarity. The experienced ear can recognize timbre and tone with nuance and comprehension not available to the casual listener. And so it goes with wine—it's the quality of our relationship that dictates how well we can know it.
Likewise, in my profound love of horticulture, the more I learn about plants, the more additional knowledge opens for me. I can better "hear" the timbre and the tone of a plant community. In horticulture as in viticulture, the science of soil and the microbiome is a vast frontier, one which scientists are just beginning to probe. Understanding more about the science of soil can help me assess a given plant or understand patterns that extrapolate to actual plants growing in the dirt, but only if I already have a pretty rich understanding of that plant's character. In fact, it's the loving that really helps me observe. For me, the plant enthusiast, much like the wine enthusiast, what I know of the science is that it's complex and multifaceted and it's a deep dive available to me when I want a technical description of a process. I'm aware there is a universe of molecular biology in the dirt that combines with singularities of various root stock. This, in turn, will impact the plumpness of the grape, the time for harvest and the way in which that grape reacts to the fermentation. But I'm a wine novice, and this is all too much to compute. To Davis' point, the science could never be a substitute for the intimate relationship he would encourage all of us to foster.
For more guidance in fostering this relationship, see Davis and his knowledgeable staff at:
Highlands Wine Shoppe
269 Oak Street
Highlands, NC 28741
828.526.4080