Canyon Kitchen
08 Jun 2021
Fine dining in Lonesome Valley
By Bridget Callahan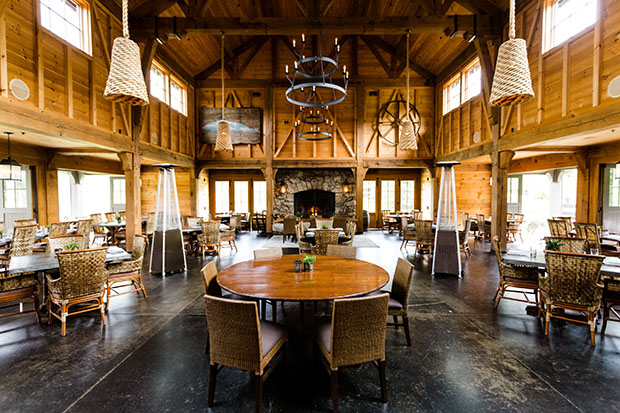 The Canyon Kitchen at Lonesome Valley already has a reputation for being one of the most spectacular dining experiences in the Cashiers area. The reservations-only dining room nestled among gorgeous granite rock faces and blooming meadows is the perfect place to watch the sunset and enjoy a cocktail at dusk. But even more so than its scenic views, Canyon Kitchen has a history of finding exceptional chefs and showcasing their unique talents. This season, that tradition continues with their new executive chef, Ed Selle.
Selle is a Western North Carolina native himself. Growing up on his family's hatchery and trout farm in Brevard, he has a deep appreciation and love for the bounty of ingredients this area produces. But he also brings with him years of classical and French-trained culinary experience. The result is a menu that takes country favorites like pork rinds and buttermilk and turns them into dishes worthy of fine dining.
"I'm all about getting stuff as local as I can, but I'm also about the best product as well," Selle says. "It is mostly ingredients from the southeast, but if we have something special from Spain or France, we're using that as well."
A perfect example of this is his deviled eggs appetizer.
"The deviled eggs are super simple; it's something your grandma made growing up. You take it to potlucks. But we can put our own unique touch on it," Selle says. "We elevate them with some charcuterie products from the Spotted Trotter down in Atlanta, so that's on the plate and it's a great addition to the eggs, but also keeps them from sliding around on the plate. And we take some country ham and shave it really thin, fry it crispy and crumble that on top of the eggs for a textural element. And we garnish with paprika we make in-house. We pickled some Fresno peppers and dehydrated them and made our own pickled pepper paprika out of that."
Homemade paprika is just one of the interesting little touches apparent throughout the menu. The quail pops are made with Kentucky Soy, a bourbon-barrel-aged soy sauce that's less salty and cloying than the soy sauces you might find in the grocery store, and come dotted with crunchy benne seeds, a local plant found in the southeastern coastal islands. The sauteed gulf shrimp are served with crispy okra, nduja grits, and Dark Cove goat cheese, a Western North Carolina favorite. And the cast-iron seared filet mignon comes with sorghum sweet potato puree and a Cheerwine demi-glace.
Selle and his sous chef Jon Benson have a lot of freedom with the menu, and dishes will regularly change based on what's in season or what great ingredients they come across.
"We have a garden here we use a lot of," Selle says. "Opening this year earlier than we normally do, that's been a challenge, because the garden hasn't really started producing anything yet. And you know how the weather is up here; it can be 60, 70 degrees and then snowing the next day. Spring keeps playing tricks on you before it's really spring. Now we're really in the full-fledged bloom and the garden is starting to produce. So as that happens, the menu transforms and evolves."
"The Sunburst trout, though, is something that will always be on the menu here," Selle adds. "This is where the original Sunburst trout farm was before they moved to Waynesville. It's rainbow trout, but Sunburst is the best trout you can get in the United States and people in the restaurant industry know that."
It's a whole new team in the kitchen this year, and Selle says he's most grateful that they've been able to find such good people that mesh well together. In addition to Selle and Benson, Canyon Kitchen also welcomed Gabrielle Warner, a pastry chef with roots in Eastern Tennessee and Asheville. Her menu is reason enough to plan a visit, featuring favorites like strawberry rhubarb tart dressed up with coconut streusel and pepper caramel, or a light grapefruit chiffon cake with candied ginger, honey and champagne sabayon.
Canyon Kitchen is a favorite area wedding venue, and the dates for this year have been filling up fast. Already the restaurant is booked every weekend through the last of August and the first of October. Part of that reason is they offer a unique catering experience tailored to every client.
"Each one is custom to the client, which is really cool," Selle says. "Sarah Jennings, the special events director, is awesome at what she does, and we sit with the client and have a conversation about food, drink, what they like and dislike. Previous food experience they've enjoyed, or things they want to pull from their childhood. They say the memories that are tied to your smell and taste are the most prominent memories, so it's cool being able to recreate something that's near and dear to them."
For would-be visitors, this means it's important to call ahead and find out when the restaurant is booked. The restaurant handles on average 120 reservations a night, and walk-ins are discouraged. The dining room is open 5-9 pm, Wednesday through Sunday.
But planning ahead is worth it. Amazing food. Amazing views. There's a reason they can call themselves one of the best restaurants in the area.
"This is such a cool spot, with the canyon and the valley. I wanted to hold true to that and reflect that. We're trying to match the setting," Selle says.
Canyon Kitchen
150 Lonesome Valley Rd, Sapphire, NC 28774
(828) 743-7967
www.lonesomevalley.com