The Finer Things
08 Jun 2021
Lenz Gifts offers an array of home products for luxury living
By Judy Royal
Photos by Chelsea Cronkrite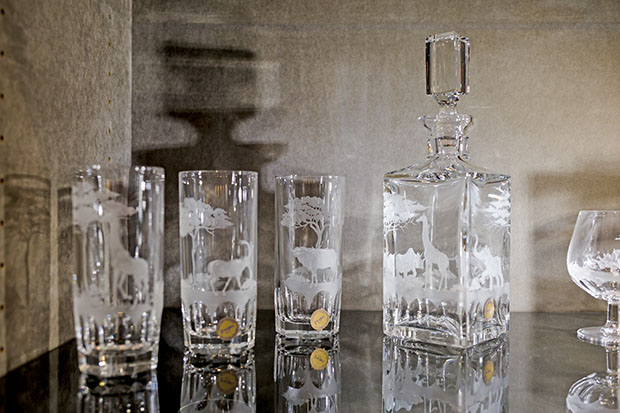 Fred Lenz had a varied career history before he opened Lenz Gifts in 2007. He had owned a motorcoach park and a llama farm, and his parents had owned an amusement park. But one thing he'd never owned was a store. In fact, he had no previous retail experience at all.
That didn't stop him from buying and remodeling a 1948 building in Cashiers and starting a high-end shop that caters to those who enjoy the finer things in life.
"We decided to go classical, elegant and traditional," Lenz said. "Those are my three main things when you come in my store. You won't find any bears or antlers, nothing that reminds you of the mountains. I don't do rustic."
Unlike many other shops in Cashiers, the freestanding location of Lenz Gifts is not downtown, but Lenz said this has not been an issue for the business in any way.
"Just like the baseball game, I figured if you built it, they will come," he said.
Like so many others, Lenz visited and fell in love with the area and decided to make it home, moving from Texas in 2006 after selling the motorcoach park.
"I like having four seasons," Lenz said. "Also, it takes all day to get out of Texas. Here, within a day's drive I can be anywhere I want."
He set out to do something different not only to him but for his potential customers, so he decided on a store offering the creature comforts of luxury.
"Lenz Gifts is accidentally like a mini Neiman Marcus," Lenz said. "It's a destination. Ninety-five percent of my inventory is made in Europe. Our customers know these brands."
Among the product lineup are bedding, towels, bath products, lingerie, glassware, candles and picture frames from brands such as Sferra, Natori, Match and Hanro. The selection is always evolving as Lenz travels to gift shows in places such as Italy and France to find unique new items.
"Everything I buy is designer," Lenz said. "I buy just a few of each item, so not many other people will have what you have. Inventory is driven by demand. I always ask my customers what they would like to see in my store."
Lenz admits stocking the store has been a learning process over the years. He said he "accidentally" started selling women's lingerie and is now adding designer men's underwear and pajamas in response to customer feedback.
"When I started this, I had no clue what to sell," he said. "Over the years I started selling better and higher end and higher quality. Sometimes it surprises me that I cannot sell a $60 candle, but I can easily sell a $240 candle. This is not an ordinary store. From nothing, it became something big."
Lenz has no employees and operates the store by himself, even during peak summer months when he's open every day. He said most of his customers are second homeowners from surrounding country clubs.
"I like meeting all the different people from all over the place," Lenz said. "I'm a people person, so I like to talk to them."
Lenz Gifts has no website or social media presence. The shop relies on old-fashioned word-of-mouth for marketing.
"We're still a boutique," Lenz said. "They can come here and touch and feel. In here, you can hold the glass in your hand and tell if you like the feel of it."
Fueled by a robust real estate market full of new homeowners, Lenz Gifts had a great 2020 amid the COVID-19 pandemic, Lenz said. He expects this trend to continue through 2021 and beyond.
"I hope to see more regulars as everybody gets vaccinated and is more used to COVID," Lenz said. "I have seen some people recently that I haven't seen since 2019. Going forward, I think it's just going to get better for the foreseeable future."
He credits the store's success with his philosophy that one "must do everything with love."
"It's the love of what we sell," Lenz said. "Everything has a story attached to it. I stand behind what I sell. If you don't like it, bring it back. There are no employees, so there's no one to argue with."
Lenz said there were some doubters when he first opened his doors, but after 14 years in business, Lenz Gifts has stood the test of time.
"We were told it wouldn't work up here, but we're still here," he said. "I've watched many stores come and go, but we're still here."
More About Lenz Gifts
Owner: Fred Lenz
Products: Luxury items including bedding, towels, bath products, lingerie, glassware, candles and picture frames
Location: 1473 Highway 64 West, Cashiers, NC
Phone: 828.743.5900