Unlocking the Heart
03 Dec 2020
For Matt Tommey, every creation begins with a walk in the woods
BY: Kim Henry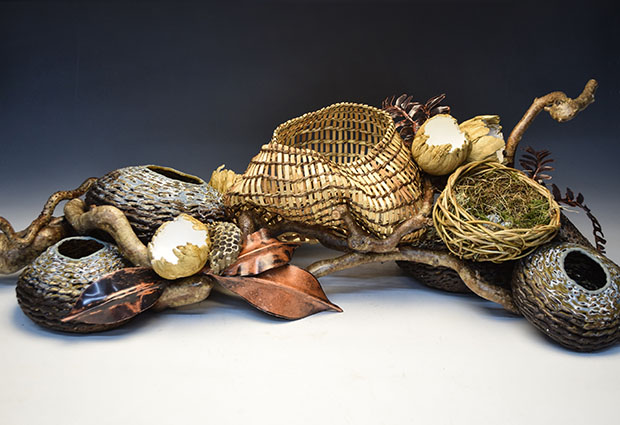 Imagine meeting a highly acclaimed artist who has never ever taken an instructional class in their chosen genre? Instead, they attribute their creative success to having 'cleared out their personal baggage to allow the truth of who they're designed to be to shine through.' Ladies and gentlemen, meet Asheville resident Matt Tommey. As a sculptural basketmaker, Tommey holds a commitment to only using materials that are readily and naturally available to him. Collecting the tools of his trade on his daily walks, he turns them into stunning pieces of 3D rustic elegance. His process is so fascinating that he's also gradually become a mentor to an international community of around 1600 burgeoning artists.
Growing up on acres of nature in rural Georgia to a musical family, Tommey was immersed in the arts from an early age. Joking that his home life was a blend of "Designing Women" and the "Golden Girls," Tommey says that he was often sent into the yard by his mother or aunt to collect materials for a table centerpiece or Christmas wreath. "I've always loved to bring elements of nature indoors and make something beautiful with them," says Tommey with his open smile and warm demeanor.
However, this basketmaker's signature style didn't really evolve until he was nineteen years old and attending the University of Georgia. Noticing that his back yard was covered in the kudzu vine, he felt compelled to make something out of the invasive plant. With just a little guidance from a book about basket weaving from the university library, Tommey was soon creating all sorts of wild and wonderfully shaped baskets that people began to buy. As a youth pastor, he was in the perfect position to teach his newly discovered technique, and before he knew it, the commissions started to flow in too.
The next step in his artistic journey came in 2009 when Tommey, his wife Tanya and their five-year-old son took advantage of the 2008 economic crash to reflect on what they really wanted in life and moved from Atlanta to Asheville, NC. Having done the hard work on both the inside and out, Tommey's career really began to accelerate once his family arrived in the mountains. Blending his aptitude for marketing and business with some deep soul searching and inner healing work, Tommey's success was recognized by the Smithsonian as an American artist under 40 within two years of being in Asheville.
"Once we were in Asheville, I experienced this beautiful season of convergence where everything came together. The combination of abundant nature and luxury mountain homes allowed me to recognize where my art was going to land," explains Tommey. From wall hangings reminiscent of pods and nests to tabletop and mantelpieces, every nature-inspired creation from this artist's vast body of work is one of a kind. Responding to specific locations and even gathering materials from his clients' own back yards, Tommey weaves honeysuckle, kudzu, branches and bark into stunning sculptures that exude both the peace of the elements and refinement of luxury living. He also integrates copper, metal and encaustic wax into some of his visions, creating pieces of all shapes and sizes.
As his creative life graduated into a successful artistic career, Tommey decided to write a book about his process. "Unlocking the Heart of the Artist" addresses releasing trauma and breaking addictive behavioral patterns in order to truly unlock one's own innate creativity and step into 'who you were designed to be.' Now, this prolific artist also runs a much sought after online mentoring program that offers practical tools and facilitation to artists from all over the world. Guiding people to work through their 'baggage' and unify their spiritual, business and creative lives has recently taken center stage for Tommey. "Currently, I only accept commissions that I'm really passionate about, which is a very fortunate place to be in. Our online community has become such a beautiful collection of artists and is all about creating from a place of spirit-led connection to help people find their own unique voice," explains Tommey, who seems to have a knack for good timing.
As the world becomes more digital than ever in response to COVID-19, having an established online presence is ideal. Being creative and business savvy is a must for any artist who is serious about not having to hold down multiple jobs in order to support their creativity. As Tommey so adeptly puts it, "You can be a great maker all day long, but unless you connect with the marketplace, you've just got a hobby."