A Sense of Place
03 Dec 2020
Defining experience at the Highlander Mountain House
BY Kat Ford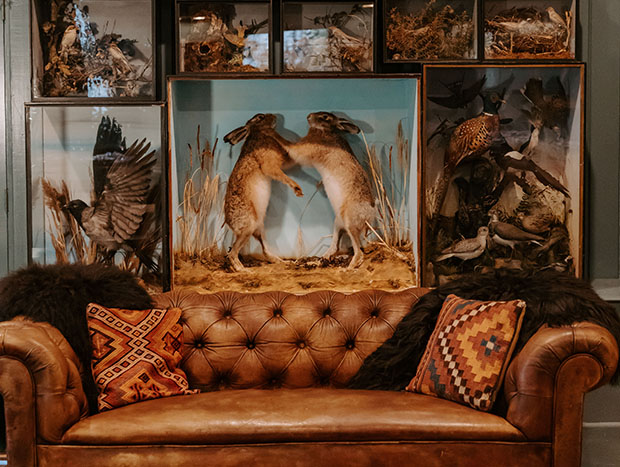 Entering the Highlander Mountain House, a warm fire greets you in a cozy common area accented by eclectic décor and encapsulated by soothing gray walls. The vintage wicker fishing creel hanging behind the front desk might catch your eye. As you turn left to make your way into the adjoining tavern, you may even catch a glimpse of the Black Mountain College poster and "The Foxfire Book" on the writing desk. If you were savvy enough to spy those details, you likely also noticed the bold abstract hanging down the brightly wallpapered hall to the right or the hauntingly alluring photograph opposite the inn's entrance. Once in the tavern, vignettes of overstuffed couches and marble-topped pub tables beckon you to sit, converse, dine and drink. While the casual observer will feel at home in the inn's relaxed cabin luxury, those in the know will see the inn for what it is- a love letter to well-used space, the arts, and the history of Southern Appalachia.
A relationship with space
Born in Lexington and raised in Richmond, VA, owner Jason Reeves spent his undergrad years in Sewanee, where he received a bachelor's degree in economics. When he moved to Charleston, SC, he was employed by a high-end restoration contractor, restoring old houses in the historic district, focusing on 18th-century craftsmanship and methods. Inspired, Reeves moved to Boston to pursue a master's degree in historic preservation and worked for the Society for the Preservation of New England Antiquities. He became more interested in the concepts of urban infill development and adaptive reuse. The writings of Jane Jacobs and a quote by Philip Johnson regarding the relationship of power between architecture and development stirred him.
Reeves attended Harvard, received a second master's degree in design studies focusing on real estate development, and spent the next fifteen years in New York City. He worked for firms like Tishman Speyer and Zeckendorf Development on projects including 15 Central Park West, then the private equity group Garrison Investment Group, where he focused on repositioning transitional commercial real estate properties throughout the country. Six years ago, with a need to further fulfill his creative instincts, Reeves joined a new boutique hotel company with three other partners. Much of their work focused on adaptive reuse, historic restoration and preservation of vintage motor lodges in cities like Santa Fe and Dallas.
When Reeves closed on the previous location of the Main Street Inn in February of 2020, he brought with him a vision to create spaces that were intriguing, warm and inviting for both guests and locals. This regard for renovation, location and community was not just the work of an astute developer but a labor of love for someone who had built an intimate relationship with place and function over the last two and a half decades. For Reeves, there should be an effortless movement when interacting with the downstairs areas of the Highlander Mountain House. La Colombe espresso and pastries in the morning, lunch with a laptop while working remotely next to the fireplace at noon, evening cocktails or a nightcap after dinner in the Ruffed Grouse Tavern.
The inn intends to be just as much for inhabitants of the plateau as it is for curious travelers. "I want locals to feel comfortable sitting in front of the fire and reading the paper. In historic homes, the heart of the space is a fireplace. Weather permitting, we will always have a fire to welcome. Fire is primal. It feels good," says Reeves. This consideration for how both residents and visitors interact with a common space speaks of Reeves' regard for thoughtful urban planning, even when used in a rural setting.
The art of storytelling
The Highlander Mountain House was created to be equal parts Appalachian lodge and refined English country house. While Appalachia is where Reeves was born, his time vacationing in the Cotswolds- his appreciation for country pubs, coaching inns, and country houses, provided him a British perspective. He drew from cherished intimate hotels, motels and mountain houses throughout the Hudson Valley and Catskills around Woodstock in upstate New York to round out the balance. In a way, you could say that Reeves pulled from every piece of his background to birth this project.
Reeves wanted the inn to appear as though it had been owned by a single proprietor for generations, with layered visual commentary chronicling the years. This can be found in the 18 unique guest rooms, where colorful and patterned William Morris, Pierre Frey, Scalamandré, and Zoffany wallpapers juxtapose sleek-lined Stilnovo midcentury modern sconces. It is identified in quirky Victorian taxidermy, intoxicatingly evocative of the naturalists' pursuit of science, displayed alongside abstract art, oil portraits and landscapes in the Ruffed Grouse Tavern.
The wealth of aesthetic and venerable objects creates an experience akin to walking through a curated gallery. Two Sally Mann originals from her "Deep South" series and several works by Josef Albers adorn the walls. The Mann pieces hold sentimental value for Reeves, as Mann is also from his native Virginia. An eye for antiquated items and relishing in their power of narrative is a family trait. His mother was a curator of historical museums, an antique appraiser and active in nonprofit historical restoration projects.
"Hospitality is storytelling and my favorite properties immerse their guests in their surroundings and help them understand their context and history," says Reeves. In this case, interests include storied layers rooted in the Highlands-Cashiers Plateau and Western North Carolina- from the Cherokee to Scots-Irish homesteaders, loggers to moonshiners and outliers. The rich tradition of Appalachian artisans and craftsman are especially noteworthy to Reeves, as is the area's heritage in old-time and bluegrass music. A personal favorite is the avant-garde art movement that came from Black Mountain College. Reeves is continually seeking to add to his collection of artists from the era, another midcentury treasure to place for the savvy connoisseur to find as they wander the halls of the inn.
Reeves hopes to create programming, particularly in the slower winter season, that echoes his admiration for the past, the arts and a delight in learning and sharing. Possibilities include artist residencies, lecture series and stripped-down concerts. He has a strong desire to contribute to the community and is looking forward to creating partnerships to help continue the traditions of Western North Carolina.
A matter of taste
For design enthusiasts, the inn's elegant rooms will not disappoint. In the Main House, with a backdrop of European botanical wallpaper, custom velvet headboards, Adirondack furniture and English antiques emit an ambiance of traveled eclectic style with a dash of whimsy-reminiscent of the work of London's Ben Pentreath. In the pet-friendly two-story Highlander Bunkhouse located behind the Main House, hickory beds crafted in North Carolina are draped with Pendleton blankets, creating a more cabin-like experience. Some baths boast walk-in showers lined with new Moroccan Zellige tile and marble floors, while others are European-style wet rooms with six-sided penny tile and custom English washstands. While no two rooms are alike, Wright mattresses, Bellino Italian linens and towels and Malin + Goetz bathroom necessities provide sumptuous comforts to wash the road off your gypsy soul.
While Reeves gleaned from hotelier Sean MacPherson's work at The Bowery Hotel and The Marlton for use of communal space and diverse art, he pulled from his favorite New York City restaurants such as Freemans, Blue Hill, and The Spotted Pig when seeking inspiration for the Highlander Mountain House's Ruffed Grouse Tavern. English coaching inns, such as The Wheatsheaf Inn in Northleach, the Plough Inn and The Wild Rabbit in Kingham, THE PIG hotels throughout the UK and the Fife Arms in Ballater all played heavy hands in musing Reeves' masterpiece of collected experience. The well-traveled drop-in will undoubtedly enjoy finding visual and flavorful references to Reeves' pilgrimaged list for the Epicurean provocateur.
At the Ruffed Grouse Tavern, chef Charlie Hudson is focused on locally sourced seasonal foods and relies on Blue Ridge farmers and growers to stock the kitchen's pantry and build his regionally influenced menu. "We focus on good, clean, whole foods- where the ingredients are the star of the show," says Reeves. Breakfast, lunch and dinner are served daily. Reservations are strongly encouraged. The bar, where top-shelf liquors, a well-edited wine list focused on biodynamic, organic wines from small, family-run vineyards and a rotating selection of regional beers are offered, is first-come-first serve.
A natural connection
For the myriad reasons the Highlander Mountain House gives you to enter and never leave, its real purpose is to serve as the home base for your mountain adventure. It was, after all, a mountain retreat trip with his young children that endeared Reeves to Highlands. Encouraging travelers to reconnect with the landscape, the inn is just as much about promoting the plateau's trails, trout streams, gentle rivers, rushing waterfalls and temperate forests as it is art and design. "I've been fly-fishing since I was 13. I worked on a ranch on the Smith River immediately after college and fished throughout Montana and Wyoming. Later, I fished throughout New England during grad school. I love fishing in Western North Carolina and saltwater fly-fishing in Charleston," says Reeves. A true adventurer knows that while well-planned expeditions are exciting, it's the ones that unfold naturally that elate. That's why the Highlander Mountain House offers complimentary bicycles, fly-rods and Wellies at the front desk. Embark on your next self-guided escapade or ask for recommended exploration.
If you're looking for a sense of place, either through introspection in front of a roaring fire, exploring the natural beauty of the Highlands-Cashiers Plateau or over dinner with friends, pop into the newly renovated, bold-colored inn on Main Street. Saunter into the bar, grab your favorite vinyl album from the shelf- they have everything from The Band to Bowie, Waylon & Willie to Dr. John, and ask the bartender to give it a spin. Pull up a chair, take a deep breath and know that you've found a spot to relax. Owner Jason Reeves spent most of his life on a quest to design a space that ensures you enjoy the experience.
Highlander Mountain House
828-526-2590