The Michaud/Rauers Group
19 Sep 2022
Berkshire Hathaway Home Services Meadows Mountain Realty Profile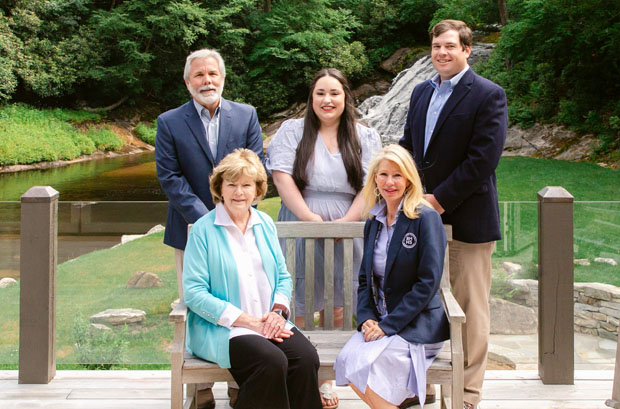 The Michaud/Rauers Group of Meadows Mountain Realty is turning heads. Over the past two years, this group of brokers has been ranked the #1 Berkshire Hathaway HomeServices small team in North Carolina and Real Trends' #5 Small Team across all brands by Volume in North Carolina.
To those who know Judy Michaud, this is no surprise. When she purchased Meadows Mountain Realty in 2006, her vision was to operate a family-owned business where every employee and every client felt like family. As her sales partner Mitzi Rauers explains, "When you do the right thing and put your clients first, it comes back to bless you abundantly."
From Scaly Mountain to Lake Toxaway, the secret of their success is evident. Like a family, they operate as a unit, pooling their unique talents and resources. Considering the depth and breadth of their experience, it is no wonder Michaud/Rauers has become a leader on the Plateau.
With 36 years of experience, Judy has developed a reputation for extraordinary client communication and support, tech-savvy operations, and a warm, personal touch. After years of buying and renovating older homes in several southern cities, Mitzi has developed a passion and talent for decorating, design and staging. She is also deeply committed to this community and serves in leadership roles for multiple civic and charitable organizations.
Tom Goldacker's experience as a Florida Marine Patrol officer and private investigator makes him invaluable in the due diligence process, but his commitment to clients runs much deeper. "I'm there from due diligence to closing and beyond. And that's the way I like it."
John Muir has a background in wildlife and property management. He focuses on large acreage parcels, pre-development and new construction, luxury homes and helping locals find their dream homes. John is the President-Elect for the Highlands-Cashiers Board of Realtors. As an avid outdoor recreationalist, he is an expert on local fishing and hiking.
Alex Michaud, also a licensed broker, serves as the Transaction Coordinator. She ensures nothing falls through the cracks.
The philosophy of The Michaud/Rauers Group and Berkshire Hathaway HomeServices Meadows Mountain Realty filters into the community. Last year, BHHS Meadows Mountain Realty gave over $100,000 to non-profits and individuals in need. A percentage of every commission is placed into a giving account. "Once there," Judy says, "It's God's money." The team agrees. It is their great pleasure to give back to the community they so love.
The Michaud/Rauers Group
Berkshire Hathaway HomeServices
Meadows Mountain Realty
(828) 526-1717
highlandsandcashiersfinehomes.com