MountainWorks Custom Home Design
19 Sep 2022
MountainWorks Cumstom Home Design Profile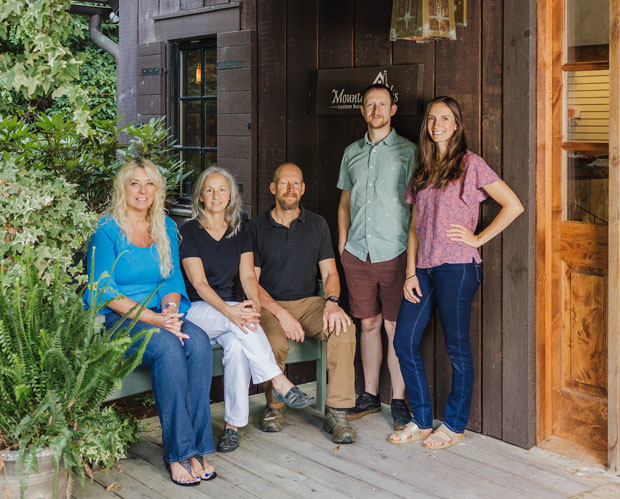 The team at Mountainworks Custom Home Design loves the challenge of creating a structure that incorporates a client's desires with a property's unique surroundings.
"People come to us all the time and say they can tell if it's a Mountainworks design," owner Travis Mileti said. "We place a lot of emphasis on what Mother Nature has given us. We want the house to look and feel that it belongs, that it has a sense of purpose and is meant to be there. Views, mature trees, rock outcroppings—we design around that with every home."
Every Mountainworks home is its own custom creation designed specifically for each client. The company does not sell pre-made plans and seeks out the finest building materials and techniques as a prerequisite.
Mileti has been drawing since he was 8 and got paid for his first job, actual house plans, when he was 16. After growing up in Fort Lauderdale, FL, he moved to the Highlands-Cashiers Plateau in 1979, which he had been visiting for years after his grandparents bought and renovated an 1820s house in Transylvania County.
"Like a lot of folks, I fell in love with the place, so the first opportunity I had, I was in the mountains," Mileti said.
Mountainworks Custom Home Design launched nearly 18 years ago, and Mileti's grandparents' home continues to serve as inspiration for him and his team.
"The old-fashioned way of doing things even today is reflected a lot in our design," Mileti said. "Our primary projects are classic mountain design that has a generational feel."
Mountainworks Custom Home Design, which serves clients all over the country but does the bulk of its work in the Highlands-Cashiers Plateau, is a family affair. Mileti's wife and grown children work there and grandkids and pets also come around frequently. Each project comes with a wealth of experience from people who have lived in the area most of their lives.
"We have a sense of community," Mileti said. "We're proud of where we are and want to protect our community and add to it. Hopefully we're making our community better."
Mountainworks Custom Home Design
24 Old Cashiers Square, Cashiers, NC
828-743-9677
www.mtnworks.com