Slopeside Tavern
04 Dec 2020
Shred the gnar at this friendly slope-side bar
By Bridget Callahan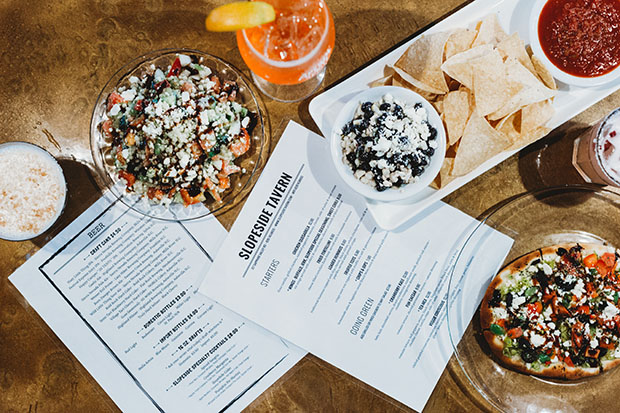 For 15 years, the little Four Seasons Grille sat at the bottom of the Sapphire ski slopes, serving up quick bites and hot drinks. But when the beloved owner passed away a few years ago, the Sapphire Valley Master Association had to look for new blood to take over the location. They recruited new owner Nicolle Fogarty from popular local spot Mica's, where she had previously been a part owner for six years. And Nicolle, an Orlando transplant who fell in love with the North Carolina vibe, jumped at the chance to create her own spot. After a year of renovations, SlopeSide Tavern was all set for their 2020 grand opening on...March 17th. Which, of course, had to be delayed as the state began COVID-19 shutdowns.
But she held on, and SlopeSide finally opened to the public on June 2nd. If you think running a restaurant during a pandemic is harrowing, try opening in the middle of one. But luckily, Nicolle made some very smart decisions. The first being a huge, renovated, covered outdoor seating area with capacity for up to 50 guests. The second was having a bar.
Nicolle started in the service industry young. She began working with the Darden restaurant group when she was only 15 and later worked on one of their national concept opening teams for eight years. So she had plenty of experience to fall back on when it came to opening up her own place, and a vision.
"I wanted a 'Cheers' atmosphere for Sapphire Valley," Nicolle says. "Super casual, family friendly, being at the base of the ski slope this is gonna be our first winter, so there will definitely be a lot of tourists, but we still want to maintain the reputation of being friendly for locals and regulars. Someone mentioned to me they came out for the first time, and they said, "It's so cool, you look around, you see the ladies dressed up and the gentlemen in ties, but then you've got the guys in camo, and kids running around. It's welcoming to everyone. That's what I love about Sapphire. No matter where you go, it's a blend of locals, regulars, vacationers and the seasonal people. It's pretty special."
Casual and comfy is the idea, with a bar that curves so everyone can meet and chat, a few TVs for football and a menu where old favorites get a little twist.
"I like to say we are tavern fare. But we're trying to think outside the box. For instance, our Caesar salad doesn't have croutons. We use Funyuns. So, we're just switching dishes up and making them a little quirky," Nicolle says.
On the Starters menu, guests will find new dishes like cheese-stuffed tortellini flash fried to create crispy swirls and nooks, served with homemade marinara. The tater tots with parmesan and truffle salt are one of their most popular items, along with the Sapphire caviar, a kicked-up blend of black beans, corn and feta that comes with chips and salsa. For a heartier lunch or dinner, the chicken pesto flatbread with artichokes, tomatoes and a balsamic glaze is such a best seller they couldn't take it off even if they wanted to. Another menu lifer? The Veggie Couscous salad, which features crisp cucumbers, tomatoes, peppers, onions and creamy feta cheese, drizzled with a lemon thyme vinaigrette. Or tuck into the Open Faced Country Fried Steak sandwich, smothered in pepper gravy and mushrooms piled onto toasted sourdough.
And this winter, for the first time, guests will be able to take a break and get drinks right at the base of the slope. The summer specialty cocktails list was a big hit, but Nicolle is excited for the new fall and winter cocktail list. That includes a hot apple cider with apple bourbon and Fireball Whisky and a pumpkin pie martini Nicolle calls "ridiculously good," and which is already a guest favorite.
"I'm huge on supporting local breweries, so all my taps are local breweries and I have probably about 20 craft cans from Asheville, Durham, all over North Carolina. We have one on tap from Mills River Brewery, they just started branching out in the last few years, so I like to give the little guys support because I'm a little guy," Nicolle says. And talking to her, it's obvious she knows her beers, so guests should be paying attention to the labels she brings in.
So far, despite opening in one of the worst years in recent memory for the restaurant industry, SlopeSide is doing great and looking forward to their first actual ski season. Nicolle plans on staying open all year round, including the holidays. She hopes to keep the Thursday night Music on the Slopes going all winter as well, to help support local musicians who are looking for somewhere to play, and the outdoor area is already equipped with heaters in anticipation of opening weekend.
SlopeSide Tavern is currently open 11-9 pm six days a week, closed on Tuesdays, and that's the schedule she intends to keep all winter, though next summer might see slightly extended hours depending on how the year goes.
"My passion is just to make people happy through food and drink. That's really it," Nicolle says. "In our business, it's not rocket science; it's just making people happy. So, if I can do that with specialty cocktails and fun food items, then I'm a happy person."
Slopeside Tavern
217 Sapphire Valley Road
Sapphire, NC 28774
828.526.2277
slopesidetavern.com