Santa's Cookies Got an Upgrade
04 Dec 2020
Forget first class; we are flying high on NetJets with this version of "cookies and milk"
BY Mandy Murry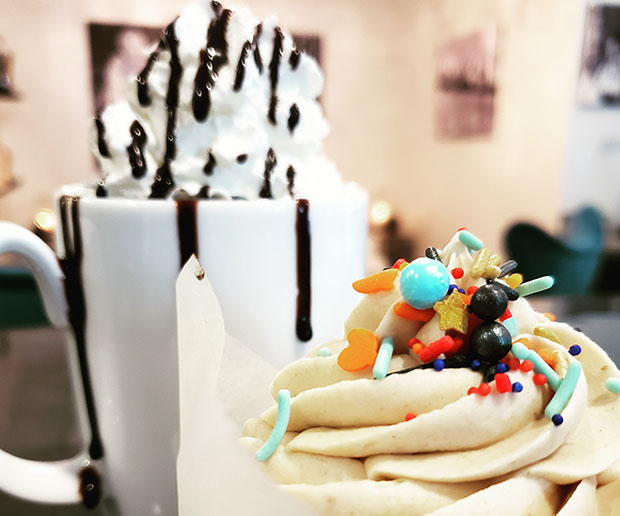 Winter 2020/2021 deserves a little extra magic sprinkled on top. More sparkles. More smiles. And more childlike play.
Let's all close our eyes and play make-believe that it's Christmas Eve. "The stockings are hung by the chimney with care, in hopes that St. Nicholas soon will be there." As a child, my mom baked sugar cookies in the shapes of stars, bells, angels, fir trees and snowmen. We decorated by shaking sprinkles of glitter atop frosted goodness and made plates for neighbors, family and "Santa."
Now, let's be real. That plate of perfectly picked cookies for Santa and a tall glass of milk were never for a man traveling down a chimney to bring bags of presents for myself and my three brothers- we all know coal was the promise. No, those cookies were for the adults playing make-believe. But let's get real, this year's version of make-believe deserves substance- Goodbye cookies and milk, we're moving on to cake and wine.
The best news- your effort to the cause is zero! Cake Bar in Highlands has you covered.
Originally known for "Chocolate Heaven," a decadently flourless chocolate cake, this non-health food sweet spot is good for the spirit. Located in Mill Creek, the Cake Bar offers a cozy living room setting where black and white photos adorn the walls. It's nostalgic, a reminder that good things are simple and indulgent. Cakes, cupcakes, wine by the glass, wine by the bottle, mocktails and more await to celebrate the magic of the season, the magic of life. Escape the ordinary and take a moment to laugh with your loved ones.
Krysti Henderson, chief chocolate officer and sugar mama, wanted a place for people to engage. A place for people to sit back and enjoy life. For the holidays, she has created a space and the decadence to do so. December 12, Cake Bar will host a wine and chocolate tasting. And with the Highlands Food and Wine Festival cancelled, she also invites you to a few other special occasions to enjoy this holiday season, like live music with We 3 Swing weekends in December and January, a Christmas storytime for the kiddos December 23 and a Bubbles and Bellinis event January 2.
Without a holiday parade and limited options for dining out this year, we could all use a little pizazz, and maybe sugar on top is just what the doctor ordered.
In fact, a prescription of a Baileys and cream cupcake or piece of grilled banana bread is the beginning of magic making.
Audrey Hepburn once said, "Let's face it, a nice creamy chocolate cake does a lot for a lot of people; it does for me."
But what to choose?
Hmmm… an Irish mocha or Cake Bar hot cocoa, complete with ginormous marshmallows, whipped cream and chocolate sauce - probably a dessert in itself? Or maybe a slice of the new favorite, Chocolate Heaven cheesecake (the BEST of both worlds)? German chocolate cake is always a good choice, complete with a caramel cappuccino. And of course, Chocolate Heaven pairs perfectly with a glass of cabernet sauvignon, although it's never met a red it didn't like. Champagne and Party Muffins are perfect for celebrating life's little moments – even if the moment just happens to be that you have Champagne and Party Muffins! So many perfect pairings, so little time…
Visit the inviting space to enjoy libations and sugary treats of goodness, adult style. Call in and pickup also available. For more information, call 828.421.2042.