The Corner Store fosters a small-town boutique experience among customers and friends
BY Judy Royal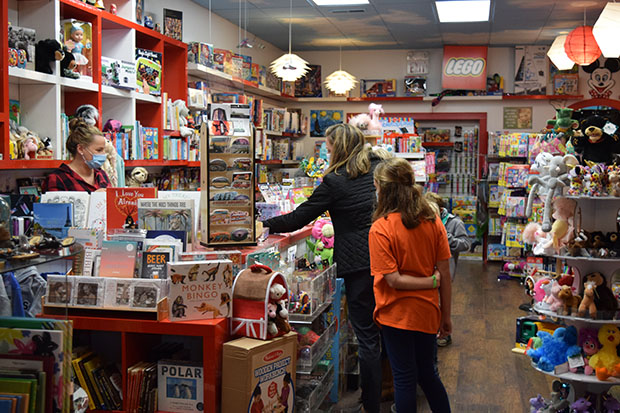 The Corner Store is the only toy shop in Cashiers, NC, but that's not all that makes it a unique retail destination. Owner Natalia Tretiakov has spent the past seven years creating a small-town boutique experience that delivers a level of personal interaction not easily found in today's impersonal online world.
"When people come into my store, it's because they want to support me," Tretiakov said. "My customers are coming to see me. I have people who just come in to say hi. I love what I do, and I love my people. It's more of a relationship like family with a lot of them."
That closeness also transfers to Tretiakov's relationships with fellow business owners in downtown Cashiers.
"We all help each other out," she said. "We have keys to each other's stores. We're all one big happy family."
Tretiakov's entrepreneurial journey began in 2013 when she bought The Corner Store from the former owner, who opened the shop in 1988. Tretiakov, who came to the United States from her native Russia 32 years ago, had been a customer since moving to Cashiers from Massachusetts with her husband in 2006 and was always interested in taking over ownership.
"I loved the shop very much and wanted to make it my own one day," she said. "I put some of my things and what I liked. I remodeled it and added more toys. I work six days a week. This is my baby."
In addition to toys and games for kids of all ages – including puzzles, cars and dolls, to name just a few – visitors at The Corner Store will find T-shirts, magnets, stickers, books, greeting cards and art supplies. Tretiakov said her customer base is a mix of tourists and locals, including not just families with kids but people of all ages. The shop is especially popular with grandparents looking for presents to spoil their grandchildren and those seeking baby shower gifts, she said.
"I try to have a variety for everybody, all age groups and all price points," Tretiakov said. "I want to make sure when people walk in that I have something for everybody. You have to make everybody feel comfortable."
Tretiakov keeps her operation small enough to handle on her own, forgoing an online shop and website in favor of personal interaction, but it's important to her to stay open year-round.
"I'm there for you one on one," she said. "I'm happy in my little small shop that's busy in the summertime and quiet in the wintertime. I stay open all year because you don't know who is going to walk in."
Due to the COVID-19 pandemic, The Corner Store has had to implement some increased safety measures to keep its customers safe. Masks are mandatory, hand sanitizer is available, and there is a clear separator at the cash register.
While owning a small business can be challenging even in the best of times, Tretiakov said the COVID-19 pandemic added a new layer of difficulty. Not only did The Corner Store have to close for two months during the spring, but once it reopened there were issues getting merchandise because of backed-up orders, she said.
"When we got to open up, I was very thankful for my local customers and traveling tourists who stopped by to support me and keep the business going," Tretiakov said. "It's been a steady year. It hasn't been swamped, but it hasn't been dead. It was a slow start, but if it wasn't for my customers, I would not know where I would've been. I'm very thankful and blessed for my customers, my new ones and my repeated ones."
Besides her loyal customers, Tretiakov said her favorite thing about owning The Corner Store is the flexibility it gives her as a mother to three girls, ages 14, 13 and 8. She said her children have basically been raised in the shop and even pitch in to help their mother with her endeavor, especially this past summer.
Tretiakov said it took some time, but she is proud of the business she has built and looks forward to seeing new faces as well as those who are now familiar.
"I'm making new family and friends every day," she said. "I love what I do."
More about The Corner Store
Owner: Natalia Tretiakov
Products: Toys, games, T-shirts, magnets, stickers, books, greeting cards and art supplies
Location: 44 Village Walk Way, Cashiers, NC
Phone: 828-743-6267
Email: intotoyz@gmail.com