Q & A with designers from this year's Cashiers Historical Society's Designer Showhouse
By KAT FORD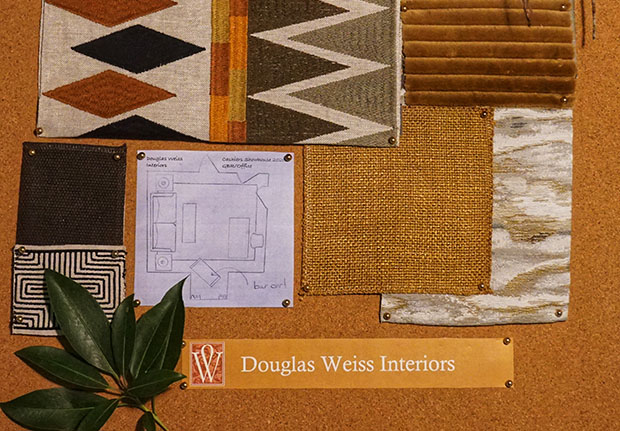 The Cashiers Historical Society's 2020 Designer Showhouse kicks off with a VIP Preview Day on August 21st and will be open through September 5th. Proceeds from this fundraising event, including a portion of McKee Properties' commission if the house sells, go directly toward the Cashiers Historical Society's operating budget and help fund educational outreach programs, historic preservation projects and upkeep of grounds. Since February, Plateau Magazine has been giving our readers a behind-the-scenes look in a three-part series that highlighted the Meyer Greeson Paullin Benson designed Mountain Cottage, one of the several residential offerings at Silver Run Reserve, that will serve as this year's showhouse. In this issue, we take a more in-depth look into design.
Silver Run Reserve's design director, Michael Fernandes, embraced a traditional mountain cottage with a modern feel, inspired by great designers and architecture over the years in Cashiers. Working with lead spec designer June Chamberlain, who is also the kitchen's interior designer in the showhouse, the two teamed up to work with builder and development partner Ben Harris to pick everything from plumbing to paint. For those not familiar with building or renovating, it is in these beginning stages that interior design starts taking shape. According to June of June Chamberlain Interiors in Atlanta, it is critical to have a designer in the beginning stages of a project. Designers work with their clients to discuss lifestyle and envision the flow of a home. What areas will experience the most traffic? How will a client fit the four-poster bed they have been daydreaming about in the bedroom? These are the type of minutiae that an interior designer considers and can work with builders and architects, suggesting small changes in plans before costly and timely renovations are needed later. For instance, it was during this stage in the showhouse that Michael and June suggested the master bath be enlarged to allow more gracious space for the freestanding tub.
One of the most exciting experiences when walking through a showhouse is to see how different tastes can be embraced within the same space, to see a house through the lens of several personalities. In the showhouse, the mountain modern style that highlights the beauty of Silver Run Reserve will be the muse for 14 designers. The foundation for future homeowners and designers alike was created in the spec design work of Michael and June, whose similar love for clean and classic, light and bright, can be found in flooring, countertops and tile.
This year's Designer Showhouse will be a celebration of all things design, including DESIGN DAY on September 4th when Plateau Magazine will moderate a panel titled "Style and Stewardship." This panel will allow guests to hear from industry leaders about design inspired by the responsible development and mountain modern style that preserves the serene natural environment of properties like Silver Run Reserve. We asked a few of the designers of this year's showhouse a series of questions inspired by our panel discussion, in hopes that we might get clues as to what they have up their sleeves for us in late August.
1. The Silver Run Reserve development team uses a mountain modern style to preserve the property's serene natural environment in an exciting and current way. What does mountain modern mean to you as a designer and how do you plan on incorporating this with your design aesthetic?
2. A tour of the Silver Run Reserve property immediately summons visions of activities ranging from lakeside fishing to poolside cocktails. As an interior designer, what visual cues will you use to capture that same sense of a natural luxury lifestyle inside?
3. Big windows, high ceilings and light floors create a backdrop for stunning views within the showhouse. What tips do you have for plateau homeowners looking to create a seamless transition from home to homesite?
June Chamberlain
Company Name: June Chamberlain Interiors, Atlanta
Web: www.chamberlaininteriors.com
Phone: 404.423.4236
Kitchen
1. To me, mountain modern is earthy, fresh and uncluttered. I plan to carefully place accessories, indigenous to the region, and feature local artists. The kitchen has been thoughtfully planned out, and I intend to keep it both functional and a place you may want to sit and relax.

2. Natural luxury comes in many different forms. In the kitchen, we selected natural quartzite countertops which are both beautiful and extremely durable. The bar seating is very comfortable but stylish, and the use of natural materials such as cowhide, linen and stone pottery elevate the space.

3. Always bring the outside in. We selected green for the kitchen cabinet color to reflect the green in nature outside. Also keeping the flooring and walls a light, calm color, keeps the eye moving outside.
Elly Poston
Company Name: Elly Poston Interiors, Richmond
Web: www.ellyposton.com
Phone: 843.696.0402
Mud Room/Laundry Room
1. Cashiers is such a magical section of the world where you want to maximize the sweeping vistas by bringing the outdoors in. When scheming our spaces, it was fun to imagine how the palette changes throughout the seasons. There is always an abundance of greens, big blue skies and golden yellows as we make our way into fall. We knew immediately we wanted to mix iconic block-prints like Michael Smith's Indian Flower and the Cowtan & Tout ikat for a sophisticated and fresh spin on mountain decor.
2. I wanted the space to be as multi-purpose and functional as possible. An antique chestnut table can easily convert to a potting bench, a bar for entertaining, or a makeshift desk (which is an even more important design element to include as everyone works from home!) and the slipcovered ladderback chairs are a practical to place to slip on even the muddiest of boots. The shaker style pegs system is less fussy than the traditional mudroom lockers and allows for lots of storage to throw a jacket, dog leash, or wet towel from the pool. The antique bird prints were purchased on a trip to Europe and are a colorful reminder to get outside and enjoy the gorgeous natural surroundings that Silver Run provides.
3. We always begin a project by looking at both the natural surroundings and the way our clients live. Our goal is to create a space that is a true reflection of the clients who call our projects home. This home is perfect for bird watching and cocktailing on the porch. We designed our spaces to take full advantage of the Cashiers lifestyle while bringing a fresh take on the traditional mountain palette.
Zeb Grant
Company Name: Zeb Grant Design, Madison/Atlanta
Phone: (706) 342-0776
Bedroom
1. Originally from North Georgia and spending a lot of time in the mountains as well as the outdoors, nature and its bounty have always played a large part in my design aesthetic. For the show house I am bringing in many shades of green and lots of other beautiful colors found in nature. My paint color is Sherwin Williams Grassland, it doesn't get much more outdoorsy and I love how it changes with the day. The Villa wallpaper in the bathroom is by Cowtan & Tout, which is a grass cloth with the design of overlapping cut agate. A perfect choice for this setting and really continues the theme of bringing the outdoors in.
2. For a refined lodge feel, I started with a custom grass green velvet headboard paired with a beautiful embroidered floral fabric that acted as my main inspiration, as well as the drapery for the bedroom. I brought in a very handsome plaid with earth tones for bedding and pulled a pop of orange in for the bench fabric and pillow. Other nods to nature in the space include the collection of antique stained boxes, the tortoise shells hanging over the art and the antique gourd lamps.
3. We always are looking at new ways to bring the outdoors in on our projects, especially when it comes to mountain retreats or beach houses. The ever-popular open concept with large windows and doors leading to the exterior spaces is always a good start. Layering materials on the interior such as exposed rock, brick and paneling also help to create a beautiful transition. I also almost always use lots of upholstered pieces outside, so it truly feels like an extension of the house and not just a patio or porch with tired metal or plastic pieces.
Kerry M. Howard
Company Name: Tribus Interior Design/Dillard Jones, Cashiers/Greenville
Web: www.tribusinteriordesign.com
Phone: 864.729.4148
Master Bedroom
1. I would define mountain modern as a clean more modern approach to design but incorporating elements of nature that complement the surrounding region. Also, being very careful not to get so modern that the space becomes cold and sterile. I plan on incorporating color, texture and little whimsy into my master bedroom space to help express my mountain modern approach. I'm even using a cork material on the upholstered bed to give the bed a more modern feel, I have also incorporated two modern Kelly Wearstler Chairs to help anchor the space.
2. Designing the master suite in the Cashiers Designer Showhouse is the perfect space to showcase luxury by incorporating layers of bedding. Bedding that begs you to crawl into it and take a midafternoon nap while enjoying the beautiful views out the master bedroom windows.
3. Spend the money on floor to ceiling windows. Especially when you have great views.
Add architectural interest to your home with wide crown and base moldings. Keep in mind clean moldings with beveled edges give more of transitional feel.
Go with 5" to 8" width hardwood floors to expand your real estate when shopping for hardwood floors.
You can add interest and dimension to any ceiling by adding a textured wallcovering.
Lynn Monday
Company Name: Lynn Monday Home, Cashiers
Web: www.mondayshouseofdesign.com
Phone: 828.743.2094
Great Room
1. Monday's House of Design will take mountain modern to a new level, using antique furniture with contemporary tables, lighting and mirrors. With additional accessories we will add a nod to wildlife, both plants and indigenous animals.
2. Monday's House of Design has complete understanding of the lifestyle that Silver Run will bring to their homeowners, as a designer we need to take advantage of the beautiful vistas. Our room will be inviting, we will set up a tray in the great room with wine glasses and create a place to enjoy the vista and have a glass of wine with our guest.
3. Designers are there to bounce your needs and ideas to create an environment that is both your style and dream.
Cathy Rhodes
Company Name: Cathy Rhodes Interiors, Atlanta
Web: www.cathyrhodesinteriors.com
Phone: 404.307.0616
Second Master/Bath
1. I see mountain modern design as rustic and casual, full of natural cotton and linen fabrics in the soft colors you find in nature like greens and browns and soft blues. The combination of textured fabrics paired with clean lined furniture pieces in natural wood and other organic materials helps to create the new modern mountain aesthetic.
2. When designing a home in the mountains I like to bring the outdoors in by using the colors we see in the mountains inside the rooms, such as greens, browns and white. My goal is to create a serene setting that helps the homeowner relax inside and focus on their beautiful surroundings and plan their next activity.
3. Use a soft color palette with the colors you see outside so that the interiors do not detract from the views outside. Use natural materials like wood, wicker, cotton and seagrass rugs for a casual look. I also like to use outdoor furniture pieces such as rattan chairs and sofas and repurposed barnwood tables in the interior rooms. This helps you blend the line between the outdoor spaces and the inside spaces in a house.
Douglas Hilton
Company Name: DWH Interiors, Atlanta
Web: www.dwhinteriors.com
Phone: 404.550.5484
Second Floor Landing
1, To me modern means a breaking out of the restrictions of limiting a room to only one style or period. "Mountain modern" to me should be a comfortable environment to allow the homeowner a space of sanctuary and quiet. We come to this part of North Carolina to slow down and recharge. I designed the upstairs landing to be a blend of different cultures, periods and styles. Taken as a whole it is a layering of colors and textures which are pleasing to the eye and the touch. The antiques in the room provide a sense of continuity. The textiles are based on Arabic, Eastern European and Celtic patterns that are centuries old. To bring balance to the room – art is modern. Signs of life changes from dancing in the ruins, to flashes of the past, to glimpses of fantasy and ending in the expectation of new life. The sculpture calls out to be touched - we learn so much from our fingertips.
2. Today's homeowner is looking for options – Silver Run Reserve provides a huge number of ways to spend your time. To be social, to be energetic, but also it allows us the right to be quiet. My space is designed to remind you of that right. A space to curl up with a good book, listen to music, play a musical instrument or bridge/solitaire on your iPad.
3. Keep your drapery treatments simple. Let them frame the window and the view. Keep trims and rods to a minimum. The classic Arabic pattern I have used in the room is based on a garden design. It has the border printed into it so that no trim is necessary. While the pattern is strong it is also soothing.
Ann Sherrill
Company Name: Rusticks, Cashiers
Web: www.rusticks.com
Phone: 828.743.3172, ext. 202
Front Porch
1. Mountain modern indicates to me a rather simple, clean, no unnecessary frills look…casual and inviting, yet sophisticated at the same time. It should be a place you can relax and unwind and enjoy the beauty of the mountains that surround you.

2. My area of the house is the small front porch from which you enter the house. I was asked to make it a very welcoming first experience with the charming house inside. A porch swing says "welcome" to me, so of course there will be one!
3. Take full advantage of your beautiful surroundings. Bring the outside in. Place the house on your lot so that when you look out each window, you feel thankful you chose the mountains of North Carolina to spend your leisure time.
Douglas Weiss
Company Name: Douglas Weiss Interiors, Highlands/Atlanta
Web: www.douglasweiss.com
Phone: 404.408.8718
Bedroom
1. Mountain modern to me refers to a lifestyle, a chosen way to live in your environment. It suggests a nature driven aesthetic that is warm and welcoming with a fresh, youthful perspective. I hope that a visitor to my home office/guest bedroom will feel instantly engaged in the narrative of this multi-purpose space as well as the dynamics of the furniture, fabrics and art.
2. From its conception, the Silver Run community showcases mountain luxury – sweeping landscapes, picturesque views, serene waterways – all of which are sure to influence design choices. Interior design is not literal; rather it interprets both our environment and the desired activities.
3. In this beautiful mountain community, it's important that interior spaces reflect the environment in which they reside. I like to start with a color palette that to a certain degree mirrors its surroundings but that also reveals the personality of the residents. Antiques with their historic roots feel at home with nature's history, while modern art suggests our desire to make our own personal footprint on the property. Fabrics can display colors, textures and patterns that are based in nature's design but also elevate inspiration to new heights.