Passion is the Key
04 Apr 2021
Bounds Cave Rugs has been flattering floors for 40 years
By Judy Royal
Photos by Chelsea Cronkrite, Olivia Edwards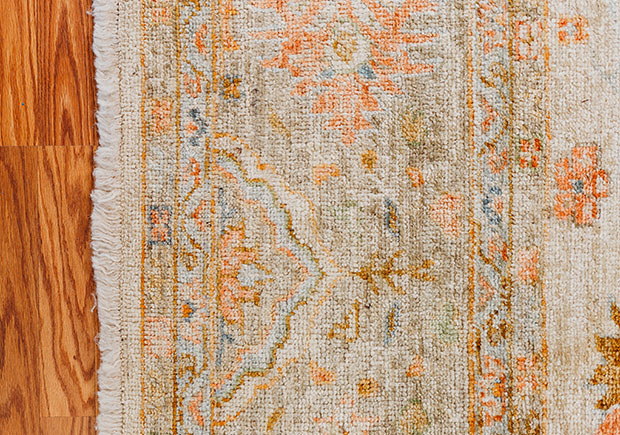 Judy Brown's career didn't start with rugs, but she has built a business and life around them.
Brown, who went to school to be an interior designer, was living in her native Florida and designing a jewelry store in the early 1980s when she met a Turkish man who was connected to weaving houses in his homeland. That was her introduction to fine Oriental rugs; she had no prior knowledge or interest at all. As it turns out, the man didn't speak English very well and needed help selling the rugs. Brown opened her first rug store in June 1981.
"I just fell in love with his rugs," she said. "I had a passion for rugs, and it just took over my life and I became as involved as I could be. I started learning about carpets and all different areas where they are woven. The rugs tell a story, every last one of them."
Brown met her life partner Mark Petrancosta in 1997, and he soon became a full partner in the business also. Shortly thereafter, Brown was invited to Cashiers, NC, to lecture at the Blue Ridge Antique Show. Petrancosta and Brown loved the area so much that they decided to open a store just for the summer in 1998, but things went so well that they relocated their business and home base permanently. They moved the store in 2014 to its current 1,800-square-foot site, which they gutted and renovated.
"We love our location," Brown said. "We love looking out. We can see Grandfather Mountain from the front porch."
Bounds Cave Rugs specializes in hand-woven and hand-knotted products in natural fibers, including wool and silk. Machine-made varieties are never part of the offerings. There are rugs for customers who walk in and know exactly what they want, but Bounds Cave Rugs also specializes in consulting with clients to find the perfect complement to their space.
"We don't charge for anything but the rugs themselves," Brown said. "Our clients like the idea that we can take a look at their house. We see what they're already doing with fabrics and wall coverings and paint and make suggestions."
Whether a customer needs a little or a lot of attention, Bounds Cave Rugs strives to provide excellent service to all.
"Our job is to make our customers happy," Brown said. "I don't care who you are or what income bracket you're in. If you have a love for beautiful things and you're talking to us, then we hear you."
Judy Henson of CJ Brownhouse, an interior design firm in Cashiers, NC, said she has worked with Bounds Cave Rugs exclusively for the past 20 years due to the expertise of the owners and staff member Miguel Garcia.
"They make purchasing a rug so easy," Henson said. "They're just a pleasure to work with. I can't say enough good about them. They pretty much know me like a book and what I want, and they always find exactly what you're looking for. I wouldn't consider working with anyone else."
While some businesses have struggled during the COVID-19 pandemic, Bounds Cave Rugs has thrived. Brown attributes this to more people flocking to smaller towns as an escape and also the store's nature as a low-traffic business that isn't constantly full of customers.
"I didn't expect so many people to be here last summer and this winter," she said. "It's such a blessing when sales have increased because people are coming here to get away. We limit the volume of people who are inside at one time, so our customers feel safe here. We are very COVID-aware. and so are our customers."
While Bounds Cave Rugs calls the plateau region home, it serves clients all over the country and is available for both residential and commercial projects.
"It's a privilege to be in this business," Brown said. "We feel like every single day we meet the most wonderful people."
While there are many challenges to being an entrepreneur, passion is the key to satisfaction and success, Brown said.
"Anytime you own something, if you really care about it, you're going to do your best and it brings out the best in you," she said. "We love our customers and love making them happy, and we love rugs. We wouldn't do anything else."
More About Bounds Cave Rugs
Owners: Judy Brown and Mark Petrancosta
Products: Hand-woven and hand-knotted rugs
Location: 763 Highway 107 South, Cashiers, NC
Phone: 828-743-5493
Website: www.boundscaverugs.com