Benefit Concert for Blue Ridge students
06 Jun 2022
16th Annual Nashville Songwriters' Round to feature Rivers Rutherford and musical guests
By Marianne Leek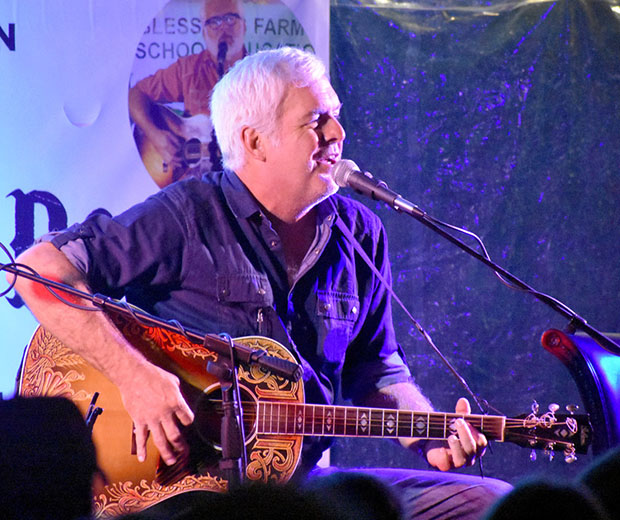 "So much pain and so much darkness
In this world we stumble through
All these questions I can't answer
And so much work to do."
-Rivers Rutherford, "When I Get Where I Am Going"
Grammy award winner, 2019 Songwriter Hall of Fame inductee and all-around nice guy, Rivers Rutherford, has been generously sharing his time and talents with the Plateau community for over 16 years as the featured songwriter at the Annual Nashville Songwriters' Round along with his Nashville musical guests. This year, Rutherford will be joined by fellow songwriters Kelley Lovelace and Dave Turnbull.
Each year, the Blue Ridge School Education Foundation holds the fundraiser to provide supplemental resources for Blue Ridge School to "expand education experiences for children and staff in order to achieve and maintain a world-class education environment."
The foundation, which is entirely managed by a volunteer board of directors, was established in 2002 and remains dependent on the proceeds from the Annual Songwriters' Round and the generous contributions of individuals and local foundations and charities. In just the past six years, the foundation has raised and distributed close to $1 million to Blue Ridge School and Blue Ridge Early College programs in the form of supplemental financial support for education and local scholarships.
Carl Hyde, the Blue Ridge School Education Foundation's director, expressed his appreciation for Rutherford's commitment to excellence in education.
"The Foundation's success in its mission to provide supplemental help to Blue Ridge Schools has been largely due to the enthusiastic participation and voluntary support from Rivers Rutherford and his invited guest songwriters each year for the Songwriters' Round," Hyde said.
This year's coveted event will be held on August 20 at the Boys and Girls Club of the Plateau-Cashiers, NC Keller Pavilion. Interested patrons can purchase a table of 10 for $2,000, with 100 percent of the proceeds going to the Blue Ridge School Education Foundation, Inc. As a result of this highly-anticipated local fundraiser, the Foundation has been able to award numerous grants and monies to supplement the educational needs of students and educators.
In addition to providing professional development, classroom materials gift cards and active learning panels for teachers, the Foundation has also been able to fund a nurse, social worker positions, an artist-in-residence for music classes, the "Give 5, Read 5" summer reading program and after school math tutoring program, the Muddy Sneakers Outdoor Learning Program, countless print and audio resources for the media centers and more.
In 2021, The Blue Ridge School Education Foundation awarded a grant of $115,240.91 for the establishment of a second Pre-K Program and classroom at Blue Ridge Elementary School.
Rutherford explained his personal interest and investment in Blue Ridge Schools and Cashiers.
"My mother-in-law, Margaret McRae, taught at Blue Ridge for many years before retiring and serving on the Jackson County School Board for nearly the last decade. She called me one year and asked me if I would be willing to perform at a school fundraiser," he said. Rutherford is proud to call Cashiers his home away from home.
"It's been a great pleasure getting to know so many people in the Cashiers area over the past 20 years through this event. I really do feel like a part of the community," Rutherford said. Since that initial call, Rutherford has remained committed in his support of local education.
Rutherford is well-known in the music industry as a man of integrity and someone who remains unapologetic about his faith, his loyalty to his family and his commitment to creating great music. He has penned over 40 country singles for some of the biggest names in the industry, including Brad Paisley, Dolly Parton, Tim McGraw, Faith Hill, Toby Keith, Blake Shelton, Brooks and Dunn, Kenny Chesney and others. He states that his faith and personal experiences have influenced both his writing and how he lives his daily life.
"My faith is the core of who I am and informs not just my writing, but my being and how I see the world. I write about real-life; some of it is hard, some ugly, but all of it is imperfect. I am an expert in imperfection, so I have a lot to write about."
Some of his favorite songs that he's written over the years include "'When I Get Where I'm Going' because I wrote it after my grandaddy died; 'Real Good Man' because it came so deep from my gut, and 'American Remains' because it was my first cut and got me in the studio with Willie Nelson, Waylon Jennings, Johnny Cash and Kris Kristofferson."
Rutherford firmly believes in the transformative power of education and thinks creativity, music, art and writing can positively impact students' ability to learn as well as their mental health. He expounded on the importance of music and other creative education programs in the lives of students.
"Music, like all creative endeavors, aids in young brain development and teaches the merits of discipline, hard work and sacrifice; it builds self-esteem and —I believe more importantly—is a great source of joy and fulfillment in life."
Rutherford's words of advice for young people who love the arts or want to write and play music? He offered these words of wisdom: "Be yourself. No one can write the song, paint the picture, play the part like you. Whoever you think you need to copy will always beat you at being them. You will always beat your imitators at being yourself. And if you can make your creative expression an avocation instead of a vocation and still sleep at night, then do it. It's a difficult road at best, you have to want to do the work more than you want to succeed. If you can't sleep at night because you don't get to create all the time every day, welcome to the club."
With almost 30 years in the music industry, Rivers Rutherford has learned a thing or two about life, but he remains true to his roots, loyal to family and faithful to his creator, which is perhaps what makes him such an anomaly in the entertainment industry. In fact, in 2005, he pondered such questions after the death of his grandfather in the song "When I Get Where I am Going," writing, "So much pain and so much darkness/In this world we stumble through/All these questions I can't answer/And so much work to do/But when I get where I'm going/And I see my Maker's face/I'll stand forever in the light/Of His amazing grace."
A quality, well-rounded education helps get us where we are going; it's the foundation of our lives. And the Blue Ridge School Education Foundation, along with Rivers Rutherford and his annual musical guests from Nashville, continue to successfully partner in an effort to provide Blue Ridge Schools with the funds necessary to continue to offer the young people of this area the best education possible. As a final thought, Rutherford divulges the greatest lesson he's learned as a songwriter and a music artist. His answer was as simple as it was profound: "Love others and they'll love you right back."
Seating for the Songwriters' Round will only be for tables of ten. Advanced table offering will be offered first to 2021 table patrons. Any unsold tables will be offered to the public no later than July 1. Look for an announcement on the Blue Ridge School Education Foundation website at www.brsfoundation.com or the Cashiers Chamber of Commerce at www.cashiersareachamber.com.