Home on the Range
25 Jan 2020
Building a cozy cottage in Highlands
By CHRISTINE HENNESSEY Photos by ADAM CAMERON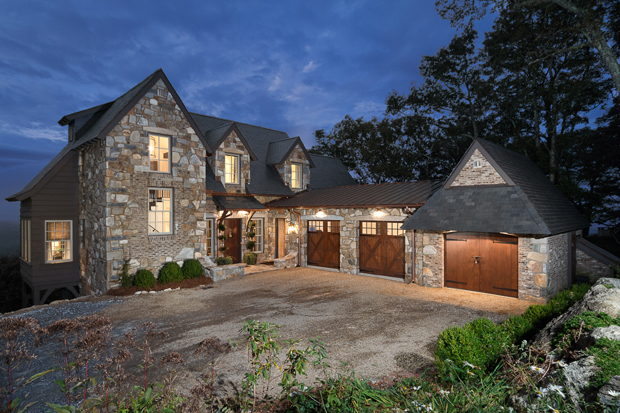 When a local couple residing in Highlands NC was searching for a new residence, they stumbled upon a beautifully crafted cottage with an amazing view. "The cottage seemed really impractical at first, 1500 square feet on three floors, but the architecture and the spectacular view got us hooked," the homeowners say (who wish to remain anonymous). The cottage, sited on one side of a three-acre lot off Highway 64 near the Jackson county line in Highlands with stunning views of the mountain range, was meant to be a guest home, but the original owner never got around to building the main house before selling the property.
On their first visit to the cottage, the couple didn't have the keys and couldn't see the inside of the house, but it didn't matter: they were already impressed and excited.
"We took in the views and the exterior of the house," they say. "It had been so well-thought-out, with a beautiful stone façade, a slate roof, finishes that people just don't use up here. It was honestly kind of over the top." The next morning their realtor texted and said she had the keys, and they went to take another look. To their great relief, the inside of the cottage was just as beautiful as they'd hoped. "I said to my husband, we have got to snap this up."
The guest house had been designed by one of the couple's favorite residential building designers in Highlands, Travis Mileti of Mountainworks, so they decided to purchase the property and have Mileti design the main house to their specifications. The resulting plan was for a comfortable 2500 square foot home, with the existing guest cottage directly adjacent. Both houses would, of course, boast stunning views of the Blue Ridge Mountains.
Once Mileti had drawn up the plans, it was time to find a builder. Harris Custom Builders fit the bill and quickly came on board.
Harris Custom Builders
Ben Harris founded Harris Custom Builders in 2001. "We've been in business for about 19 years and have operated here in the Cashiers-Highlands market for that entire time," says Harris. A second-generation homebuilder, he grew up in Alaska, where he learned the art of building houses by working alongside his father. He moved to North Carolina after graduating college, started his own company at the age of twenty-four, and has been growing it ever since. A relatively small company, Harris Custom Builders completes between eight and ten custom homes a year.
When they're in the middle of a build, Harris and one of his project managers are on the job site daily, making sure everything unfolds according to plan and keeping their clients at ease. By the time everything is said and done, their clients come away with not just a well-crafted home, but a lasting relationship with Harris and his team.
"We're very focused on customer experience, creating a relationship with our client, and making the home building experience as easy, fun and enjoyable as possible," Harris says. "Most of our clients are from out of town, as the Cashiers area is primarily a second- or third-home market, so we provide a full-service experience where people can come up as much or as little as they want."
Working with this couple was a little different since they were actually locals. Not only that, they were living on-site, in the guest house during the project. "In a lot of ways, it was nice," Harris says. "We had access to them for any decisions that had to be made. There was no lag time in getting them out to look at things."
Matching the new build to an existing home, one that was completed over ten years ago, was the biggest challenge Harris's team faced. "We had to source materials that matched it exactly and that was not an insignificant challenge," he says. "We didn't have contact with the original builder and we didn't have the same vendors, so finding things like the right stone façade and the particular brick that was used was very difficult. We ended up finding something that was almost identical, but we had to go through a lot of different options before we found the right one."
In the end, it was worth it. The new house looked just as good as the guest house. In some ways, it was even better.
The View of a Lifetime
The couple moved out of their guest house and into their new home in May of 2018, and they haven't looked back since.
"It's a small house but it lives big," the homeowner says. This is helped by the fact that the home boasts gorgeous views from every room, including the master shower. "Travis said, 'When you have a view like this, every room should take advantage of it.' So that's what he designed."
Mileti also made sure to situate the home on the land so it's close to the guest house, yet still private. "You can't see the guest house from the main house, and vice versa," the homeowner says. "You have the feeling from both houses that you're out there by yourself."
Harris has similar things to say about the project. "The house isn't huge, but it's very detailed. It was designed to have a timeless look, so it doesn't have a lot of those trendy or gimmicky architectural details you see everywhere. The slate roof and stone façade give it a beautiful old-world look. It could have easily been built 100 years ago. It was really fun to work on something so different from the local market."
Another reason the house as a whole feels comfortable, yet timeless, is thanks to the work of interior designer Patrick Tandy, of Tandy Design LLC, who put the finishing touches on the house. "His work is what made the house truly exceptional."
"I love sitting by an outdoor fire," the homeowner says, "but we knew from living here year-round that would be challenging. We're kind of exposed on the north facing slope, we get a lot of wind, so an outdoor fireplace wouldn't work." Instead, Mileti designed an indoor room that, thanks to copious windows, feels as if its outdoors. "There's a deck attached to that room with nice furniture to enjoy the weather in the summer. And, if we want to have an outdoor fire, we can always head to the guest house!"
His husband, an avid cook, enjoys the beautiful kitchen, which opens directly into the dining room for seamless entertaining. "We have a mudroom off the kitchen for when we're working out in the garden, a library and study, and another smaller living room upstairs for a little more privacy," the homeowner says. Another great detail is the shiplap in the home. On the main level of the house it's horizonal, while upstairs it's installed vertically to make the lower ceiling feel taller and more spacious. "It's a little more snug up there, which is nice."
The couple likes to sum up their home—comfortable and cozy, timeless and beautiful, with plenty of room for visitors—with a few simple words: "It's perfect for two people."
Plus, you just can't beat that view.
Resources
Home Builder: Harris Custom Builders, 828-547-0777, harriscustombuildersnc.com
Home Design: Mountainworks, 828-743-9677, mtnworks.com