History in a Home
01 Jun 2023
The Pines at High Hampton both breaks and creates tradition
By BRITTANY CONLEY
Photos by CHELSEA CRONKRITE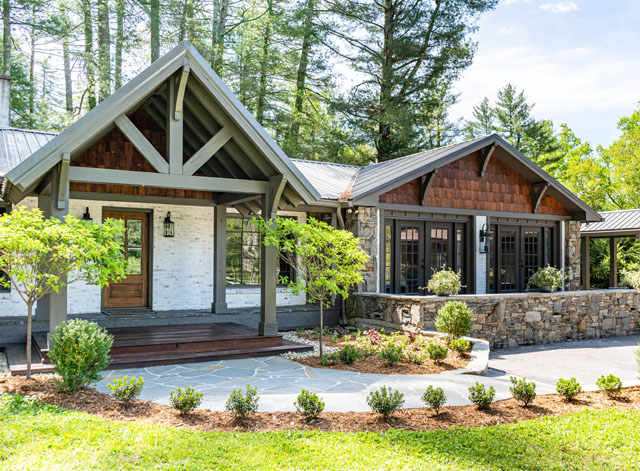 Nestled comfortably on Cashiers' historic corridor, among tall trees that seem to tickle the sky, sits a High Hampton home with a charming personality and story. Aptly named "The Pines at High Hampton," the home's history and reputation are uniquely entwined with Cashiers, as both the town and the home have hosted generations of families and are balancing change and modernization while staying grounded and being respectful to their roots.
Built in 1955, the home is not original to High Hampton, but it was a High Hampton original. To many people who had been long-standing members of the club, there was something about the property in question that left them a little puzzled. Some were, frankly, put off by the house in the beginning. "When I was a kid, I was not crazy about it being brick. It seemed out of place," says Beth Townsend, co-owner of McKee Properties and the agent who oversaw the most recent sale of the home. Now Beth sees the home in a renewed light. "But it is so well built, and the way it 'ranches' over the land it sits on is nice. Over the years I have learned to appreciate different [styles] over cookie-cutter homes. With mid-century modern being a thing recently, this house had a resurgence," she adds, specifically noting how much she loves the original metal-framed windows. Beth began coming to the Highlands-Cashiers Plateau at 12 years old, after her parents built a house in High Hampton. For such a common building material, it may seem odd that anyone would have such strong opinions about a brick home, but at the time, new homes rarely used brick in Cashiers–and especially High Hampton–with most homes having an aesthetic that would more seamlessly blend in with the woodland atmosphere.
Further contributing to the home's rather quirky reputation was the part-time resident who commissioned the home in the first place: a Florida cattle farmer and citrus grove owner by the name of Mary Keene, a philanthropist–and a bit of an enigma, too. "She had an impact here," says Ann McKee Austin, co-owner of McKee Properties and a local legend herself. "I understand she had a private plane, which was unusual for anyone up here at that time. She'd fly back and forth to Florida in that plane." While Mrs. Keene split her time between the Sunshine State and Appalachia, her generosity and contributions can still be felt around the Highlands-Cashiers Plateau. "She was a strong supporter of the Hampton Learning Center, which later evolved into Summit Charter School," says Ann.
As controversial as the brick ranch might have been when it was newly built, it did not stop Mrs. Keene from finding her place within the community. Ann McKee Austin recalls carefree childhood summers at the property when horseback riding lessons at High Hampton would culminate in the lush meadow right outside the Keene home in a large riding ring where kids would practice jumps. But the equestrian fun didn't stop there. Gymkhanas, an event of horseback races and games, were routinely held on Sunday afternoons in the same meadow. "There would be a kind of family tailgate atmosphere, and lots of games on horseback with prizes," says Ann, who recalled a couple of games involving whistling with saltine crackers and riding with an egg on a spoon while trying not to drop it.
With the passing of time, the home also passed hands. Beloved parties like the gymkhanas faded away and became fond memories shared between longtime friends over iced tea on the front porch during warm summer evenings. While things were changing at the aging Keene House, Cashiers saw its fair share of changes happening as well, with many new families coming into the area. Beth Townsend credits the plateau's superb climate and small-town atmosphere, along with the abundance of outdoor recreational pursuits as among the top reasons for such a boost to the population.
Among those who found themselves drawn to the Highlands-Cashiers Plateau were Bill and Misty Brennan, full-time residents of Chattanooga, Tennessee. After visiting the area, they, like many others, felt a deep connection with it and bought a vacation home in Highlands. While that home served their family well, they longed to be closer to High Hampton to enjoy the many amenities they and their children had come to love. "We'd been looking with Beth on and off for a couple of years. We weren't exactly sure what we wanted," says Misty Brennan. Ultimately, it was the home's proximity both to town and High Hampton that won over the Brennans.
At the time the Brennans purchased the home, it was already undergoing a massive renovation project. However, there were some additional renovations necessary to give the home the precise feel the Brennans wanted. "We wanted light and airy, while still remaining cozy. I wanted a lightened Ralph Lauren vibe, if that's a thing," says Misty, who is drawn to older homes with a lot of character–which this one has in spades. Preserving bits of the home's original charm, such as using knotty pine and stone, as well as maximizing the natural light, played a major role in the renovation decisions the new owners made.
One of the biggest changes the Brennans made was altering the master suite rather dramatically. "I didn't like how the original master suite was in the middle of the three bedrooms, and it had the least amount of natural light," says Misty. To solve this, the Brennans transformed the original, attached garage into the master suite of their dreams and added a detached garage.
Continuing the home's tradition of being an impeccable spot for outdoor entertainment, the Brennans also added a dreamy backyard patio and cozy outdoor fireplace. These additions, however, were not easy. "The original plans evolved because we were renovating during COVID, so we weren't able to get the materials or furnishings we wanted in a timely manner," says Misty, a frustration shared by many who took on home renovation projects during that time. But the Brennans forged on, working as best they could from their home in Chattanooga with those who handled the renovation. "Overall, we're happy with the project," says Misty, citing the family's excitement whenever they're able to come to High Hampton for some well-earned relaxation and to enjoy the many programs the club holds for members throughout the year. "My son is doing a golf camp this summer, so we'll be enjoying it for that time. We really just appreciate the quiet time of relaxing, hiking, playing golf and pickleball, and the occasional evening out for a nice dinner," says Misty.
The home, now affectionately known as The Pines at High Hampton, is, in a way, a mirror for Cashiers itself, with its interesting origin stories, its evolution, and its consistency as a beacon for hospitality and tradition. The Brennans, through McKee Properties, have opened their home to families who wish to make their own High Hampton traditions and memories. For more information on this beautiful vacation rental opportunity, please visit www.McKeeRentals.com.