Guiding the Way Home
06 Jun 2022
Cashiers Valley Real Estate is now serving the plateau
By Judy Royal
Photo by Shepardson Photo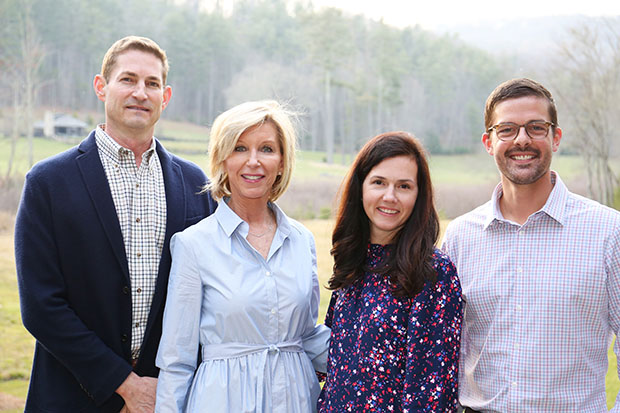 A new real estate company in the area launched in May, bringing together four partners who are eager to showcase the properties of the plateau.
Cashiers Valley Real Estate came together after two colleagues joined forces with two friends to start a new venture that would serve the entire Highlands-Cashiers Plateau market. Thomas Platt and Sarah Jennings have worked together at Lonesome Valley Real Estate for almost 10 years and were looking for ways to move forward as the development side of the business started to dwindle.
"We knew we wanted to start a general brokerage together that could serve both our Lonesome Valley clients as well as the general Cashiers-Highlands market," Jennings said.
Merrel Hattink, an Atlanta real estate agent for 27 years, became part of the equation when she decided to move to her Lonesome Valley home full-time. Then Philip Bradley, a longtime business owner and real estate agent who owns a house in Glenville, joined the team.
"This March I hosted the four of us at my house, and after that dinner, we knew if we worked together that we would have something special," Jennings said. "Cashiers Valley Real Estate will focus on serving real estate clients on the plateau with a fun, nurturing environment to help guide them through the process of buying and selling real estate in this paradise we call home. We each bring a different element to our partnership, and it has created a beautiful, symbiotic relationship. We don't take ourselves too seriously. Real estate is fun, and we want our clients to enjoy the process, even when it may hit a bump in the road."
Interest in the plateau is at an all-time high, so serving this bustling market was a no-brainer, Platt said.
"As like most towns and cities around the country, we are experiencing a level of demand never seen before," he said. "The word is certainly out about Cashiers and the surrounding communities, which has brought clientele from a wide radius. The overall desire for people to reconnect with family and friends and enjoy a slower-paced lifestyle has been a big driving force for the influx of new people to the area."
Cashiers Valley Real Estate intends to serve a variety of clients, whether they are looking for luxury vacation residences or their very first home purchase, Jennings said.
The business will stand apart due to its knowledge and expertise and be the "fun firm" to work with and for, Bradley added.
"I think we really want to go above and beyond our clients' expectations as well as the other agents we work with in this market," he said. "We believe we will be a very different kind of real estate firm. We all agreed that our personality has to be what clients see and feel when they are working with us. We want to be representing our mountain community the best we can and be a good first impression."
Cashiers Valley Real Estate will operate with a team approach, allowing each partner to work together and share his or her enthusiasm for the area and industry with clients, Hattink said.
"I love my clients and looking at homes," she said. "As a wanna-be architect, I love looking at any home and seeing the possibilities. From starting at building a home to renovating or finding that home that is move-in perfect, helping someone find their dream home is an amazing experience."
Like Hattink, Jennings said she has always been fascinated by the real estate industry.
"When our family moved to Cashiers, I began to understand the business side of developing real estate through my work at Lonesome Valley and with a husband who is a contractor," she said. "During COVID, I decided that it was finally time to get my license."
Bradley said he enjoys the variety of working in real estate.
"For me, I find that each transaction with a client is different in a refreshing way," he said. "No two deals are ever alike, and I like that unknown element in the equation. Finding the right property for that unique individual is like solving a mystery."
Platt said he is most excited about working with people to achieve their dreams.
"One of my favorite things about real estate is the people and clients I have met and the friendships that have been created," he said. "The entire process, from getting to know a client, then matching them with their perfect property and watching the excitement and joy when it all comes together, is a sight to see."
Cashiers Valley Real Estate
Partners/Owners: Philip Bradley, Merrel Hattink, Sarah Jennings and Thomas Platt
Services: Real estate brokerage in the Highlands-Cashiers Plateau market
Location: 45 Chestnut Square, Cashiers, NC
Website: www.cashiersvalley.com
On social media at @cashiersvalleyrealestate