Two newly refurbished hotels are rebranded as The Wells Hotel
By Christine Hennessey
Photos by Mia Yakel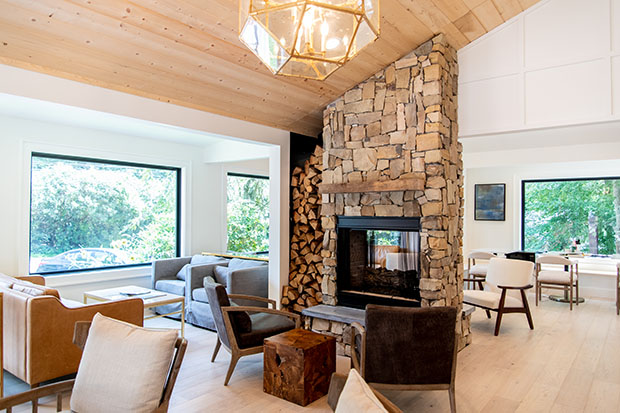 Mat Barnwell and Andrew Eddy are cousins with backgrounds in computer and hospitality technology. Over the years, they recognized the inefficiencies plaguing many hotels and spent hours discussing how they might do things differently. Rather than wait for an opportunity to test their theories, they found one.
In late 2018, they cold-called a boutique hotel in Highlands, formerly The Chandler Inn, and asked the owners if they'd be willing to sell it. The owners said yes, and after agreeing to a price, raising some funds, and taking out a small business loan, Andrew and Mat were co-owners of their very own 14-room hotel.
Despite their lack of direct experience in the hospitality industry, the pair felt they knew enough to give it a shot. "We like to say we've been exposed to some great tools that the technology industry uses on the backend that make us more efficient from an operational and revenue management standpoint," Andrew says. "We hope that's reflected in how we run our business and the experience we give our guests."
Their first step was to rebrand and renovate. "We were trying to come up with a name with the help of our wives," Mat says. "Barnwell is a family name that Andrew and I share, and our wives suggested 'Wells' for that family connection. We liked the sound of it and thought it had a bit of a mountain feeling. Wells it was."
With a new name in place, it was time to start a room-by-room renovation of The Wells Hotel Highlands. The walls were taken down to the studs, the bathrooms were completely updated with new fixtures and tiles, and new floors were installed in all the rooms. "The hotel is still rustic, but now it has more of a Nordic look," Andrew says. "Bright, airy interiors, earthy tones. We tried to maintain the original integrity of the structure and really focused on cosmetic renovations." They also paid attention to the little things, investing in luxury amenities like high-end bath products, Nespresso machines, in-room fireplaces and more to create a boutique experience at an accessible price.
Mat and Andrew both grew up vacationing in Highlands and are passionate about the area. As a result, The Wells Hotel Highlands is designed to appeal to guests who want to enjoy all the area has to offer. "We think of ourselves as the launchpad for those types of outings," Andrew says. "Stay with us, so you can go out and have adventures."
For Mat and Andrew, the adventure was just beginning. "We want to build a hospitality group that is different by delivering a cool, elevated product and an experience that is not cost prohibitive," says Andrew. "Once we figure out how to do that, we plan to repeat and replicate it across the southeast."
"Because of the growth in the area and excitement around what we're doing, we started looking at other properties," Mat says. "We recently found a great inn in Cashiers, the Laurelwood Inn, and did the same thing—cold-called the owners and asked if they were interested in selling."
The owners were, but there was a catch—they also owned Whiteside Brewing Company and wanted to sell both the businesses as a package deal. Even though Mat and Andrew weren't expecting the opportunity to run a brewery or a restaurant too, it was too exciting to pass up. They purchased both businesses last September and soon after rebranded and launched the Highlands property's sister hotel, The Wells Hotel Cashiers. The brewery has a new menu, will soon have an auxiliary bar in the field, and will host live music on weekends throughout the summer, all while Mat and Andrew continue to fine-tune their long-term vision.
"We sit on five acres in the middle of Cashiers, with the hotel on one side, the brewery on the other, and a field in the center," Mat explains. "The first stretch of the Cashiers Ramble, a pedestrian path that connects all of Cashiers, runs through the middle of the property, which we were excited to license to the Ramble. We're part of the community. We really want to emphasize that and create a true gathering spot for locals and visitors. We want to do community events, weddings, that sort of thing." To that end, the brewery is and will remain family- and dog-friendly, all while serving great food and drinks.
In the meantime, the inn is going through the same process as The Wells Hotel Highlands—a room-by-room renovation and full rebrand. The Cashiers location is a bit different, as it consists of a few different lodging offerings for guests, including traditional hotel bedrooms, log cabin suites, and a stand-alone, A-frame cabin, which adds up to 20 potential accommodations, each providing a unique look and experience. Which means it's just about time to find their next project.
"We like to say we have a grand plan," Andrew says, "but we're still in the early stages of figuring it all out." One thing is certain—they're off to a great start.
Both The Wells Hotel Highlands and Cashiers are available for summer and fall bookings, and Whiteside Brewing Company is open every day of the week.
The Wells Hotel Highlands
828.482.7736
www.thewellshotel.com
The Wells Hotel Cashiers
828.761.6289
www.thewellscashiers.com
Whiteside Brewing Company
828.743.6000