Abstract Realism by Karen Weihs
06 Jun 2022
Cashiers artist sculpts and layers paint on canvas, lets intuition lead the way
By Kim Henry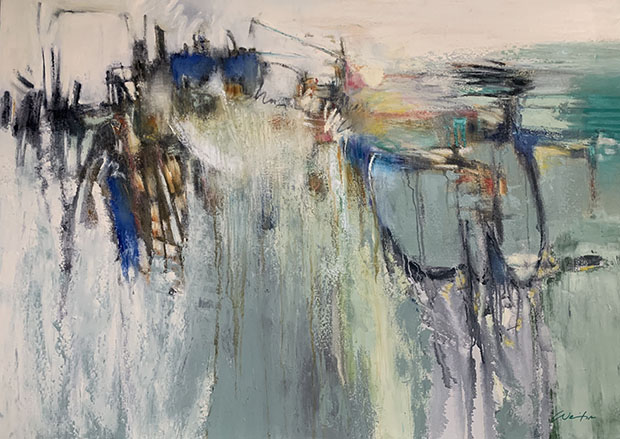 Mother, grandmother and a highly-accomplished artist with a deep connection to her own intuition, Karen Weihs' work speaks to the space between. The place where realism and abstraction meet, where we sense the landscapes that are being portrayed through a myriad of textures, colors, moods and light. The work transports us beyond the humdrum of daily life and shows us what's possible when we trust the process.
Born and raised in Charleston, SC, Weihs exudes the warmth that her charming hometown is known for. Graduating from college with a degree in graphic design led Weihs to work for the Sea Pines resorts, creating all of their marketing material. She loved her design days and met her husband at the company.
It was becoming a mother that inspired her to return to the canvas of her younger years.
"Once I started to paint again, I never looked back," smiles Weihs, palette knife in hand.
Charleston was also where Weihs co-founded the Waterfront Gallery with a collective of artists in 1992, stepping firmly into her artistic journey.
"Like every artist, I started by learning everything and then I gravitated towards what I really like. For me, that was abstraction," said Weihs, who recalls a specific moment when she realized that her so-called artistic 'mistakes' may not be such a bad thing after all. Once she began to reframe these frustrating moments and allow her sense of play to kick in, she gradually developed her very own technique.
Laying aside traditional paint brushes, Weihs picked up a palette knife and together with her creamy, water-soluble paint of choice, she began finding her own style. Layering the paint by using the knives, Weihs then adds a glaze to create even more depth, giving her work an almost 3D quality.
"I sculpt the paint," said this enigmatic artist. "I play with the paint, allowing myself to trust where we're going and letting my intuition lead the way."
This intuition led her all the way to the stunning mountains of Cashiers, where she used to bring her sons during the summer. Here, she was hired by the iconic Bascom: a Center for the visual arts, to run seasonal painting workshops and classes. Weihs continues to be a much-loved teacher, who encourages her students to dive into their creativity with joyful abandon and experiment with tools and techniques that empowers them to create their own unique work.
After traveling back and forth for many years, in 2003, Weihs and her European-trained professional chef husband sold their Charleston restaurant, left the Waterfront Gallery and moved to the mountains full-time. Weihs was then one of three artists who pioneered the Cashiers Plein Air Festival, to benefit the stunning Village Green, a 13-acre garden in the heart of the artistic mountain town.
As an award-winning artist, Weihs is currently represented by three galleries, continues to run workshops, has hosted numerous solo exhibits and is a member of multiple prestigious groups including American Women Artists and Contemporary Fine Arts International.
Regarded as the "Colorist of the South," Weihs' impressive body of work ranges from impressionistic images of soothing landscapes to abstract realism, where she captures the essence of a place while taking it into the realm of her own imagination. At the far end of her expressive spectrum are her abstract creations, where the fullness of her process really unfolds.
"These intuitive works come from beyond my mind. Viewers often see things in these paintings that provoke a reaction to something that they feel or know," Weihs said. She appreciates the way her emotionally-rich abstract work allows her clients to have their own experience of her art, to create their own stories.
Describing her technique as "painting the paint," Weihs' unchartered trajectory has been a deeply healing experience for her and is one of the reasons that she loves to share art and continues to teach.
From her passion for plein air (the term for painting outdoors), to her large-scale abstract paintings, to the occasional pet portrait, Weihs is on an artistic path that shows no sign of reaching a dead end anytime soon.
"I feel like we all have the capacity to move forward and push through any blocks to another facet of ourselves," she said.
We appreciate her reminder in a world that often demands a linear, cerebral approach—to "just keep trusting the process."
To learn more, visit www.karenweihs.com