Highlands Motoring Festival
06 Jun 2022
Classic cars to roll into Highlands
By Steve Ham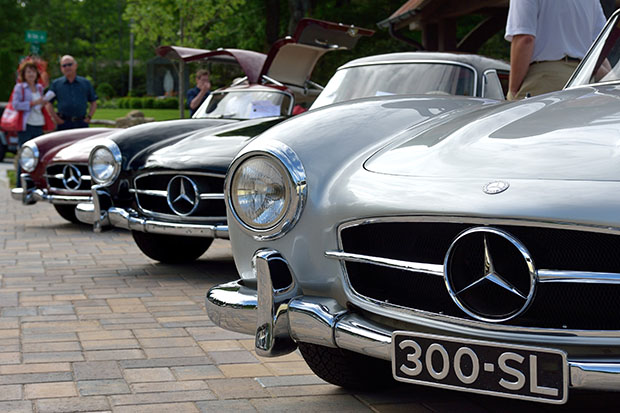 This June, Highlands will host the 15th annual Highlands Motoring Festival®. Classic car enthusiasts from all over the Southeast and beyond will celebrate their passion during the four-day festival consisting of five driving tours, two car shows, a "Movie Night in the Park," a classic car "Parade on Main Street" and evening social events.
Over the years, the festival has gained national attention and has been voted the best concours event by readers of Classic Motor Sports magazine and hosting an episode of Dennis Gage's "My Classic Car" television show, viewed by millions around the world.
Concours means best original condition, and in some cases, exceeding original condition.
The centerpiece event of the festival is "Cars in the Park" which will be held on Saturday, June 11 in the Kelsey Hutchinson Park. Eighty-five very special classic cars will be exhibited and judged. Entry is free to the public. For 2022, the featured marque will be "Porsche," where two dozen historically-significant and rare Porsches will be displayed. Other entries will include special classic cars from all eras, telling the story of over 100 years of automotive evolution.
Highlands Motoring Festival® is organized by a committee of volunteers and is a 501(c.3) non-profit. All the proceeds are donated to local human needs charities.
The use of Kelsey Hutchinson Park has limited the size of the show field allowing less than 100 cars, while other major car shows often accommodate several hundred show cars. To compensate, organizers have successfully upped the quality level of the show cars to world class. This will be a unique opportunity, right here in Highlands, to view cars that would normally only be seen in museums.
All proceeds from paid events, including a Saturday night gala fundraiser, are distributed equally to three local human needs-oriented charity partners: Literacy and Learning Center, R.E.A.C.H. of Macon County and the Community Care Clinic of Highlands and Cashiers.
Over the years, the festival has donated over $300,000, thanks to the support from the Town of Highlands, car enthusiasts and very generous corporate sponsors.
Town of Highlands and some very generous corporate sponsors. For more information, to volunteer and to register for the gala check out the group's website: www.HighlandsMotoringFestival.com
Schedule of Events
All events are free to attend aside from the gala fundraiser. Exact times will be listed on the festival website at www.highlandsmotoringfestival.com
Thursday, June 9
"One Lap of the Mountains"- Grande' Driving Tours
Movie Night in the Park
Friday, June 10
"One Lap of the Mountains- Speciale" Driving Tours
Auto Parade of Main Street- Kelsey Hutchinson Park
Welcome Party at the High Dive Tavern
Saturday, June 11
"Cars in the Park" Invitational Classic Car Show
"Gala Fundraiser" at Highlands Falls CC
Sunday, June 12
"High Octane" Car Show and Social Gathering