A House That Builds We
04 Apr 2020
Part two of Plateau Magazine's three-part series braids the past and future of the 2020 Designer Showhouse
By KAT FORD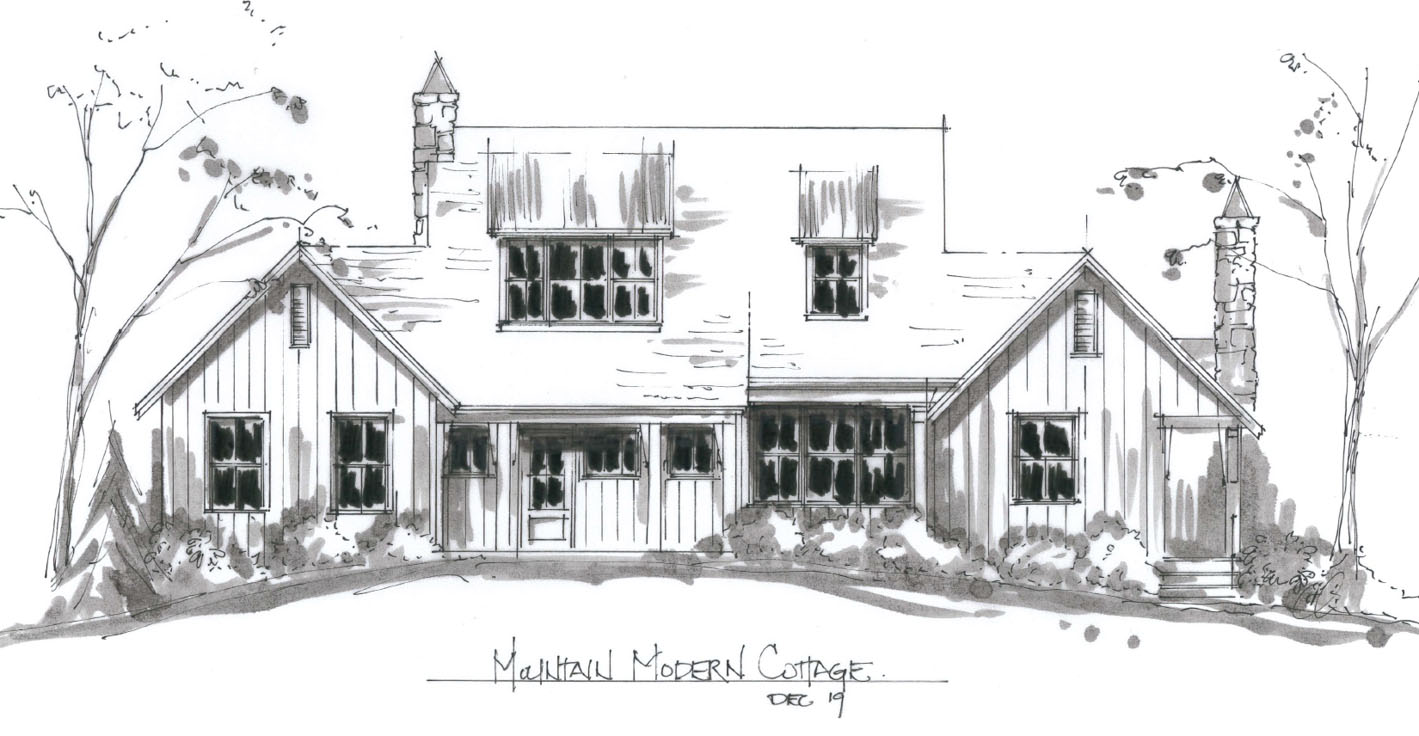 In the 1930s, James E. Warren decided to purchase a 300-acre tract off Whiteside Cove Road in Cashiers, NC and built a small picnic cabin as a getaway. This retreat was never meant to be a summer home. He constructed a bigger house on ten acres next to Cashiers Lake, which he used as his main vacation home to escape the hot Atlanta summers. As time passed and the larger house on Cashiers Lake eventually sold, four heirs of James E. Warren became the stewards of the 300-acre paradise on Whiteside Cove. One wanted a view, another a horse pasture, one desired to restore the small chestnut log cabin and start a family with his wife. Like so many others who have blessed future generations, the Warren family put 134 acres of common land into a conservation easement with the Highlands-Cashiers Land Trust to protect the beautiful ridges contained within the property. History has a way of winking back at us. In 1998, the lake house that James E. Warren built as his main vacation home, then known as the Hooper House under new ownership, became the location of the very first Cashiers Historical Society Designer Showhouse. The smaller chestnut log cabin, on the 300 acres down the Cove, was restored by Warren's grandson, John. John and his late wife Marsha have lived in the cabin since the 1970s, where they raised their daughter, Melissa, and son, Mark.
As a child growing up in a rural mountain community, Melissa's parents exposed her to many of the opportunities provided by the area's non-profits. The Cashiers Historical Society's Designer Showhouse was one of the ways she was introduced to design, textiles, and the world beyond her mountain home. Graduating from Highlands School, she went on to attend the University of Tennessee before spending ten years in Atlanta. By 2018 Melissa and her husband decided to move back to Cashiers and raise their family, like her father had done years before. A decade in marketing and fundraising had equipped Melissa with skills she was eager to share with her hometown, putting them to use as Development Director at Summit Charter School. But Melissa knew she could offer more, having volunteered with events like Atlanta's Tour of Kitchens, the Atlanta Symphony Showhouse, and working for the High Museum's annual Wine Auction. In 2019 Melissa Warren Hudson, heir of James E. Warren, agreed to volunteer as chair for the 2020 Cashiers Historical Society Designer Showhouse; the tradition started over two decades earlier in the Cashiers Lake home built by her great-grandfather.
Ben Harris did not grow up in North Carolina. The son of homesteaders, Ben was raised in a different type of wilderness, Alaska. It wasn't until he visited Cashiers with his new bride, Elizabeth, that Ben laid his eyes on the subtropical wonderland he would soon call home. It was here that the young couple would choose to construct their foundation. In 2001 Ben started Summit Building, which would later become Harris Custom Builders. Entrepreneurship is never easy, especially in a seasonal area. But over the years, Harris managed to persevere through the ups and downs, thriving on word of mouth and returning clients, assisting in building the community he loved.
Ben has been involved with past showhouses, sponsoring the event on and off for years. But until now, Harris Custom Builders has not had the chance to build one of the coveted showhouse properties. A principal developing partner for Silver Run Reserve, Ben was part of the leadership team that conceived the idea to engage the historical society when breaking ground in late 2019. Ranging from 12-acre Farm Estates to half-acre Mountain Cottages, Silver Run's residential offerings consider different lifestyles, families, and needs. This year's showhouse, a Mountain Cottage, is hardly a cottage at 3,000 square feet. Designed by award-winning Meyer Greeson Paullin Benson (MGPB) out of Charlotte, these four-bedroom developer-built homes are close to the center of the community and offer exceptional design, finishes, styling, and value. MGPB, responsible for the aesthetics of several esteemed properties on the plateau, also designed Silver Run Reserve's community buildings and architectural guidelines for lots that allow for owner-built homes. It's this type of attention to detail and community planning that families looking to create generational memories at Silver Run Reserve will appreciate. Families who hope to provide the same mountain paradise for their children that Ben Harris created for his.
With so many local hands on deck, this event is destined to be plateau magic. "I am truly honored to chair the 2020 Cashiers Designer Showhouse, benefiting our beloved Cashiers Historical Society," says Melissa Warren Hudson. "Celebrating and preserving our town's history for future generations is very close to my heart. With roots in Cashiers going back to the 1930s and now raising my young family here, it is important to me that I do whatever I can to help sustain CHS, one of our area's most vital organizations. This year's designers and the stunning backdrop of Silver Run Reserve are sure to make this the most beautiful and fun showhouse to date. Mark your calendars now; it will be the season's must-see event!" Hudson beams with excitement as she rattles off a list of opportunities that will be available. Fly-fishing, outdoor yoga, and hiking are all activities Silver Run Reserve owners envisioned for attendees enjoying the same recreational opportunities as future residents of Silver Run. Food and wine, shopping, demonstrations, and industry panel discussions are the types of offerings yearly attendees have grown to love
Opening on the evening of August 21st and lasting through September 5th, tickets are expected to go on sale in May; private benefactor tickets will be available in April. Those interested in furthering Cashiers Historical Society's mission and cultural programming through volunteering or sponsoring the Designer Showhouse can contact the historical society directly. With a reputation for touching the plateau in so many ways, preserving history while creating financial opportunities for local businesses, teaching children, and inspiring adults, it's clear that the Designer Showhouse is not merely built. It builds us.