The Blue Bike Cafe is quickly becoming a Highlands favorite
By BRIDGET CALLAHAN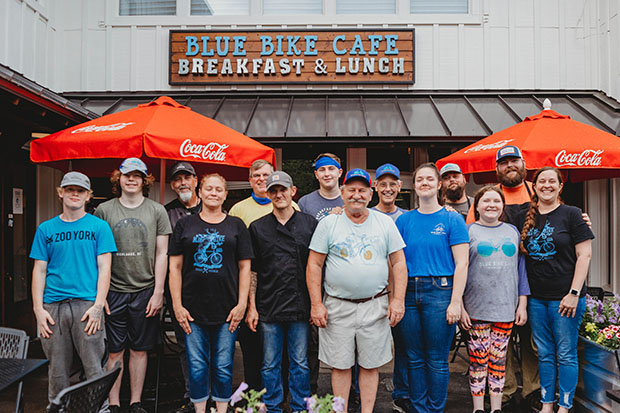 The Blue Bike Cafe opened up its doors in May of 2019, and quickly became a Highlands favorite. Despite a first year that included a worldwide pandemic and national shutdown, the little breakfast and lunch spot has stayed bustling and busy, with slightly expanded outdoor seating and a reputation for awesome plates without pretension.
Often in higher-end tourist spots, it can be the middle ground in dining that suffers. You want something better than a gas station coffee and Clif Bar, but you also don't want to settle in for a four-course brunch. And filling that middle spot is exactly why owners Kyle and Erin Bryner started Blue Bike. Kyle had previously been a chef at the Inn at Millstone and the Library Kitchen & Bar near Cashiers, later transitioning to a restaurant operations consultant with US Foods, where he advised other restaurateurs. Having spent his entire career supporting other people's culinary dreams, it seemed time to go after his own.
"A good friend of mine, Joel Johnson, owns the Rusty Bike Cafe in Clayton, GA," Kyle Bryner says. "Originally, we were gonna be the first franchise of the Rusty Bike. But after looking at franchise law, the cost, we decided against it on both our ends. It was too much of a headache to worry about franchising contracts and agreements, so Joel said why don't you just do your own thing, and you can use my menu as a starting point."
The Rusty Bike Cafe in Clayton is a much beloved, motorcycle-themed spot, complete with Harley and Triumph paraphernalia, and menu items named the Gearshifter and the Shovelhead. Bryner decided to switch it up a little for the NC version.
"I thought Highlands was a little more sophisticated, so I decided to go with bicycles instead. Joel brought in the first piece of decor from Clayton for us. It was an old Schwinn, all rusted, you could tell it had been a blue bike back in the day. Then when we were trying to decide on a new name, Joel said hey, well I brought that blue bike up here, why don't you just call it the Blue Bike. Now we love it, we can't picture it as anything else," Bryner says.
The Bryners kept most of the Rusty Bike's iconic menu, but over time Kyle has added his own touches, and slowly the Blue Bike has evolved into a menu that is unmistakable as his. There are the classic breakfast plates: the 10 Speed, the Commuter, the Tandem Bike, the Penny-Farthing. But that's really just the tip of the iceberg.
"I kept a lot of the breakfast staples. He's got a banana bread French toast that I don't think can be perfected any more than it has been," Bryner says. "So the breakfast plates, pancakes, the French toast, most of those are identical to his menu. A grilled pimento cheese sandwich with bacon and avocado, you can't go wrong with that. But I also added a few items like the chorizo omelette and the Low Rider, which is our take on a breakfast burrito with chorizo, eggs, avocado, pico de gallo. Slowly I've been forming our own identity up here. Every couple months I'll come out with a revision of the menu."
Bryner's true love is barbecue and he's been looking for new ways to work that into the menu with becoming a "barbecue place." It started with a reinventing of the old standard corned beef hash.
"Now I smoke corned beef with a pastrami rub on it for six hours. Then I'll cook it sous vide for 30 hours, and it makes the best pastrami I've ever had. And people were loving it." The new house-made pastrami also features on the Blue Bike's Reubens, which Bryner declares to be the best sandwich in Highlands right now. In fact, response has been so good, Bryner has been forced to upgrade his home smoker to a much bigger model, to avoid having to smoke corned beef every night. The new menu will also feature house-smoked turkey, smoked prime rib, and a smoked trout BLT.
But even if your passion isn't smoked meats, there's still plenty of beloved classics on the extensive menu. A perennial best seller is that famous banana bread French toast with fresh pecans and praline sauce. For a healthier start to your day, there's the popular Breakfast Power Bowl, a coconut milk chia seed pudding, topped with fresh berries, granola, and a special blueberry lemon compote that is also available for purchase at the cafe. And not to be a cliché, but their avocado toast, on thick wheatberry bread with queso fresco, pico de gallo, and a little lemon, is worth every penny.
After being a restaurant consultant for so many years, Bryner has found the experience of running his own a lot different. But he's confident in the future, and the lessons he learned from watching other places succeed and fail over the years.
"I was very nervous at first. I was conservative with my projections for the first year because I didn't want to be disappointed. But from the day we opened our doors, that first year? We've almost tripled what I thought we were gonna do. Even with the pandemic, we were still doing more than what I projected before I opened the doors," Bryner says. "People ask all the time if we're gonna get a bigger place. I'd rather have a line out the door and people waiting than empty tables."
The Blue Bike Cafe is open seven days a week, 7 am to 3 pm.