Waterfalls and Wanderlust
07 Aug 2020
Stand in awe of nature's beauty
BY Brittany Conley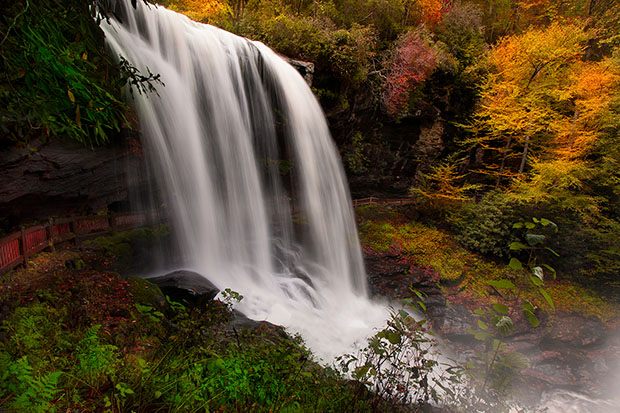 One of the first things people ask when I mention Highlands or Cashiers usually pertains to whether I've visited their favorite waterfall, promptly followed by a wistful sigh and a declaration they must return soon to see it again for themselves—especially so with the recent travel restrictions and shelter-in-place orders which have left all of us a little restless. One cannot deny the restorative effect of rushing water thunderously crashing onto the rocks below.
Famously, Western NC is a paradise for nature lovers and adventure-seekers, with waterfalls topping the must-see lists for most visitors. Some of the area's waterfalls are local legends, must-see stops for people year after year. Whitewater Falls is one of the most impressive, picturesque falls in the area. Dry Falls—which is anything but dry—and Bridal Veil are two popular roadside waterfalls that make viewing accessible for travelers with mobility issues. If somehow you haven't visited them, they certainly have my seal of approval. However, there are others in the area that are well worth the time and effort to explore.
Cullasaja Falls
Much like Bridal Veil and Dry Falls, Cullasaja is another great option for those with mobility issues, or for practicing social distancing, who would like the opportunity to take in the sights from the comfort of their car. About nine miles west of Highlands, you'll find this 250-foot cascade just off of US Highway 64. The view is especially lovely after a heavy rainfall or when framed with the blazing reds, oranges, and yellows of fall foliage.
There is enough space for three or four cars to park in the pull-off area, but be certain to get your vehicle totally out of the road. It's best to take in the scenery from this vantage point, even though you may notice a trail just over the guardrail. The trail is not official nor maintained and should not be used, especially by novice hikers, as it is extremely steep and riddled with trip hazards.
Glen Falls
According to local photographer Dylan Lytle, Glen Falls is a wonderful place for beginners to practice capturing waterfalls. "It's actually multiple falls in one," says Mr. Lytle. "So, it's easy to get good shots. If you get there during the week, there's also not a lot of people out."
One visit here is all it takes to see why it would be so attractive to photographers of all skill levels. Found a few miles from Highlands, the trail is just a little over two miles long, with plenty of vantage points to see the different sections of the waterfall. The trail itself is fairly gentle with switchbacks taking the sting out of the moderate elevation gain. While the journey is relatively short, when the scenery is this gorgeous it is easy to lose track of time so to be on the safe side, bring some snacks.
High Falls at Lake Glenville
This 150-foot waterfall in the Tuckasegee Gorge may seem like a mere trickle compared to others—except on the handful of days each year when the dam releases extra water. Not only does this turn High Falls into the most powerful waterfall in North Carolina, but it also becomes an absolute dream for kayakers. If kayaking isn't in your wheelhouse, that should not deter you from a trip to High Falls. Even during a normal flow, the surrounding area is as lush and beautiful as one could hope.
The trail that leads to High Falls, for both hikers and kayakers, is located in the Pines Recreation Area, just outside of Glenville. The three-quarters mile trek descends 650 feet, mostly along stone steps, making the return trip especially steep, but High Falls does not disappoint.
If you are interested in kayaking, please be aware this is not for beginners. It is important to follow all safety guidelines and only start your run after the double drop. Presently, you can still catch two release dates in 2020 on August 8th and 22nd, from 10 a.m. to 4 p.m.
Rainbow Falls
Located in the Pisgah National Forest in Sapphire, NC, Rainbow Falls is perhaps the most stunning on this list, naturally making it one of the most popular. There are plenty of large rocks that make for perfect picnic spots, just exercise caution when scrambling around on them. According to Nat Turner, EMT and public affairs officer with the Glenville-Cashiers Rescue Squad, most incidents in natural areas such as Rainbow Falls, occur when people aren't necessarily breaking any rules, but misjudge their footing—especially on slippery rocks. "Our strongest recommendation," Mr. Turner notes, "is to enjoy the falls, but stay on the marked trails and utilize the viewing stations."
The viewing station at Rainbow Falls in particular gives visitors a mesmerizing, bird's-eye view of the force of nature, as thousands of gallons of water tumble down the cliff face. Most days you will even glimpse a shimmering rainbow caught in the mist, hence the name. If you'd like, you can extend your day from here with hikes to two nearby waterfalls: upstream you will find Turtleback Falls, downstream is a smaller cascade and tranquil swimming hole called Hidden Falls which is a popular spot for families looking to escape the summer heat.
Have Fun, Stay Safe
Safety around waterways is of the utmost importance. As magical and irresistible as waterfalls are, accidents can happen. That is where the Glenville-Cashiers Rescue Squad comes in. "We have a team of the most dedicated, skilled individuals you could imagine," says Mr. Turner, noting that his team undergoes many hours of specialized instruction in everything from search and rescue to ropes courses to swift water rescue. "The men and women of the Glenville-Cashiers Rescue Squad stand ready to help those in need," Mr. Turner added.
Mr. Turner's pride in his team is warranted; they help dozens of people every year in an array of situations from sprained ankles, heat exhaustion, slipping on rocks, and more. Even though it is far preferable not to require the services of the GCRS, it is an immense comfort knowing this heroic team of devoted, highly trained volunteers is there to help whenever called upon.
Personally, I believe getting out and stretching our legs in nature is what we need right now as we ease ourselves into a post-quarantine world. It's difficult to define, but there's something about rivers and waterfalls that inspires a deep spiritual renewal, the cleansing of cluttered minds. As we continue to heal from this pandemic, it is important we begin to nurture our sense of wanderlust and find ourselves standing in awe of something truly beautiful—of which there is no short supply of opportunities right outside our doorstep.