Work in Progress
07 Aug 2020
Getting a second chance at life
By KIM HENRY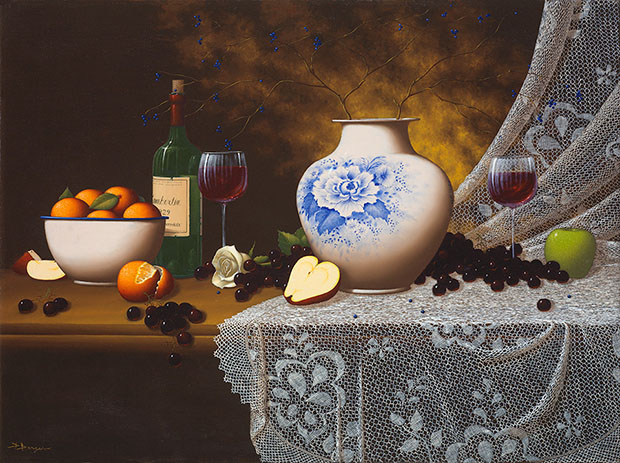 Some of us are lucky enough to have a pivotal moment in life where everything shifts gears and our destiny finally unfolds before our very eyes. Local Cashiers artist David Berger is one of these people. His prolific artistic journey went from very little on the horizon to him being a successful fulltime artist when, at the age of 31, a life-altering event reset his path. His story is as inspiring as his sweeping landscape oil paintings and heartwarming animal portraits.
Berger had zero art training in his childhood and never really got along with school, which led to him being expelled in 10th grade. He attempted to go back to school to study architecture, but the math aspect of the course wasn't a good fit either. "After that I kind of went about my way, just meandering along for around ten years," remembers Berger. Working in restaurants and moving around the country, Berger had no connection with the world of art whatsoever. "If someone had said, let's go to a museum or art gallery, I'd have said, no thanks!"
Thankfully one day in 1988 at the age of 31, Berger acknowledged that he needed help with his drinking issue and checked himself in to a rehab program in Orlando, Florida. Although the program was officially for 28 days, Berger ended up living there for 14 months. While there, he noticed some watercolor paints that were lying around and he began to 'dabble.' Once he left the rehab center, vocational rehabilitation suggested that he get a job in a gallery and he managed to find work in a picture frame shop. This led to him taking the last space in a 9-week oil painting class, and the rest, as they say, is history.
"After the first class, the teacher came to me and said, I think you have something, you've got talent," smiles Berger humbly. Long story short, this opened up door after door for this now prolific and talented fulltime artist and gallery owner. Berger met and married the love of his life, began raising their children and hanging his work in local bookshops and art venues. It took time for his precise still life pieces to gain recognition but his persistence gradually began to pay off.
Attending outdoor art festivals across the country, Berger's career began to flourish as his technique developed. The next step came when he was on vacation in the mountains of North Carolina with his family and they decided to buy a piece of land. "We always loved the mountains and just happened to meet a realtor sitting at lunch one day!" recalls Berger, who seems to have a knack for being in the right place at the right time.
Having made the move to the mountains, his work evolved into portraying the stunning landscape around him. He loves to use big canvasses - 'the bigger, the better' – 5'x10' and 14'x16' being among his largest. Unlike lots of other artists who have to navigate how to sell the work they actually want to do, Berger actively likes to collaborate with his buyers and create customized installation pieces. "I really enjoy discussing and designing with my clients. I've got this thing that I really want to do what YOU want, which is quite unusual in the arts world!" smiles Berger. Another aspect of his commission work are his amazingly lifelike animal portraits. Having finally agreed to do a picture of a friend's dog in 2017, this branch of his art took off.
The next step in his ever-unfolding journey presented itself to Berger in the way it seems to do for him. "I'm a prayerful person and I ask for guidance," Berger explains as he recounts how he met a person who offered him a space in which to open his own gallery. Sure enough, a few months and a renovation later, Mountain Mist Gallery was opened in Cashiers. Hosting a plethora of artists, including his own work and that of his wife, Julie, Berger also offers oil painting classes and workshops from the gallery. Creating a tranquil environment for artists to thrive within, Mountain Mist Gallery sounds like a special place to visit. "It took some time to make it work, but one thing is that every artist in our gallery has a very kind heart."
Berger's inspirational story is living proof that we can turn things around at any point. The picture of his life before and after his rehab stay in 1988 is profound. From a lost soul with little direction to a gallery owner, successful artist, husband and father, David Berger's beautiful work emanates the peace and gratitude he clearly carries with him on a daily basis.