Western North Carolina's First Lady
11 May 2020
Gertrude Dills McKee
By CAROL M. BRYSON, Author and Historian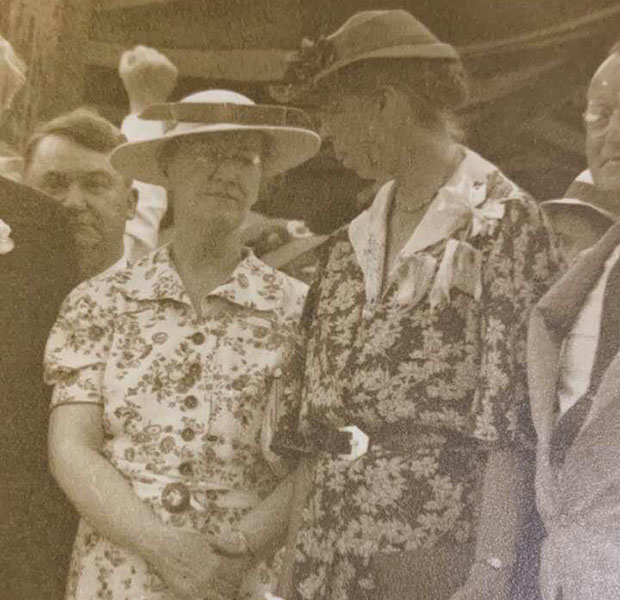 Born and raised in the mountains of Western North Carolina in the northern section of Jackson County in the tiny town of Dillsboro, Gertrude Dills McKee was a natural-born leader. Her father was William Allen Dills, the founder of Dillsboro and a member of the North Carolina General Assembly.
Gertrude was the second of three daughters of William and Alice Enloe Dills, Minnie, Gertrude and Beulah. She was president of her class at the Peace Institute in Raleigh, NC. She graduated at 24 years old with First Honors after which she became a teacher at the Dillsboro Graded School. Eight years later, a courtship developed between her and a local civic leader and widower from the county seat of Webster in Jackson County, Ernest Lyndon McKee, Sr. Lyndon was 14 years older than she when they married in 1913. He was already established as a successful local businessman running a tanning company, a lumber supply company, the Dillsboro and Sylva Electric Company and was a vice-president of a bank. In 1922, he purchased the lands of the Wade Hampton III heirs in Cashiers, NC, expanding it with a golf course and new hotel called the High Hampton Inn.
Lyndon gave Gertrude the freedom to make her own way and best fulfill her life ambitions. She started out serving on various local committees and soon became an officer and president of multiple local and statewide organizations such as the Southeastern Council of the General Federation of Woman's Club and the NC Division of the United Daughters of the Confederacy. In November of 1926, as President of the Southeastern Council of the General Federation of Woman's Club, she introduced an adopted resolution in favor of establishing the Great Smoky Mountains National Park.
She was also a member of the State Board of Education and served on a commission to consolidate three NC colleges, including the Western Carolina Teachers College, now known as Western Carolina University. A building on the WCU campus was named for her. Later she received an honorary doctorate degree from the Woman's College of the University of North Carolina, now known as UNC in Greensboro, NC.
Gertrude's most notable achievement was being nominated by the North Carolina Democratic Party to run for state senator. She was elected with a high majority vote in 1930. It had only been ten years since women had been given the Right-to-Vote in America. Her major concerns centered on extending the number of years required for children's education from a 6th grade education to an 8th grade education. She led efforts to control the practice of using child labor in manufacturing plants, making it a law that the child had to be at least 16. She sought to bring about welfare programs to help the poor in their later years by being an advocate of creating a Social Security program. She had firm beliefs against the use of alcoholic beverages and argued taxation issues. Being the only woman among prominent male legislators, Gert learned quickly that she had to become a good orator in order to make a stand on her issues.
Her wit and charm was compounded by her womanly graciousness and intellect. Outgoing and chatty, she befriended anyone she met with her smile and unselfishness. She felt a keen sense of duty of all the citizens of North Carolina and was re-elected to serve for three more terms. Just 25 days after being elected for her 4th term in 1948, she died from a heart attack in her home in Sylva and was buried in the Keener Cemetery. She was only 63 years old.
When Gertrude was asked what she was most proud of, her response was that in spite of "all of these outside duties, she brought up three fine mountain boys and made a comfortable home for them and their father."