Events Calendar April-May 2020
04 Apr 2020
Looking to fill your social calendar?
We've got the rundown on what to do and explore.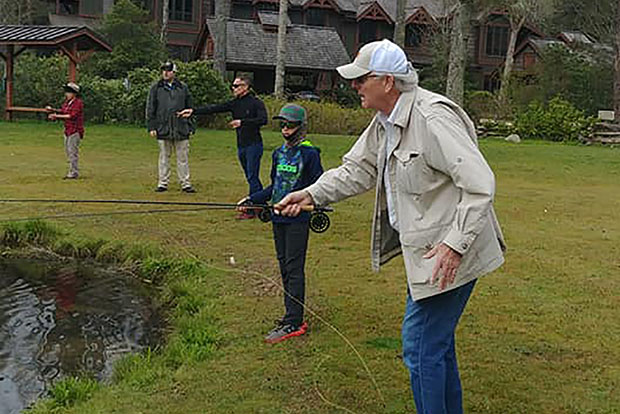 The 10th Annual Three River Fly Fishing Festival
April 30 – May 2
Three River Fly Fishing Festival is celebrating their 10th anniversary this year and they are looking forward to breaking the fundraising record of $20,000 for the Town of Highlands Scholarship Fund set in 2019. Expecting around 30 teams to participate, the opening night reception and casting competition will be at Lullwater House in Highlands, NC on Thursday, April 30. Jason Meador, the Aquatics Manager at Mainspring Conservation Trust, will give a free lecture on Stream Science at Highlands Nature Center, at 4 pm on May 1. This event will be followed by an evening fundraising performance of Trout Fishing in America at the Highlands PAC at 7:30 pm. A free public casting clinic will take place at Harris Lake on May 2 at 10 am followed by the closing night banquet dinner at Midpoint. Contact Hilary Wilkes at hilary@highlandhiker.com for more information (828) 526-0441 www.highlandhiker.com
ONGOING / MONTHLY
Exhibitions
The Bascom: A Center For The Visual Arts
Monday – Saturday 10 am – 5 pm, Sunday 1 pm – 4 pm
Current admission free exhibitions include: Narrative / Abstraction / Iteration (showcasing works by 19 female artists selected by guest curator Jean McLaughlin, former Executive Director of Penland School of Crafts); Three Potters Retrospective (highlighting past artists from the successful decade long event); Women Artists of the Permanent Collection (recognizing the 100th anniversary of the 19th Amendment through works from The Bascom's permanent collection by women artists).
Cashiers Historical Society
Beginning May 8th, Monday – Saturday 10 am – 4 pm
Votes for Women: The Struggle for Political Equality
Family Experiences
Highlands Biological Station (828) 526-2602 www.highlandsbiological.org
Fridays, 10 am - 11 am: Knee High Naturalists
Families with young children (suggested age 3-5 years) are invited to combine stories, walks, and activities for their little ones. Free, adults must attend with their children.
Hudson Library (Highlands) (828) 526-3031
1st Wednesday at 3:30 pm: Children's/Family Movie
Thursdays at 10:40 am: Family Storytime - Best for children 3-6, open to all.
Thursdays at 3:30 pm: Kid Zone - Best for children in grades K-3, open to older and younger participants.
Albert Carlton-Cashiers Library (828) 743-0215
Tuesdays at 3:45 pm: A monthly activity for early elementary age children to encourage imagination and reading for pleasure.
Wednesdays at 10 am: PreK Storytime - For children 0-5, featuring books, crafts, and songs.
Happy Hour
Thursdays
Join Meritage Bistro in Highlands for wine tastings (5 selected wines weekly) and complementary tapas, $10 per person. 4 pm – 5:30 pm. (828) 526-1019
APRIL
Great Art on Screen: Leonardo
April 10
The Highlands Performing Art Center and The Bascom: A Center For The Visual Arts present Great Art On Screen: Leonardo – 500. Through the use of decades-long studies and research by leading international experts, technicians and engineers, this film exclusively analyzes the theories and modern implications behind da Vinci's work, allowing audiences to witness the genius of Leonardo with new and insightful perspectives. Tickets $16. (828) 526-9047 www.highlandsperformingarts.com
Easter Weekend at Old Edwards Inn and Spa
April 11 – 12
Leave routine behind and experience the splendor of Mother Nature in the relaxed elegance of Old Edwards Inn and Spa. Enjoy a leisurely brunch at Madison's Restaurant and participate in any or all of the fun weekend activities, including Easter egg decorating and bonnet making, Easter brunch, a visit from the Easter Bunny with an Easter egg hunt, and face painting! (866) 526-8008 www.oldedwardsinn.com/eastercelebration
An Evening with Clint Black
April 17
Black surged to superstardom as part of the fabled Class of '89, reaching #1 with five consecutive singles from his triple-platinum debut, "Killin' Time." Perhaps most impressively, Clint wrote or co-wrote every one of his more than three dozen chart hits, including "A Better Man," "Where Are You Now," "A Good Run of Bad Luck," and "Nothin' But the Taillights," part of a catalog that produced 22 #1 singles and made him one of the most successful singer/songwriters of the modern era. (828) 524-1598 www.greatmountainmusic.com
Native Stream Banks with Southern Highlands Reserve
April 19
Protecting our streambanks protects water quality, wildlife and natural beauty. This presentation is designed to help owners of streambank or riparian properties understand ecological concepts that will not only enhance their property but also protect water resources. Learn about why native plants are vital for protecting our streambanks, the benefits of riparian zones, how to assess your own property, and understand the natural processes that are occurring in your water, soil, and plants. 4 pm. (828) 877-3106 www.headwatersoutfitters.com
EcoTour: Brushy Face to Satulah Hike
April 20
Join the Highlands-Cashiers Land Trust for a guided hike from their newest public trail at Brushy Face Preserve to their oldest conserved property at Satulah Mountain Preserve. You'll hike from an old growth forest valley with large white pines and trickling streams, up through a ridge-top old growth forest, and end at the rocky Satulah summit where you'll experience breathtaking wide-range views that can't be compared. Registration is required for this hike. (828) 526-1111 www.hicashlt.org
Exhibition Reception
April 24
The Bascom: A Center For The Visual Arts invites members of the community to the exhibition reception of Narrative / Abstraction / Iteration and Women Artists of the Permanent Collection. Light refreshments will be provided. 5 pm. (828) 526-4949 www.thebascom.org
Tasting Great Wines Under $20
April 25
Drop-in the Highlands Wine Shoppe from 1 pm – 4 pm to enjoy this free tasting of delicious wines at affordable prices. (828) 526-4080 www.highlandswineshoppe.com
Highlands Bioblitz
April 26
Highlands-Cashiers Land Trust and the Highlands Biological Station will co-host a Bioblitz in honor of Earth Week. Community members and visitors of all ages are invited to work together with experts to collect and identify the many kinds of flora and fauna that call Highlands home. You will explore both the Highlands Botanical Garden and HCLT's Ravenel Park, home to Sunset Rock. (828) 526-1111 www.hicashlt.org
MAY
Here Comes The Sun Festival
May 1-2
Lazy Hiker Brewing Co. in Franklin, NC is hosting a two-day music festival with vendors, food, and giveaways. What started out as a party with a few guests has become a weekend of prime performances with supreme musicians from all over the Southeast! (828) 349-2337 www.lazyhikerbrewing.com
Yoga by The Lake
May 4
Free to the public, Highlands Biological Station has partnered with Yoga Highlands to bring you Yoga by the Lake. Bring your yoga mat and join Rachel Kinback (CYT 500) of Yoga Highlands for yoga at HBS's newly completed north campus by Lindenwood Lake. Come connect with nature and unwind your mind and body. (828) 526-8880
Great Art on Screen: Hermitage
May 8
The Highlands Performing Art Center and The Bascom: A Center For The Visual Arts present Great Art On Screen: Hermitage – The Power of Art. This spectacular documentary event tours through St. Petersburg's State Hermitage Museum, a wonderful complex of buildings with the largest collection of paintings in the world, to retrace two and a half centuries of art and culture. Tickets $16. (828) 526-9047 www.highlandsperformingarts.com
3rd Annual Airing of the Quilts
May 9
After a long winter with families snuggled under layers of warm handmade quilts, the warmer weather of springtime gave mountain women a chance to freshen up and air-out these essential covers. To honor this tradition, the Appalachian Women's Museum displays up to 65 quilts on the porch, clothesline, and quilt racks while offering children's activities, demonstrators, a raffle and scavenger hunt, live mountain music, and a scrap fabric exchange. Individuals are invited to register their own quilts in advance which will be displayed along with those loaned from the Western Carolina University Mountain Heritage Center and from the Monteith sisters. (828) 482-5860 www.appwomen.org
Drew Holcomb & The Neighbors
May 9
Highlands Festivals, Inc. presents an evening of live music with Drew Holcomb & the Neighbors in Kelsey-Hutchinson Park. From the team that brings you Highlands Food & Wine, this eighteen and over concert will offer fabulous live music. Beer, wine and spirits will be available for purchase throughout the event. 6 pm. www.highlandsfestivals.com
Mother's Day at Old Edwards
May 10
Arrange for champagne, handmade chocolates, flowers from Oakleaf and other surprises for the special mother in your life when you treat her to brunch or dinner at Madison's on Mother's Day. Whether upon arrival or delivered to the table, she will surely feel cherished by a level of attention that all mom's deserve. Afterward, she can browse through a beautiful array of designer jewelry, home accessories and apparel at Acorns Boutique. To really show your appreciation for all she does, consider treating her to relaxation and indulgence with an experience at The Spa. (866) 526-8008
www.oldedwardsinn.com/mothersday
Charity Mountain Run Benefitting Jackson County Special Olympics
May 16
This is not a 10K race, it's a 10K CHALLENGE! With over 1,100 feet of vertical gain and more than 1,000 feet of vertical decent, this is truly a mountain run! You will have to earn your finish pottery and cold beer! Stick around after the run to enjoy all the amenities that make Bear Lake Reserve special, runners can rent boats and SUP boards to explore the lake. (828) 293-0770 www.bearlakereserve.com
Annual Upper French Broad River Clean-Up Day
May 16
The French Broad River Clean up remains the best volunteer gig in town: a free canoe ride down the river, along with a complimentary breakfast, lunch, and all the garbage bags you can fill. Since the inception of "The Upper French Broad River Clean Up Day" in 1992, volunteers have gathered year after year collecting tons of trash, old tires, microwaves, and more! 9 am – 5 pm. Interested volunteers and sponsors call (828) 877-3106 www.headwatersoutfitters.com
Rain Check: Water on the Highlands Plateau
May 16
From beautiful waterfalls to the rain that makes the plateau a temperate rainforest, water plays a vital role in our lives and ecosystems. This one-day educational event will begin with a lecture from award-winning environmental journalist, Cynthia Barnett. Following the lecture, attendees will enjoy lunch at the Highlands Biological Station's new north campus area and then depart on field trips including waterfall hikes, stream surveys, and a visit to the Coweeta Hydrologic Laboratory. (828) 526-2602 www.highlandsbiological.org
Road Scholar Switchbacks and Summits
May 17 – 22
Hosted by The Mountain Retreat and Learning Center in partnership with Road Scholar, hike through sections of the AT with a local guide Brent Martin, owner/operator of Cowee, NC based Alarka Institute and Expeditions. Working in conservation for 25 years and serving for over a decade as the southern Appalachian regional director for The Wilderness Society, he lectures on 18th-century American naturalist William Bartram and the cultural and natural history of western North Carolina's Little Tennessee River Valley. Top off an incredible week of hiking with evening programming, including Appalachian music and farm-to-table feast. (828) 526-5838 www.themountainrlc.org
Books & Bites
May 20
The Hudson Library kicks off their Books & Bites author program with the first event of the season at 12:30 pm. Best-selling author Susan Meissner will talk about her latest book, The Last Year of the War. Books will be available for purchase and signing at this free event. Books & Bites programs, including free light lunch for attendees, is provided by the Hudson Library Board of Trustees. (828) 526-3031
Fox Brothers Disco Pig Party at The Farm
May 21
The Farm at Old Edwards presents award-winning Atlanta restaurant, Fox Bros. BBQ. Fort Worth-natives, twin brothers and co-pitmasters Jonathan and Justin Fox are known for their unique Southern-style barbecue infused with Texas flair. They've earned raved reviews from Southern Living, Travel + Leisure, USA Today, and Sports Illustrated, and have been featured on The Travel Channel's "Bizarre Foods with Andrew Zimmern: Southern Barbecue Trail" and Food Network's "Diners, Drive-Ins, and Dives." The brothers have cooked at the James Beard House in New York City on three different occasions and Fox Bros. BBQ is the Official BBQ of the Atlanta Falcons. Tickets $145 per person, call for reservations. (828) 787-2635 www.oldedwardsinn.com/foxbrothers
The Unexpected Guest
May 21 - 24, 28 – 31
Highlands Cashiers Players' last play of the 25th season is the thriller, The Unexpected Guest by Agatha Christie, directed by Donna Cochran. The play is set in a foggy estate in Wales when a stranger walks into a house to find a man murdered. Nothing is as it seems and suspicion and intrigue waft like the fog through the night air. Plan to come and watch the mystery unfold. The Unexpected Guest will be performed at the PAC. (828) 526-9047 www.highlandsperformingarts.com
Opening of Zachary-Tolbert House
May 22
Join the Cashiers Historical Society as they open the Zachary-Tolbert House for the season and discover service opportunities during their Volunteer Brunch. CHS is known for its community education events for adults and children and its preservation effort around Cashiers, tour the campus and explore all the ways CHS needs your help! (828) 743-7710 www.cashiershistoricalsociety.org
Memorial Day Weekend at Bear Lake Reserve
May 22 - 25
Bear Lake Reserve has a long lineup of activities and events prepared over Memorial Day Weekend including a lakefront beach bonfire, pool party, golf tournament on their mountaintop Nicklaus Design® course, axe throwing, and an outdoor festival and concert featuring Matt Stillwell. Vacations: (828) 293-3455 www.bearlakereserve.com
38th Annual Plant Sale
May 23
Join the Mountain Garden Club for their 38th Annual Plant Sale, which will start at 9 am and last until noon. This year's focus will be on creating pollinator gardens using native plants. Pollinators such as bees, butterflies, and birds are responsible for one out of every three bites of food we take each day. More nectar and pollen sources will help improve the health and numbers of these pollinators. Proceeds from the plant sale help fund local projects as well as awarding renewable scholarships for students taking their studies to a higher level in several environmental-based academics. www.highlandsmountaingardenclub.org