Tradition Reimagined
02 Aug 2022
Cashiers Designer Showhouse to feature timeless classic design
By Mandy Murry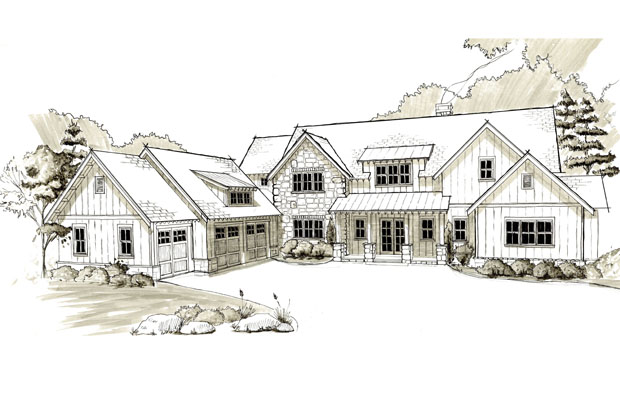 Distinctive and classic, the Cashiers Designer Showhouse is celebrating its silver anniversary. In its 25th year, the event honors lifestyle and living on the plateau. Ten days filled with home style, inspiration, creativity, education and gatherings will take place from Aug. 26 – Sept. 4.
The annual tradition benefitting the Cashiers Historical Society will showcase a home by designer and builder Dillard Jones. The four-bedroom, four-and-a-half-bath mountain retreat is located in Fieldstone, the newest neighborhood of the prestigious High Hampton Club in Cashiers.
In collaboration with several distinguished designers from across the Southeast, finishing touches and unique spaces provide a special haven for family and friends to spend quality time creating memories. The home design unlocks the magic of playfulness and instills the vibration of bringing the great outdoors indoors.
More than an event to show off design and build elements, the anticipated spectacle brings together like-minded individuals to converse, get inspiration, discover new ideas and rediscover old traditions in creating space and entertaining in the home.
For two years, many of us were at home more than we were not. This time has us re-evaluating priorities and plans, which has us considering and updating the use of space inside and outside our homes. Entertaining and inviting guests over for small bites, dinner, and happy hour is part of our human experience and something many of us enjoy more these days.
Longstanding traditions of saving the best things for special occasions are currently being challenged, inspiring all of us to use the beautiful things we have typically kept on display or hidden behind a door.
The Cashiers Designer Showhouse has put together a collection of events and speakers that provide the opportunity to explore new and old ideas. Tickets include a tour of the Showhouse, where attendees can soak in all the thoughtful design of each curated space, as well as additional ticketed events with dynamic speakers.
The Showhouse is the signature fundraising event of the Cashiers Historical Society, supporting the main campus of four historic structures, a pavilion, beautiful trails, and an heirloom garden and apple orchard. The historical society also provides annual heritage activities throughout the year to the larger Cashiers community, local schools, and homeschool students. The society board of directors, members, staff, and volunteers have put a lot of thought into creating this year's designer showhouse, a world-class presentation.
Ellen Hughes, co-chair of the event, shared, "Our team has put together an exciting 10-day event. The Showhouse is spectacular, the talented designers are exceptional, our daily special events all relate to design and entertaining and the merchants offer a wide choice of items. It's been a fun time for all of us involved, and we can't wait for August 26!"
Designed for today's family, 12 designers have worked together to interpret and highlight the rooms and spaces that create the comfort and style of now. Here is your official guide to each room and the force and source behind it.
Front Porch, Foyer, Powder Room:
Douglas Hilton, DWH Interiors, 404-550-5484 - Atlanta, GA
Master Bedroom:
Susan Wojnar, Jason Bell, Samantha Feuer, Blackberry Farm Design, 865-380-2269 - Tennessee
Master Bath and Closets:
Stephanie Jarvis, Stephanie Jarvis Inc. 904-537-0051- Jacksonville, FL
Great Room:
Holly Laughridge, Old Edwards Inn, 828-301-8961 - Highlands, NC
Carolina Room:
Joan Anderson, Joan Anderson Interiors, 828-747-0836 - Cashiers, NC
Dining Room, Kitchen:
Susan Vernon, Tribus Interior Design, 864-449-0431 - Cashiers, NC
Utility and Pantry:
Lisa Wester, Lisa Wester Interiors, 205-966-8346 - Birmingham. AL
Office:
Lynn Monday, Lynn Monday Home, 828-577-0715 - Cashiers, NC
Bedroom #4 and Bath:
Nellie Howard Ossi, with Mrs.Howard, 904-710-1421 - Jacksonville, FL
Loft and Lookout:
Melanie Couch and Nancy Dyleski, Spruce Interiors, 770-532-4800 - Highlands, NC
Bedroom #2 and Bath:
Francie Hargrove, Francie Hargrove Interiors, 478-256-8088 - Cashiers, NC
Bedroom #3 and Bath:
Linda Pryor and Lauree Leath with Atelier Maison, 828-743-8138 - Asheville, NC, and Cashiers, NC
Back Patio:
Louise Johnson, Louise Johnson Interiors, 864-680-2815 - Spartanburg, SC
Beyond the gatherings and education, the showhouse itself is one not to miss.
Special event dates you will want to add to your calendar- cue Alexa, Siri, or your trusty pocketbook:
Thursday, August 25 - Drew English (the Dahlia gardener of High Hampton Resort) and Philip Bradley (Partner-Broker, Cashiers Valley Real Estate) will host the Opening Night Party. The celebration kicks off with the "Cashiers Asado," a live cooking experience of curated grilled meats and vegetables, prepared by W. James Johnson, author of Asado: A Southerner's Journey into the Heart off Argentine BBQ and his team of "Los Gauchos," along with the delicious accompaniments of Epting Events. The tradition of the Argentine, reimagined in Cashiers, will also feature live music by "The Solution." Surely a beautiful evening on the Plateau is in store for all those who attend! For tickets, visit
www.cashiershistoricalsociety.org.
Monday, August 29, 2 p.m.- Jason Bell of Blackberry Farm Design will speak at The
Pavilion at High Hampton. Bell will detail how his team combined the history of
classic North Carolina mountain style with contemporary updates to bring the
property into the present and embody the Blackberry Farm Design hallmark of
making every space feel like home. Tickets are $75 per person and include
a lecture and a sumptuous selection of desserts.
Wednesday, August 31, noon- Keith Smythe Meacham will be the featured special guest at The Chattooga Club, presenting "Entertaining at Home: An Exercise in Disaster & Delight." Reed Smythe & Company is devoted to collaborating with artists and artisans across the South to bring one-of-a-kind goods to customers and friends. Tickets are $100 per person for the noon luncheon and presentation.
Events on the Village Green open to the public at no cost include:
Nellie Howard Ossi will discuss design classics, "Making Classics Cool Again," at 2 p.m. on opening day, August 26.
Mary Palmer Dargan will provide tips on creating a mountain chic garden party Saturday, August 27 at 1 p.m.
Ann Strub will display her figurative/narrative art Sunday, August 28, at 4 p.m.
Carrol W. Rivers will highlight her watercolors Monday, August 29 at 4 p.m.
Carlton Chamblin of Farm2Cocktail discusses "The History of Shrubs in "Sipping Vinegars" and How to Make Them" Tuesday, August 30 at 2 p.m.
Laura Moser will showcase her art Wednesday, August 31, at 4:00 p.m.
Patricia Barnes, aka Sister Schubert, shares "A Pan of Rolls that Changed the World for the Better" Thursday, September 1 at 2:00 p.m.
Drew English shares all things Dahlia, in the Dahlia Garden on Friday, September 2 at 2:00 p.m.
Laura Sullivan of Atelier Maison & Co. will discuss "How Furniture Can Impact Your Health" Saturday, September 3 at 2:00 p.m.
Sue Fazio will inspire with her creative expression in painting with oil, acrylic, encaustics, pastels, and pottery on Saturday, September 3 at 4:00 p.m.
Karen Weihs shares her art and mentorship on Sunday, September 4, at 2:00 p.m.
Lifestyle items from apparel to home decorating by 17 well-known
vendors will be available to the public for purchase throughout the
event's 10-day run in Lewis Hall at the Village Green.
Tickets for both special events are available online at https://www.cashiershistoricalsociety.org/2022-special-events
Tickets for the Cashiers Designer Showhouse,
are available online at https://www.cashiershistoricalsociety.org/tickets-2022