Blue Hound BBQ
02 Aug 2022
Pitmaster aims to put Western North Carolina BBQ on the map
By Kay West
Photos by Chelsea Cronkrite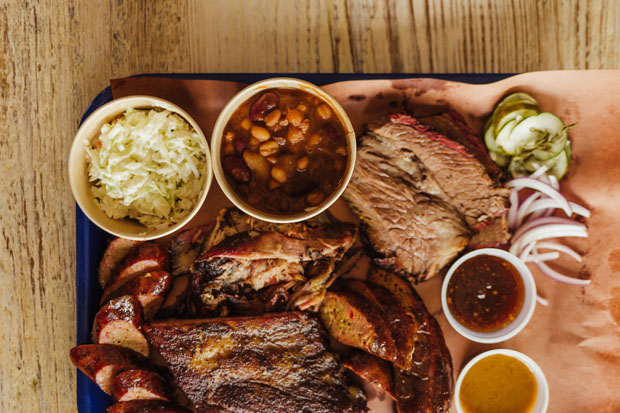 Kyle Bryner admits he has a smoker problem. "My wife says I have a 'smoker junkyard' at the house. There are probably twenty different kinds in the yard."
Make that seventeen smokers; and that's only because he re-homed three of them at Blue Hound Barbecue, which he opened this June in Scaly Mountain.
One month in, demand for his pulled pork, brisket, ribs, chicken and sausage surpassed the capacity of that trio and he contracted to have a new one built.
"This one is coming from Dallas. It's a big boy," he says with a laugh.
The Blue Hound is not Bryner's first foray into barbecue—he has been on the competitive circuit for some time—and it's not his first restaurant in the Plateau either. In May 2019 he and his wife Erin opened Blue Bike Café in Highlands. It was a success from the get-go. "The day we opened, there was a line out the door."
Bryner brought decades of cooking experience and a culinary school degree with him from Sarasota when the couple moved to the area in 2004. He worked in The Library (prior to its current ownership) and the now-closed Millstone Inn, then segued into sales for U.S. Foods. But the dream of owning his own place was one he couldn't shake. When an opportunity presented itself in a space that had been a couple of pizza places, he grabbed it and Blue Bike restaurant was born.
"There really weren't many places that served full breakfasts and lunch as well," he explains. "We opened just as the season was starting, but we have always wanted to be here first for the locals."
Residents and visitors alike fell in love with their mountain-hearty breakfasts, house-made pimento cheese and extensive sandwich board. Bryner's Bonut Beignets—biscuit dough rolled into balls, fried, drizzled with praline sauce and sprinkled with cinnamon sugar—developed its own cult following.
Thanks to the loyal locals, Blue Bike never closed entirely during the pandemic, though it made several pivots.
"I had already started entering some BBQ competitions again and it was so fun," Bryner says. "They stopped during COVID, so I was looking at what things I could smoke and add to the Blue Bike menu. I did some pastrami and made pastrami Reubens and pastrami hash. I smoked some turkeys for a while. It really pulled me back into my passion for smoking meat."
The timing was perfect when the owners of Annie's Café on the Highlands Outpost property in Scaly Mountain decided they wanted out of the business and approached Bryner about taking it over.
"I asked them how they felt about barbecue, and they loved it. We signed the lease in May," he said.
Since the restaurant was recently renovated, there wasn't a lot of work to be done once the smokers were moved from Clayton, where Erin and Kyle live with their three teenagers.
"We let our Blue Bike regulars know and we put one message up on the Scaly Mountain community Facebook page and that was it. We've been busy ever since," Bryner said.
The brisket is the most popular meat on the menu, and frequently sells out.
"I know that can be inconvenient, but that's actually a good thing. You want fresh barbecue every day." All the smokers are wood-fired, predominantly using hickory wood. He sources from Brasstown Beef and uses heritage pigs as he can get them.
Bryner spent several months in Austin, TX while working for U.S. Foods and that immersion in Texas barbecue is apparent not only in the brisket, but also the jalapeno-pimento cheese smoked sausage links.
"I fell in love with the jalapeno cheddar sausage in Texas but wanted to put our own spin on it since Blue Bike's pimento cheese is so popular; we use a really good white cheddar and it makes a difference."
Pitmaster Joshua Baily, who Bryner brought in from Alabama to manage the Blue Hound, also makes a difference. "He has a lot of history and puts a lot of his own touches on the menu."
That menu includes all the meats by the sandwich or plate—with the ubiquitous two slices of white Wonder bread—as well as by the pound; standard BBQ sides like potato salad, slaw, mac and cheese and beans; a "hound pup" (kids) menu, three deserts and until 10:30 a.m., a limited breakfast menu. "We just couldn't get away from breakfast," Bryner says. "We're there smoking meats anyway and people want their biscuits."
Bryner notes that while Western North Carolina BBQ doesn't have as storied a history or reputation as Texas, South Carolina and Eastern Carolina, he is determined to change that.
"I want to help build barbecue in the mountains and make this a destination," he said.
Blue Hound BBQ is located at 7420 Dillard Rd., Scaly Mountain